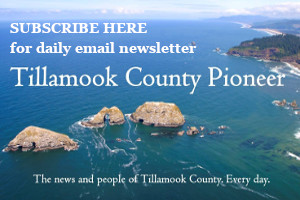 by the Ardent Gourmet
Tillamook. Few are the places that can boast not only a creamery but a crematorium. Think how brilliant this business model is, the first business slowly but surely funneling customers to the second. How can it be possible then that an area lit by such genius has been so lacking in really good restaurants for so long. Surely its genius should have generated some. Whereas Portland saw an uplift years ago from restaurants serving junior high cafeteria food to jaw-dropping chow, the coast has been eddied mainly in weary fish and chips, burgers based on pre-frozen patties, and pizzas spawned in corporate test kitchens. Now, hooray, that is changing. The Schooner in Netarts is proof.
Your wife remembers going to The Schooner in the late 60s. The fact that it has survived for so long gives it, she says, the reassuring quality of an anchor. In early days she remembers diner fare. There seem to have been a number of changes in ownership and management since. Years back they had terrific "Thai Tuesdays" that then abruptly ceased, probably when the chef left. You've been gone for several years and now, on your return, find they have really cranked their game.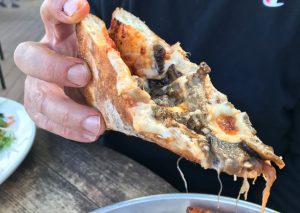 Most pizzas don't have the thrust to reach low earth orbit, let alone high. Usually the culprit is their crust, pulled down by the surly bonds of Earth. It is too dense, too floppy, too crisp, too flavorless, or simply unremarkable. But The Schooner gets it. Lift theirs and fold it in one hand the long way and it holds its fold (what some call the "New York fold" which allows you to hold your slice with one hand and adjust the tilt of your fedora with the other). It is blistered from the wood-fired oven but not burnt or crackery. Neither thick nor thin, it is just right in proportion to the ingredients on top. Pizzas in Portland tend to be art-school'ish, collaging ingredients like broccoli rabe and duck sausage. This is new school, and can be excellent. The Schooner goes old school and has no less stature. Lots of cheese (all melted cheese good), you approved of the fact that it wasn't fresh mozzarella which tends to throw off water that can sog the crust. A peck of mushrooms, but not just your standard cremini. You could distinctly taste (and deeply appreciated) all the oyster mushroom and the beautiful shitakes, many baby size, cute as Instagram puppies. The sauce could have been slightly more vivid, likewise the house-made Italian sausage (more fennel seeds and capsaicin, please!). And you think they might have soared even higher were the crust sourdough. But these are quibbles from an admirer.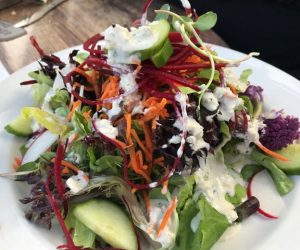 A green salad was way above average, constructed with both sunflower and radish sprouts (delicious), purple cauliflower florets, a spiral thread of raw beet, several lettuces. Visually and taste-wise it exuded artistry. You asked for an extra serving of their excellent blue-cheese dressing which they brought promptly.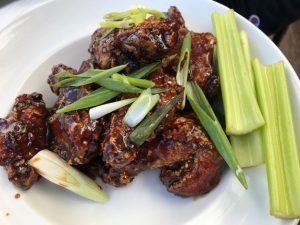 General Tso's wings, which you ordered mild, were first coated in rice-flour and deep-fried so they were strikingly crisp. Just like this, without the sauce, you could have inhaled them. The sweet-and-salty sauce, which you were tempted to lick from the plate, could have dialed back on salt without harm. You think the addition of a of pinch of five-spice powder or Szechuan peppercorn to it probably would have added yet another delicious layer.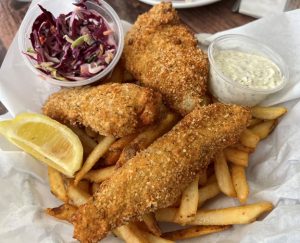 Their fish and chips is remarkably good. The cracker crumb coating they used was crisp, oil-free, delicious in itself, and let through the mild flavor of the cod. It is so much better than the typical batters which tend to coat the fish like oily pancake. And it's so much better than Panko, the lazy man's breadcrumbs. Your wife liked the prominent potato flavor of the house-cut fries. You did too but think they would have been better yet were they double-fried.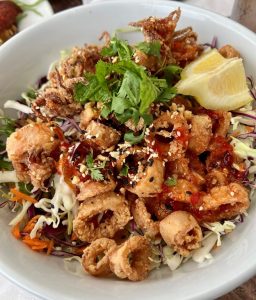 The calamari salad had pieces of calamari dredged in rice flour and deep-fried, crunchy-chewy-squidy-satisfying. The salad, made from both green and purple cabbage and carrot, was strewn with mint and cilantro. The dressing was a kind of chili jam. Terrific.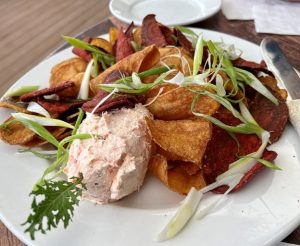 Homemade potato chips with smoked salmon dip was based on house-smoked salmon. It was supposed to come anointed with salmon roe but they ran out. Both of you felt the dip called out for capers. And you felt that in addition to the scallion strewn on top, a nimbus of other herbs including dill would have been nice. The potato chips were a bridge too far. They were beautiful, from two different color potatoes, but unequal to store-bought Kettle Chips.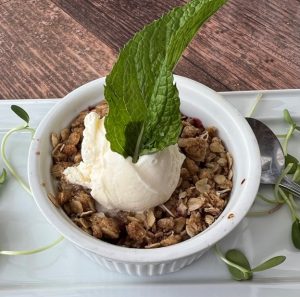 For dessert one night you had a mixed berry crumble with vanilla ice cream. You loved the berries but the crumble was disappointingly mushy. Your wife, a great crumble maker, and you, a great crumble eater (who live in a crumble house with a crumble dog and a crumble cat) believe in a crumble that is crunchy-buttery-sugary. You think they need to take another go at this.
Gourmet food tends to mean food of fancy ingredients cooked in complex (which usually means fussy) ways. Gourmand food tends to be simpler food of broader brush-strokes. You were at a restaurant in Hong Kong recently that served 500-year-old salt which tasted fine, but no better than Trader Joe's. They also bragged about their olive oil made from olives picked at the full moon. At first you thought this was a joke, imagining olives picked by werewolves. And you wondered how they'd train werewolves to do this. Werewolves, after all, are blood-thirsty carnivores who panic on ladders. In fact though, the restaurant was serious. Frankly, had they substituted Kirkland none would have been wiser. In your view, gourmand is often better than gourmet and that's what The Schooner serves.
A couple of pastas on the menu would not have hurt. And house-made, artisanal bread from their wood-fired oven would have been ideal. But you fully comprehend that restaurants have finite resources particularly in a place where it's tough to find steady employees, a sad consequence of covid and very expensive housing.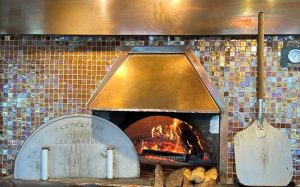 The Schooner is a handsome lad. Inside décor has a coastal cabin feel. You can watch them feed the pizza oven which would not be out of place in Hagrid's cottage. If it's warm enough you prefer to sit outside overlooking the bay with its tidal scent.
The Schooner serves comforting food made with integrity and style. They have burgers and steak. Fresh oysters and Dungeness crab are plucked from the bay just a drunken stagger away. They serve steelhead, halibut (a special one night), shrimp, and steamers. In total, the menu tilts maritime, laudably using local ingredients as much as possible. Fresh herbs are prominent. The food is almost entirely scratch made. It is animated by chefy intelligence. It is artfully presented. It is technically sharp. It is delicious. Service is friendly and helpful. Prices are fair.
The Schooner works for families, pals, sweethearts. You think-hope-believe-trust it heralds a culinary upswing for an area that amply deserves it. You recommend The Schooner, a casual, welcoming resto with smart food.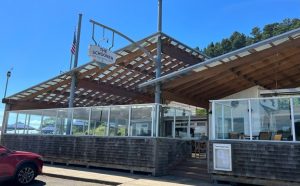 The Schooner
2065 Boat Basin Road, Netarts, Oregon
503-815-9900
https://www.theschooner.net/dinner-menu
The Ardent Gourmet recommends this restaurant.
You can also see this review and others at our website, www.ardentgourmet.com