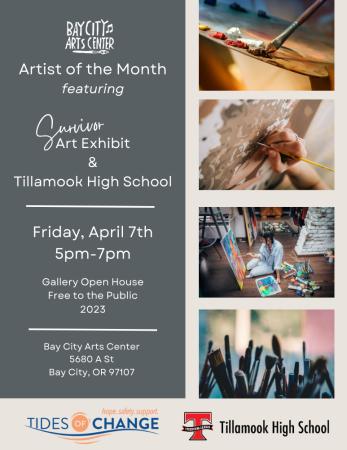 EDITOR'S NOTE:  Thanks so much Patty for putting together this list of community organizations that help feed, cloth and provide gifts for those in need in our communities.  We've included some other organizations in the rest of Tillamook County that provide the same or similar services in other areas.  And watch for the annual GIVING GUIDE that will be in mailboxes soon for more information about the nonprofits doing great things that need our support.
By Patty Rinehart
Many people in North Tillamook County need a little extra help this time of year. We have homeless adults, homeless families, and homeless children. Where are they you ask? You will find them up old logging roads, living in the woods or living in a trailer alongside of a stream. Are they able to get food and electricity-or clean water? Sometimes. Would you want your family to have to live like this? Of course not, and these people don't want to either. Covid has played havoc with jobs. Thankfully covid shots are available to everyone-if they have transportation. We have help available for these people, but we need to fund these helping organizations. You might be interested in a story I have. When sent information a client in the CHILD program called back to say "thanks, but I don't need help this year and to give gifts to others."  In another year they hope to be donating back to the program! These people are not all take, take, take. They are so grateful that when able to give back they do. Now if they can give, so can we. $5 or more from all who are able would be a great gift!
The Rockaway Lions Club will be providing Thanksgiving and Christmas Dinner fixings. Fresh fruits and vegetables, canned goods, and of course a turkey are provided to special families in the School District 56 area. The Lions are a wonderful group of people doing this work.
Also in Rockaway Beach is the Meals for Seniors, Inc. program. This organization is open every Monday, Wednesday, and Friday in the meeting hall next to the Catholic Church. Meals are also delivered to clients. Just $24 will pay for six hot and nutritious meals. $96 will serve that senior for a month.
The North County Food Bank is in Wheeler. Financial donations enable them to purchase wholesome food at wholesale prices from the Oregon Food Bank, local grocers, and other sources. This Food Bank is going out of they way to provide Thanksgiving meals to people. With inflation hitting all of us, it is hitting the NCFB and their ability to buy food. Please help them out.
Nehalem Senior Lunches are provided at the Nehalem Bay United Methodist Church in Nehalem on Tuesday and Thursday. Lunches are also delivered. Again, sometimes lunch and a personal touch are what people need.
Last, but not least, is the CHILD Program also run at the Nehalem Bay United Methodist Church in Nehalem. At this time of year, the CHILD Program provides Christmas presents to children. Names of families are primarily provided by the school system. Children receive toys and other gifts plus clothing.
Please help as much as you can and thanks to you all.
Addresses for the above:
CHILD
PO Box 156 Nehalem, Or. 97131
Meals for Seniors, Inc.
PO Box 852, Rockaway Beach, OR 97136
Rockaway Lions Club 
PO Box 611, Rockaway Beach, Or. 97136
North County Food Bank
PO Box 162, Wheeler, Or. 97147
Nehalem Senior Lunches
PO Box 156, Nehalem, OR 97131
Christmas Basket/Holiday Gifts Programs in Tillamook County
11/17/21
CARE
2310 First Street, Suite 2
Tillamook, OR 97141
503-842-5261
www.careinc.org
CHILD – Tags for Gifts for North county families/children
Nehalem Bay United Methodist Church
PO Box 156; 36050 10th St.
Nehalem, OR 97131
503-368-5612
nbumcchild@gmail.com
Rockaway Beach Lions
rkhemberry@centurylink.net
TIDES OF CHANGE (see attached flyer)
Holiday program – drop off at 1902 Second St., Tillamook; 503-842-9486; shop their wish list on the website – www.tidesofchangenw.org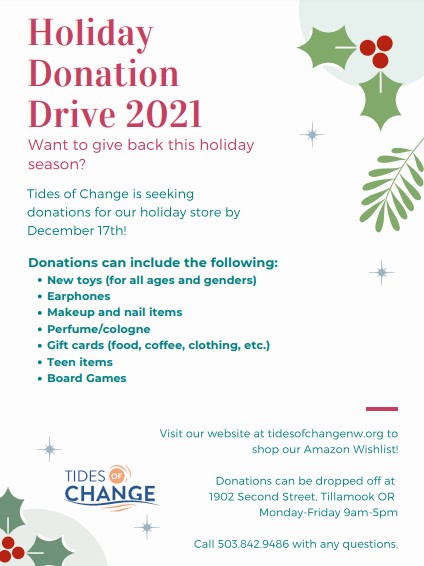 ST. ALBAN'S – Sponsor family/Christmas boxes/gifts
Stalbans.tllamook@gmail.com
South County – Nestucca Valley Lions Club
Christmas Basket/Gift Program (see attached flyer)
nestuccavalleylions@gmail.com
Giving tree locations on flyer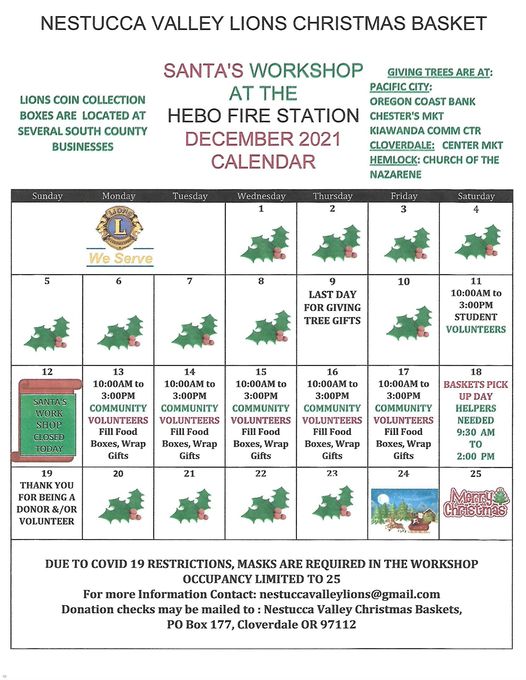 Community gift program of our local fire district. Gifts will be placed under the Kiawanda Community Center giving tree.