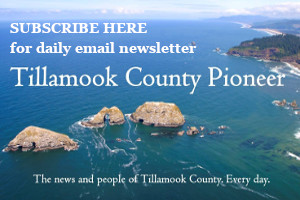 By Dan Haag
One of the best things about my job at the Manzanita Visitors Center are the people I get to interact with from around the country and all points of the globe: from Albania to Zimbabwe, from Albany to Zumbro Falls.
We chat, share stories, laugh at each others accents and argue over who has the worst politicians.
I never exaggerate, but our little visitors center is single-handedly responsible for maintaining world peace in these trouble times. Go ahead, Google it (actually, please don't).
Still, it's a lot of fun.
The Oregon Coast gets tons of visitors from Germany and I enjoy meeting them because they're always polite and come from a country that loves beer.
I studied German in high school and college, so I often dust off a few easy phrases to make them feel welcome.
Sometimes my tongue and my brain don't always coordinate the way their supposed to and I end up mangling words to a degree that can be a tad embarrassing.
Recently, for example, a very friendly couple from Munich stopped by and, feeling extremely international, I tried to say "Guten Morgen" which, of course, means "Good Morning." Fairly simple stuff.
For whatever reason, I added several unnecessary syllables so what came out was "Glutenglen Morganneranen." It sounded like the garbled death throes of a drowning Orc.
I had little to fear about insulting them because apparently, there's nothing more satisfying than laughing hysterically at an American attempting to communicate in another language.
I did, however, get some redemption when I asked them to pronounce "Neah-kah-nie."
The English are fun, too because they're so enthusiastic.
Earlier in the spring, I met an ebullient Brit named Alan. He was a tough-looking guy who could have stepped right out of a Guy Ritchie film: shaved head, ear plugs, chin piercings and a tattoo of a heart with a sword through it. He also had huge fists, perfect for hammering out-of-shape guys like me into the ground like tent stakes.
Truthfully, he was also one of the friendliest, most convivial people I've ever met, a grade-school teacher in fact.
We struck up a conversation when he asked me where he could find a place to camp since Nehalem Bay State Park was full. I pointed him to Kelly's Marina where there were still plenty of sites, and we talked about how RV's have killed family tent camping.
From there, he shared a flurry of stories on a wide range of topics, though he warned me not to talk about the Royal Wedding: apparently it's a sore subject.
I especially enjoyed his assertion that Ronald Reagan and Margaret Thatcher were actually the same person. "Look at the eyes!" he declared.
He shared his photo bomb of Russell Crowe at Heathrow and introduced me to his daughter, Zoey, a seriously cute little girl in a t-shirt that said "Ooompa Loompa." The conversation ended when she started hopping around chanting "I have to pee" in an adorable British accent.
Alan scooped up a wiggling Zoey and headed out, thanking me for saving his marriage by finding him a place to stay.
Take that U.N.
I also enjoy my fellow Americans, of course.
There was a great conversation with a grandmotherly lady from Vermont. Like me, she's a big baseball fan and we exchanged our opinions on how deep into the playoffs her beloved Red Sox will make it this year.
She was adamant they'd be 2018 World Champs, while I listed a number of problems with their team.
"I'm liking the Yankees this year," I concluded.
She patted me kindly on the arm and said "You remind me a lot of my late husband. He could be a real son-of-a-bitch."
During Spring Break, I met a woman from Nebraska. Her husband and two girls were sitting outside on a bench while mom looked for a map. Her group was visibly restless and they began stomping their feet and clapping in an homage to the band Queen:
STOMP – STOMP – CLAP
STOMP – STOMP – CLAP
Then, the chanting:
"We want, we want ICE CREAM!!"
Mom tried to ignore them but she was heavily outnumbered and they started to drown out our conversation:
STOMP – STOMP – CLAP
STOMP – STOMP – CLAP
"WE WANT, WE WANT ICE CREAM!!"
Mortified, she ran outside to see that passerby were clapping along and filming the scene.
After what looked like some intense negotiation – and a brief swat to dad's head with mom's hat – ice cream was indeed agreed upon and the impromptu jam session went on its way.
I moved to the coast from Minnesota in 1991. To prove everything comes full circle, I keep running into Minnesota ex-pats who, like myself, relocated to Oregon. Lately, it seems like every other person I meet is from my old Midwestern stomping grounds.
I asked a visitor from St. Paul why he thought so many Minnesotans were pulling up stakes and heading west. Was it the weather? The scenery?
"It's simple," he said. "We've come to save you from the Californians. Once we've gained your trust, we'll steal all your beer."