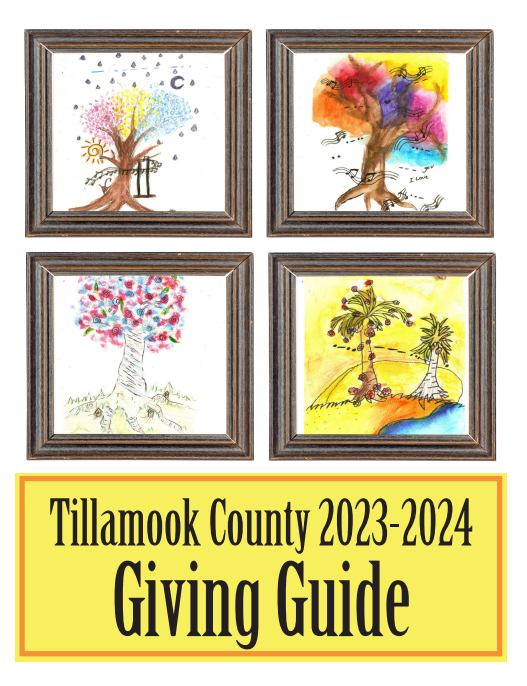 Story, Photos & Video by Don Backman
Seventy-five cross country (XC) running teams from high schools and middle schools in Oregon and Washington, and as far away as British Columbia, Canada, Chicago, Illinois, and Arizona gathered at The Mook in Alderbrook, Oregon, on Saturday, September 23, 2023, for what promised to be an amazing middle school and high school cross country meet. It did not disappoint.
According to Pat Zweifel of the Ultimook Running Club and The Mook at Alderbrook Golf Course, "The beauty of the course, firm footing, no corners, smooth transitions, open fields, best teams competing against best teams make fast times." A survey of the race results indeed shows some impressive times. The fastest male runner was from Mercer Island, up near Seattle, Washington and ran a 14:46. Five boys ran 15:00 or under. In the 5A and 6A invitational, 96 boys ran under 17:00. The fastest female runner, also from Mercer Island, ran a 16:49. Five ran under 18:00. 27 girls ran under 19:00. Zweifel is right. This is an elite level high school cross country course and event.
Zweifel and Tom Rotherberger of Jesuit High School and Stumptown Running teamed up to put on the event. Similar to a championship race, the organizers state on their website that "Our goal is that The Mook XC Invitational becomes an early season West Coast preview of the best teams and best runners in the Western United States." According to Zweifel, "Bringing the best together brings out the best in the athletes. My vision is that it will become the best kids in the west. Remember: highly competitive, fast, spectator friendly."
How good is the course? The website contains the following quote: "This property has all the qualities of an outstanding, all grass cross country course: great footing, a picturesque setting, and rolling hills. I'm sure many athletes will have an incredible experience competing at this course! " — Jerry Schumacher…Bowerman Track Club /University of Oregon. Those familiar with Jerry Schumacher know that he is an elite level coach who works with National, World, and Olympic athletes. He knows what he is talking about.
Zweifel explained why teams came from so far away. "Teams that want national rankings need fast courses," he said. The head-to-head competition also brings out the best in runners. For example, Gus Kirby of Neah-Kah-Nie-High School near Rockaway Beach, Oregon entered the fastest division and ran with the best, coming away with a PR of 16:30 for the 5K distance (3.1 miles).
The day was cool and dry, near perfect running conditions. Runners enjoyed good footing as they navigated the course. The course is unique in that a fleet footed spectator can see almost all the race. An average spectator willing to walk can still see most of it.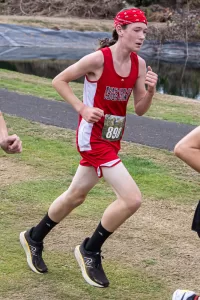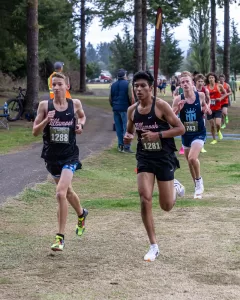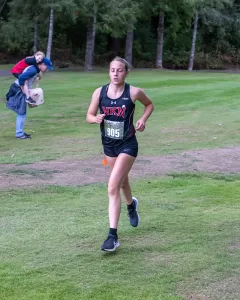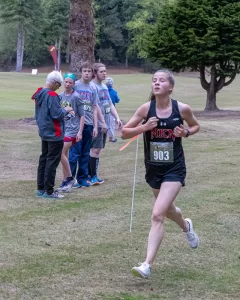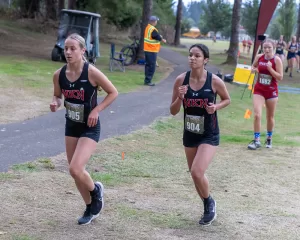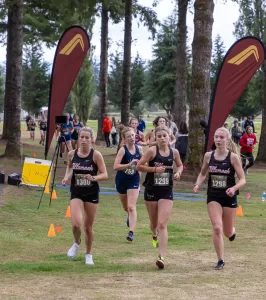 The event brought in parents and spectators from all the different areas the athletes came from. One parent was overheard commenting that they were going to stop at the Tillamook Cheese Factory on their way out of town to the airport in Portland, but that she really wanted to stay a few days and see the beautiful coastline. Tillamook Coast Visitors Association, did you hear that?
Tillamook County, with just over 27,000 permanent residents has a world class coastline, a world class cheese factory, a world class brewery, a national caliber FFA program, and now a national and international class Cross Country event. The Mook XC Invite at Alderbrook brought in elite national level teams for some exciting head-to-head competitions. To put this in perspective, there were future collegiate national caliber and potential Olympic caliber athletes running on the course here in Tillamook.