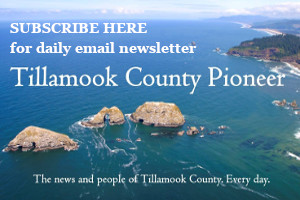 By Jerry Keene, Editor, The Oceansider
This past week, the Board of County Commissioners held two meetings of intense interest to STR owners and those living near them.
On 
Tuesday, June 13
, a packed house watched as the Commissioners heard a brief staff update on the 
current ordinance draft as of June 13
, entertained public comments and began deliberating the provisions in earnest. With few exceptions, the Board members signaled support for the draft proposals and rebuffed renewed litigation threats formally presented by the Portland law firm representing "Oregon Coast Hosts."
In some new or significant developments, the Board tentatively agreed to …
soften a previous proposal that all homes with pre-existing STR licenses must comply with current building codes going forward.
reject a rule prohibiting unreasonably loud, amplified sound during daytime hours based on staff concerns that it would be too difficult to enforce. As a result, there will be no complaint options for neighbors of STRs with guests who hold parties with loud music during the daytime before 10 p.m. (The rules do retain "quiet hours" from 10 pm to 7 am.)
endorse a proposal to ban new STR license holders from transferring their licenses to new owners when the underlying home is sold, and
abandon previously expressed interest in constraining STR licenses held by corporations.
On 
Wednesday, June 14

,
 the Commissioners began a discussion of options for phasing in the new rules once adopted. While they took no votes, the Commissioners did agree in principle to extend the current "pause" on processing STR applications for
 60 days beyond its current 

July 1

 expiration date
. They also shared initial thoughts on implementing a "use it or lose it" requirement for STR licenses in conjunction with imposing caps and creating a waiting list. 
The Board scheduled its next hearing on the STR rules for 

July 6

 at 5:30 p.m. at the Port of Tillamook Bay offices.  
It will continue to accept and review written comments
 emailed to Lynn Tone at 
LTONE@CO.TILLAMOOK.OR.US.
 All written comments and the draft ordinance may be viewed at 
Tillamook County STR Webpage
The Latest on Oceanside's Two New Hotels
The Oceansider
 has been working to pin down the details of two new hotel projects underway in the village. Here is what we have learned.
Fusion Lodging/Oceanside Cabins. The Oceansider can report that Fusion Lodging has requested a "pre-application" meeting with county and local utility officials sometime during the next two weeks. At this meeting, it intends to preview its tentative, updated plans for the new hotel and restaurant at the current site of the Oce
anside Cabins. Despite Fusion's recent, public commitment to engage the community and keep it informed of its progress, ONA President Sharon Brown stated that she is unaware of the upcoming meeting and has not been contacted by Fusion with any updates. In any event, The Oceansider has obtained a copy of the design information that Fusion intends to preview at the upcoming meeting and will provide more details in a future issue.
Nile Hagen/House on the Hlll.  We can also confirm reports that a group of individuals and developers from Portland has purchased the 
former House on the Hill compound and two adjacent tax lots on Maxwell Mountain Road. Their spokesman, Nile Hagan, reached out to The Oceansider this week to discuss their plans. Hagan indicated the purchase is contingent on successfully obtaining the county's approval for the same uses of the property that House on the HIll enjoyed during its decades of operation. If approved, Hagen indicated that the current, dilapidated structures will likely be replaced with several new buildings comprising a 22-24 unit hotel and a dining facility for lodgers only (to avoid traffic congestion and overparking).
Hagen stressed that his group does NOT intend to request any land use variances, which means the new buildings will comply with existing setback rules and the 24-foot height limitation applicable to oceanfront property. Hagen emphasized that he had family in Cape Meares growing up, and that he shares Oceansiders' "protective" attitude when it comes to change. To that end, the new structures will be "recessed" from the edges of the cliff and "blend" with the setting to create what he called a "magical" new village amenity.  As they become available, Hagan agreed to share concept sketches with the community and offered to attend the next ONA meeting (in October) to answer questions. If all goes well, his group intends to obtain the necessary permits over the next few months, and to complete construction within approximately 18 months.
---
COMMUNITY CALENDAR
(Contact us to include events we missed!)
July 4              World Famous Oceanside Fourth of July Parade
                        Oceanside Neighborhood Association
                        10 a.m. – participants meet early at Sunset and Daisy
                        All or welcome to march or watch!
July 6              Continuation of County STR Rules Hearings
                        Port of Tillamook Bay offices – 5:30 p.m.
                        Tillamook County STR Webpage
July 24           Oceanside Action Partnership Workshop (3rd of 3)
                        Oceanside Community Hall – 2 to 6 p.m.  (4 hours!)
                        www.oceansideactionpartnership.org
                        info@oceansideactionpartnership.org
                        or Bruce Jaeger – nguyenjaeger@gmail.com
                        (503) 317-6150
July 29            Oceanside Village Gathering Potluck
                        Oceanside Community Hall – 4 to 6 p.m.
                        Sponsored by Oceanside Neighborhood Assn,
                        Oceanside Comm. Club & Oceanside Protection Society
---
And that's the view from Oceanside!
www.oceansidernews.com
jerrykeene@oceansidernews.com