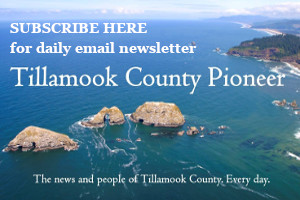 By Jerry Keene, Editor, The Oceansider
County Short Term Rental Hearings start 

Tuesday
The County Commissioners will hold the first of 
two planned hearings
 on the 
proposed STR rules* (see link below)
this Tuesday
, 
May 30
, starting 5:30 pm at the Port of Tillamook Bay offices. Community Development Director Sarah Absher issued her department's 
Staff Report**
and recommendations earlier this week. The draft rules and Report are largely in accord with the outline we published previously.
Some major proposals include:
1. Cap the percentage of residences with STR licenses in each unincorporated community at their current levels plus 1% and establish a waiting list once reached.
2. Prohibit the transfer of STR licenses to new owners when the licensed residence is sold or conveyed – except to family. (Existing license holders are grandfathered and may transfer their license just once to new owners.)
3. Tighten rules governing maximum occupancy and parking spots.
4. Contract with a dispatching company to receive and react to complaints of STR visitor misconduct. Bolster sanctions against STR owners for unresolved violations.
More on the new rules as the hearings proceed.
News from the First OAP Workshop
A modest but productive gathering
. Approximately 25 Oceansiders attended the 
May 22
 workshop at the Community Hall organized by the Oceanside Action Partnership (OAP). They pooled their thoughts and suggestions on infrastructure projects for inclusion in a 10-Year Community Development Plan, which the OAP proposes to oversee and facilitate. Several county and State Park officials also attended and at least another 15 Oceansiders logged in online. The meeting was facilitated by Nan Devlin and Dan Haag of the Tillamook Coast Visitors Association (TCVA), which sponsored the event. The TCVA has assisted other Tillamook cities and communities to formulate such development plans. They will conduct two more community workshops to complete work on a plan for Oceanside.
Oceanside wish list (the usual suspects). The gathering brainstormed a wish list of projects similar to those Oceansiders have sought for years. They included walking/bike paths, improved cell and internet service, more and better organized parking areas, road improvement and emergency preparedness. Watershed protection and stormwater drainage were also mentioned, and one resident even suggested reconsidering incorporation of Oceanside as a way to avoid having to seek approval and funding for such projects from the County Commissioners or other agencies. Devlin asked participants to continue mulling such ideas, which will be refined in two subsequent workshops. The next one is scheduled on June 12, from 4-6 pm, at the Oceanside Community Hall. A remote link will also be posted. The OAP emphasizes that all are welcome to participate, even if they did not attend the first workshop. For more information, see the OAP website https://www.oceansideactionpartnership.org/
Incorporation – but not the elected kind.  OAP organizer Bruce Jeager opened the meeting by announcing that the OAP had formed a nonprofit corporation to coordinate community development projects and funding. He reported that it had already appointed its own Board of Directors, adopted its bylaws (not available) and submitted an application to the IRS for 501(c)(3) status (not available). The Oceansider has requested a copy of this documentation. It has also asked the OAP to provide more operational details, such as (1) how the OAP selected its Board of Directors, (2) how the unelected Board will maintain transparency while overseeing Oceanside's Development Plan, and (3) how the OAP proposes to obtain funding for large projects with costs greater than the $75,000 cap on TLT grants currently imposed by the County Commissioners. Stay tuned.
Fusion Lodging resurfaces. Barbara Keckler of Fusion Lodging (current owner of Oceanside Cabins) also attended the workshop. She announced that her company still plans to build a new hotel on the site and "is working with the county" to clarify the requirements and conditions to be met.  She emphasized that Fusion intends to seek community input on any planned development. The Oceansider contacted county Community Development Director Sarah Absher for more details. Absher confirmed that Fusion alerted her office of its intent to resume the planning process months ago but was unaware of any recent communication. We will invite Keckler to share more about Fusion's plans in the near future.
---
OCEANSIDE COMMUNITY CALENDAR
May 30

          County Commissioner STR Hearings
Port of Tillamook Bay Offices 5:30 – 7:30 pm

Tillamook County STR Webpage
June 3          Oceanside Neighborhood Association
Annual Meeting and Officer Elections
Hybrid Meeting (Live and Zoom)
Oceanside Community Hall   10 a.m. – 11:30 a.m.
June 12        Oceanside Action Partnership Workshop (2 of 3)
Oceanside Community Hall – 4-6 pm
Bruce Jaeger – nguyenjaeger@gmail.com
---
And that's the view from Oceanside!