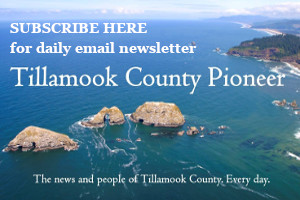 The Tillamook Bay Watershed Council (TBWC) and Pelican Brewing Company are pleased to announce the return of world-renowned geologist Brian Atwater to Tillamook County for a special event next Monday evening at the Bay City Arts Center. Atwater is best known for discovering geologic
evidence of past subduction-zone earthquakes, and for connecting that evidence to historical records of trans-Pacific tsunamis in Japan.
He co-authored a professional paper in 2005 that told the story of the
"Orphan Tsunami of 1700," connecting his scientific work in North America with accounts written by Samurai, merchants and villagers in 18th-century Japan. It's a gripping detective story, and one that has major relevance to the people of Tillamook County. Atwater's work has contributed significantly to our understanding of subduction-zone quakes and the resulting tsunamis, and has influenced policy and emergency preparedness strategies.
Join the TBWC Monday, June 12th, from 6:30PM to 8:00PM at the Bay City Arts Center to hear the whole story and to understand how these important discoveries affect all of us who live on the Oregon Coast. Pelican Brewing will provide beer, and the TBWC will serve light refreshments.
Admission is free and open to the public, but donations will be gladly accepted.
The Tillamook Bay Watershed Council is a local not-for-profit organization building collaborative, voluntary partnerships with communities and landowners. Its mission is to protect, maintain and improve the health of our watershed through on-the-ground restoration projects, educational outreach
programs, and other community-engagement activities. This event represents a new partnership with Pelican Brewing to offer a series of public events that promote awareness of watershed issues.