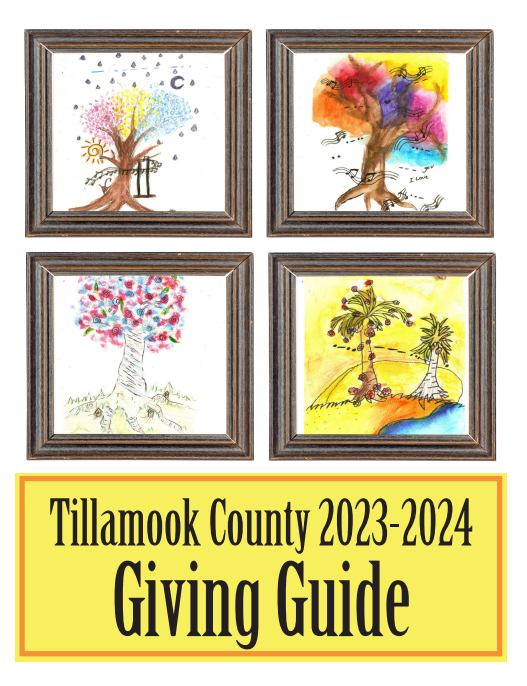 Story, Photos & Vidoe by Don Backman
The strident tones of the fire alarm in the auditorium at North County Recreation District brought everything to a sudden halt.
"You're burning the house down," someone commented amid laughter. While the alarm was accidentally triggered by the fog machine, and a fire alarm isn't ever a laughing matter, it was true, the band was burning the house down. Or rocking it down. The situation was soon under control, and the play resumed.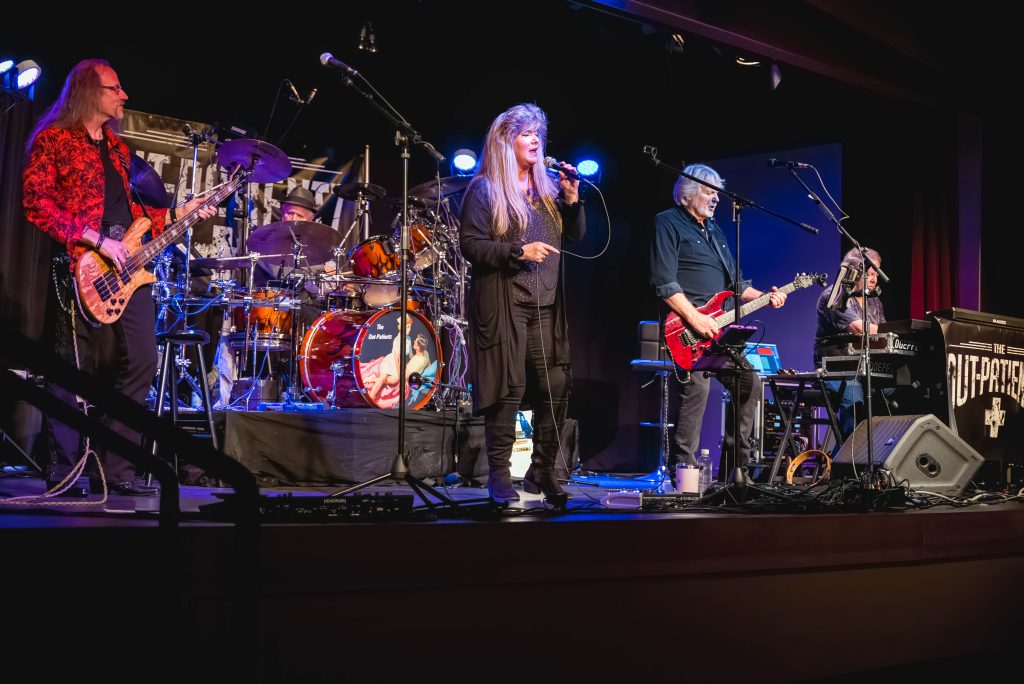 The Out-Patientz, a local favorite band made up of acclaimed country singer turned rock vocalist Alena Ferguson Sheldon, along with seasoned and acclaimed members bassist Darwin Turner, guitar player Terry Beresford, keyboardist Larry Schaffer, and Dave Gager on drums, brought the room to life. The group bills itself as an arena rock band on its website, www.outptnz.com. They take on the difficult-to-perform yet fun and popular crowd-pleasing music intended for large stadiums and halls.
The performance was held for the single purpose of recording a video, and there were video cameras spread out in the back of the room. The venue is relatively small and the band needed the invitation-only audience's cooperation.
The tight, explosive power of their sound drew amazed wows from the audience. The audience had been cautioned not to jump to their feet in the center of the room because there were video cameras set up to shoot down the middle. This was a struggle when Sheldon put her five-octave range to the test and rocked Ann Wilson of Heart's Barracuda and Alone like only Wilson herself could do. Several people stopped themselves halfway to their feet. Alone is a popular and challenging rite of passage for the many YouTube vocalists trying to showcase their abilities, and Sheldon made it look and sound easy. She nailed Steven Tyler's high notes in Aerosmith's Dream On.
Throughout the evening the group played a large and diverse set, with songs such as Journey's Separate Ways where Sheldon matched Steve Perry's amazing vocals. They also played Anne Lennox and the Eurythmics "Would I Lie to You," selections from Led Zeppelin including the classic Stairway to Heaven, Joe Cocker's Unchain My Heart, and many others. They finished with Aerosmith's Dream On, and Sheldon did Steven Tyler's hit right and hammered every note.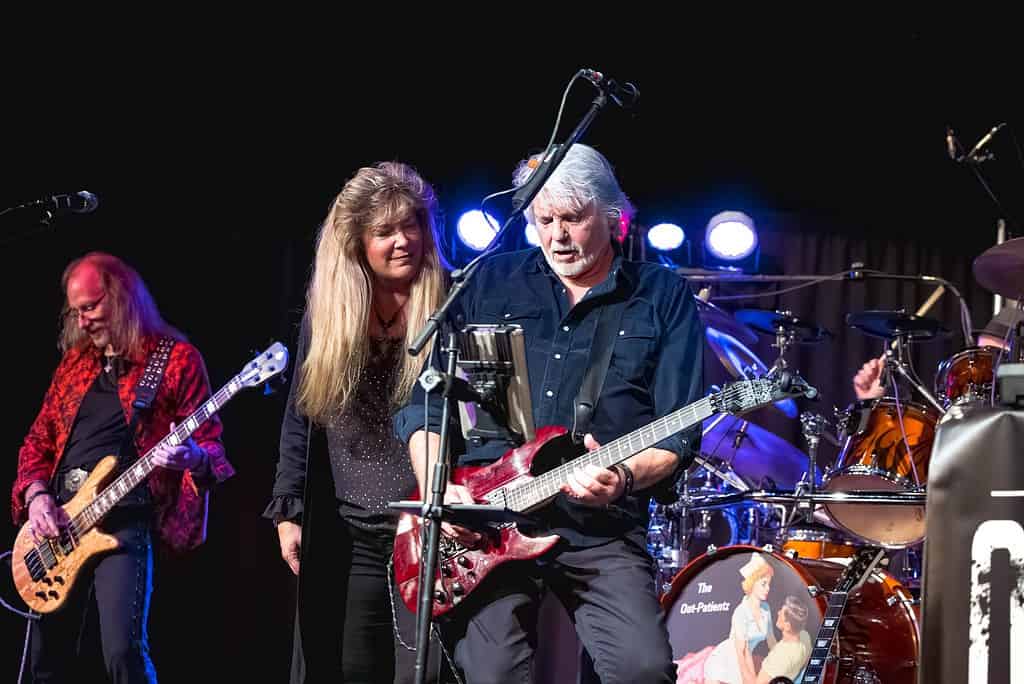 Drummer Dave Giger and bassists Darwin Turner's tight, powerful playing set the pace for the tight performance from the beginning. Their driving beat kept the room alive. Larry Schaffer's ability to play four keyboards brought an amazing full dimension to the sound. Terry Beresford's guitar was both haunting and powerful as needed, pairing seamlessly with the vocals. Sheldon enthusiastically pointed out the long list of skills and accomplishments of each band member, much of which is found on their website.
"The Band originally started in 2017 after old friends getting together for Larry's and Nikkies Wilbur Howl & Jam in August," Sheldon explained. "We had a different bass player at the time and we really didn't take it too seriously, just some fun gigs in Portland and surrounding areas here." Everything shut down during Covid, but the band kept playing in each other's homes. "Darwin Turner joined the band last year and we've grown into something even larger than what (we) anticipated. Our Summer shows were steady and an agent wanted to get an EPK (Electronic press kit) with some headshots and a write-up."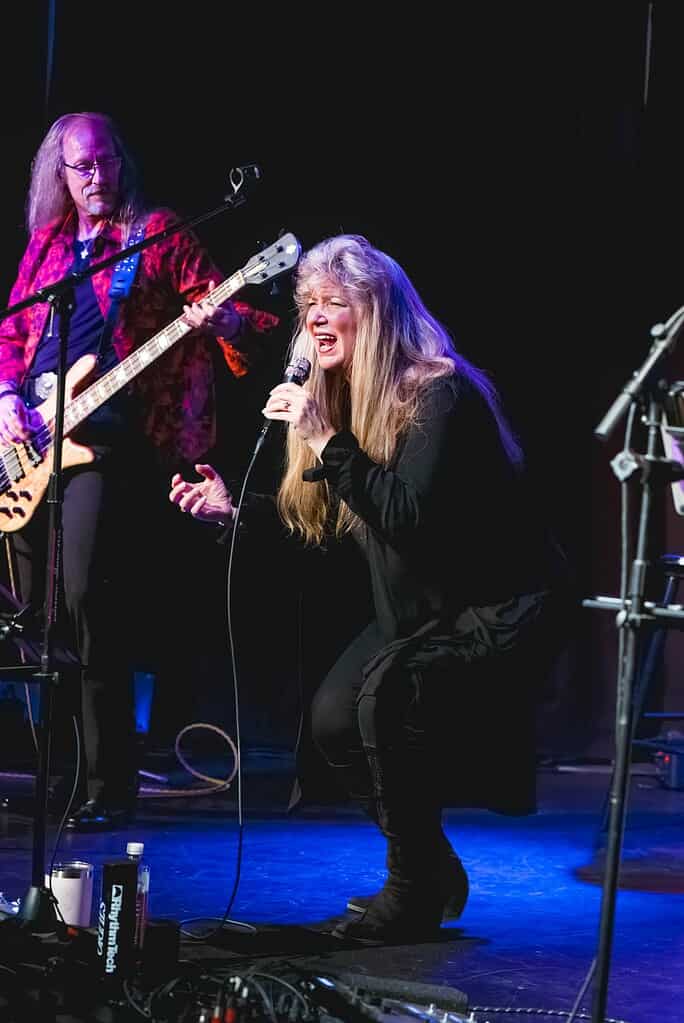 Sheldon made the switch from a promising Country Music career, where she had four singles, many awards such as Female Vocalist & National Entertainer of the Year, and had completed an album, as part of her long recovery after a serious accident. "My doctor thought I should try something new, to challenge myself," she explained. "I had listened to lots of music, but only performed Country. To do this was a big change."
"Our future is taking in the corporate festivals, fairs, casinos, and theaters for these concert styles and parties. We just want people to forget about their stresses for a while and be entertained. The video production at NCRD provided the opportunity to put together this EPK and maybe even open up for headliners if the chance should arise."
The tight, explosive sound can't be overstated. The group's performance on Journey's Separate Ways raised goosebumps. One thing was clear, the band was having as much fun playing as the audience did listening. The Out-Patientz will be rocking in the New Year at Spirit Mountain Casino on December 30th and 31st.