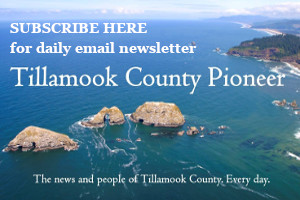 By Marc C. Johnson
I've been participating in and observing politics and politicians for most of my adult life. I served as a press secretary and chief of staff to a governor and have written two books of political history. Observing politics up close can be a rewarding pursuit. Sometimes you encounter really great people doing important things, but it can also be demoralizing and dispiriting.
Unfortunately, I'm seeing more of the latter these days, even in our little corner of the world – north Tillamook County. An often-nasty campaign is underway that could determine a majority on the city council in Manzanita. I live just outside of the city, but like many locals I believe the village of Manzanita – and its approach to local government – sets the tone for the whole area. The election of a mayor and two members of the city council is, therefore, important to the future of our area. It is not hyperbole to observe that Manzanita's future is on the ballot in November.
Here's what I'm observing: a relentlessly negative campaign on the part of a slate of challengers to the three incumbents. The attacks are marked by innuendo, misrepresentation and thinly veiled assaults on the honesty and integrity of the incumbents.
Beyond the attacks it would be good to know what the challengers hope to do for the community beyond their "time for a change" slogan.
Would they offer a different response to the pandemic? How do they feel about local non-profits that create art and cultural opportunities in our area? Do they have thoughts about law enforcement? How about emergency preparedness? Do they care about striving to be an ever more welcoming community were diversity and inclusion is a goal?
Frankly, I have no idea where the challengers stand on those issues. I read all the social media posts. I've followed the back and forth that alleges "a lack of transparency" or condemns how the city's water fund is managed, but I see nothing of what George H.W. Bush famously called "the vision thing."
Rather the campaign of the challengers is a local version of almost everything most Americans say they hate about politics – attacks on character, "whataboutism," division and anger, always anger. The tactics of the Tea Party – condemn government, attempt to delegitimize the other side and attack, attack, attack seems to be the only real agenda.
Here's my experience having lived in the area for several years now.
You want transparency in local government – try to find it in Portland or Eugene of Seattle. But here, you want to debate local issues or yell at a city council member? Have at it. Before COVID-19 made it impossible you could show up at a Manzanita council meeting, introduce yourself and have your say. Now, even more people seem to be participating on Zoom as the city conducts every conceivable type of meeting in public and with real transparency. It's a civics lesson from the comfort of home.
You want to influence local decisions? Show up. Make a case. Carry the day. The slate of challengers complain they aren't being heard. But, that's not the real issue. They are heard, often at great length, but not always agreed with. Those are two different things.
Manzanita voters rejected a bond proposal for a new city hall last year and the current city government recalibrated its approach and is in the process of assessing community opinion about a future facility. Does anyone really doubt the city needs a new city hall, one out of the tsunami zone that will allow city services to be handed more efficiently for the community and city staff? But the challengers want to relitigate the failed bond and constantly emphasize the negative.
The politics of division – the Tea Party again – emphasizes this point: a decision you disagree with is automatically illegitimate and the people who make the decision are not just wrong, but "out of touch" or part of some conspiracy. To make this approach to politics work an aggrieved challenger needs to manufacture an issue(s) that can become an illustration of how wrong the current decision makers are. This issue need not be important, or even understood by voters, but the issue has to drive the message that the incumbents are, in effect, evil, misguided and not forthright.
An outstanding new book – Burning Down the House by historian Julian Zelizer – details how one-time Georgia Congressman Newt Gingrich used these now time-tested tactics to create much of the dysfunction that is now a daily feature of American public life. A favorite Gingrich expression has long been "conflict equals exposure equals power." Sound familiar?
Newt attacked his opponents as out of touch, lacking in transparency and accused them of ignoring the will of the people. The substance – and truth – of his allegations were always much less important than the reality of the relentless attacks. This approach now dominates nearly every campaign and, sadly, it has come to the north coast.
The current city council and mayor have dealt, and dealt very well in my judgment, with a host of challenges – a pandemic, a tornado and the demise and resurrection of the local golf course among them. The council and mayor have spoken clearly about issues of diversity, civility and inclusion. They are careful and forward looking about growth and they support a vibrant local business community that has faced months of economic uncertainty and will face more of the same for some time into the future. The challengers promise "change," but change to what?
There are a few universal truisms about politics. One of the most enduring is that candidates govern as they campaign. Here's hoping voters evaluate the vision, positions, civility and style of the various campaigns. Attacks generate heat, not often light.