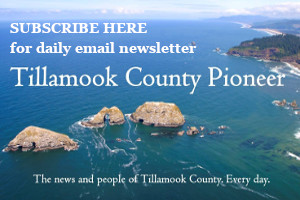 By Dan Haag
Manzanita is a place that begs to be enjoyed over a glass of wine while admiring a sunset.


Mark Proden, whose new venture The Winery At Manzanita opened in late August, hopes to help wine enthusiasts do just that.
Proden developed an early interest in wine-making while growing up on a dairy farm in Northwest Wisconsin. "Winemaking was initially a hobby. After giving my first batch of wine as Christmas presents in 2006, friends and family encouraged me to enter the wine business," Proden said.
His journey into making wine took flight during his time in the military, where his focus fell on wines of the west coast.
"I became interested in wine through cooking during my 11 years in the Air Force as a pilot and engineer, visiting Napa and Sonoma and eventually Oregon as Pinot noir grew in popularity here," he said. That interest led him to attend wine school at Chemeteka Community College's Northwest Wine Studies Center where he put his stamp on the craft.
"I initially founded the winery under Bodhichitta label in 2009 while attending wine school," he said. "I was making small batches of wine – 10 to 100 cases at a time – by hand in Salem."
Proden gained valuable experience working Crush with Erath, as well as the tasting rooms at Cubanismo and Orchard Heights.
He was able to realize the dream of having his own tasting room in 2013, when he opened The Portland Wine Bar. Located downtown just off Pioneer Courthouse Square, it carries Proden's wines, as well as other small labels from Oregon and Washington state.
But the search for a new production space soon gained priority.
"I had been making my wine in a small, cramped space in Salem until the owner needed to sell the building due to medical bills," he said. "I began looking for a new building, a location inspired by nature that would allow for increased production while maintaining high quality."
Manzanita caught his eye, a place he had made frequent trips over the years with his black lab, Pinot.
A sign on a vacant lot in the heart of town that said "Imagine The Possibilities!" and after meeting the lot's owner, Charley Lostrom, Proden developed a vision for the venture: a cedar shingled 500 square foot tasting room, a 2000 square foot production facility, Adirondack chairs, fire pits, and a glass roll-up garage door entrance facing Laneda Avenue.

The doors rolled up for the first time on August 24 and after a whirlwind of employee training and tending to last-minute details, the winery was ready for the first wave of customers.
"It's been crazy but we're learning and improving," Proden said. "I'm hoping to get more sleep soon."
The drink menu features local, hand roasted coffee in the morning and offers wine tastings, flights, glasses and bottle service in the afternoon and evening.
To accompany the wines, the winery serves picnic lunches to go, hand packed burgers, brats, sausages, hot dogs and paninis at lunch and dinner. S'mores kits are also available.
"I'm taking my favorite things and bringing them to Manzanita," Proden said.
The Winery At Manzanita focuses on a variety of small batch Pacific Northwest wines. Proden's own label Island Mana – developed during his time in Hawaii – is featured.
Tastings, flights and glasses of wine, beer and cider available daily.
Proden said he will concentrate on small batch wines because he firmly believes they make the difference in terms of taste.
"Better ingredients, better quality," Proden said, adding that he has established good working relationships with many grape growers over the years: the Willamette Valley for Pinot and Pinot Gris and the Columbia Valley for Malbec and Cabernet.
While production likely won't begin on site in the near future, Proden said he has quite a stock of wine built up and ready to serve.
With opening day behind him, Proden enjoys rolling up the double glass garage doors in the front of the tasting room, lighting the fire pits, and welcoming new customers.


Pinot – featured prominently as the winery's logo – is enjoying his new digs and can be seen lounging near the tasting bar most days.
Proden likes what he sees when he imagines the next few years, including offering the space for events such as wedding receptions and building his production capacity.
"I see the Winery as a gathering place for the community and visitors to enjoy coffee, food and wine amongst friends," he said.
The Winery At Manzanita is located at 253 Laneda Avenue. To learn more, visit www.thewineryatmanzanita.com or email info@thewineryatmanzanita.com.