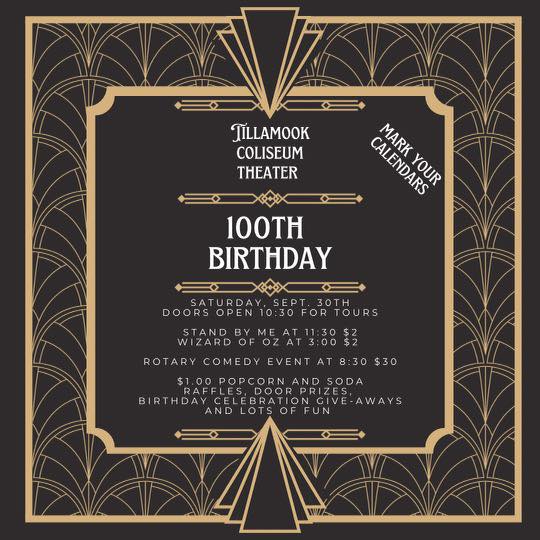 By Bonnie Henderson, North Coast Land Conservancy
If you noticed an unusual number of people on Rockaway Beach on a recent Friday morning, or a crowd at the top of Cape Meares, there's a simple explanation. They were part of CoastWalk Oregon 2018, North Coast Land Conservancy's third annual fundraising walk.
The event was launched in 2016. NCLC staff decided to mark the conservancy's 30th anniversary by spending three days walking the first 30 miles of the Oregon Coast Trail, from the Columbia River to Cannon Beach, and they invited up to 50 people to join them. The walk filled up, and it was an unqualified success, with hikers getting shuttles and snacks and wayfinding guidance from the conservancy. In 2017 NCLC invited a few more folks to walk with them from Cannon Beach to the mouth of the Nehalem River. By the end of that walk, they were eager to continue south in September 2018–this time with 90 participants—into the heart of the remote Tillamook Coast.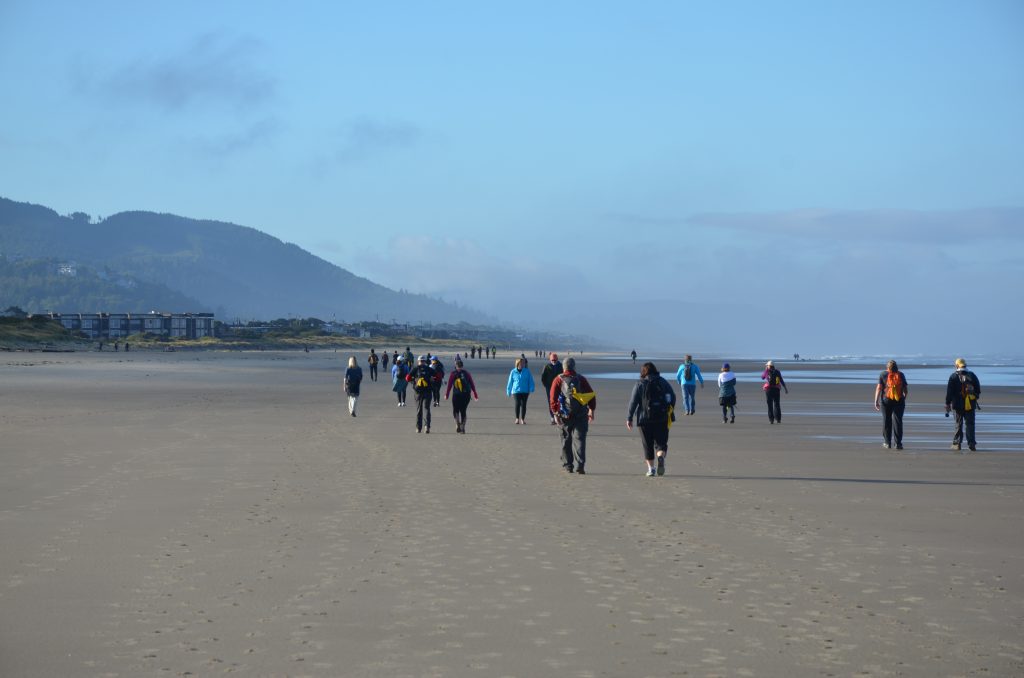 Day One began at dawn Friday, Sept. 14, at the Port of Garibaldi with a train ride on the Oregon Coast Scenic Railroad north to Jetty Fishery, at the Nehalem's south Jetty. Hikers scrambled onto the jetty and followed it to the beach, then walked south past the town of Rockaway Beach under sunny skies. They left the beach at the Tillamook Bay north jetty and met their shuttle bus at the entrance to Barview County Park.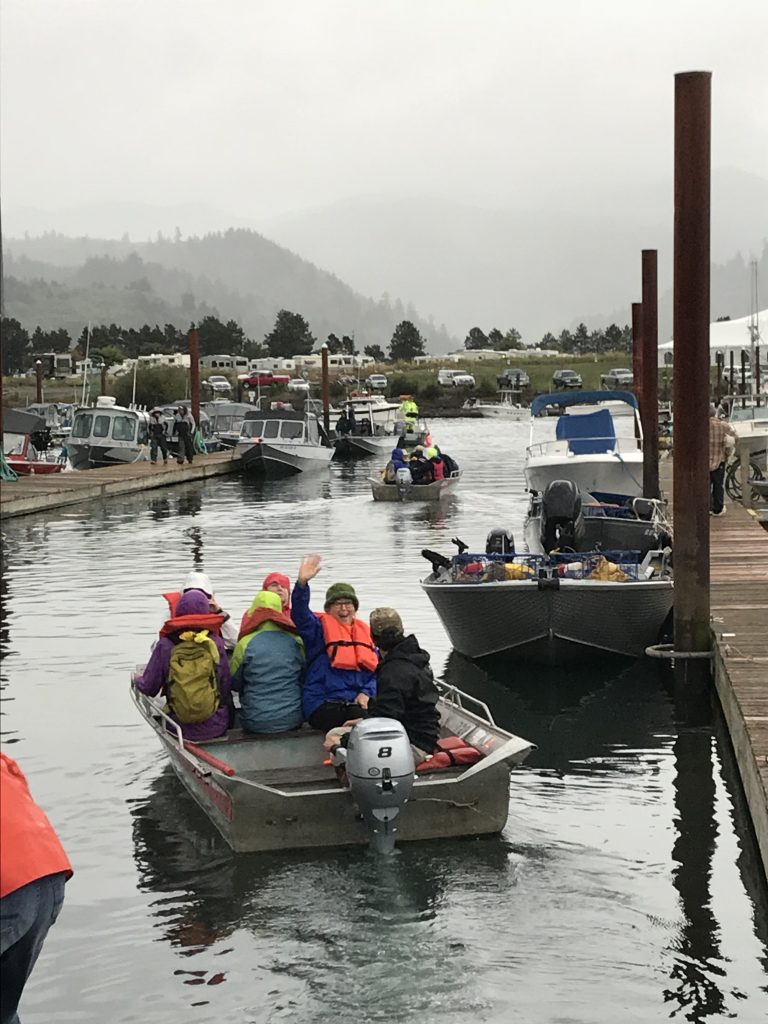 Day Two began with a boat ride across Tillamook Bay to Bayocean Spit. Garibaldi Marina executed the boat shuttle for 90 people with surgical precision, getting everyone across the bay in an hour and a half, and with hardly any wet feet. CoastWalkers hiked down the spit and the ocean beach to the Cape Meares Community Center, then followed Bayshore Drive—now mostly closed to cars, making it the preferred Oregon Coast Trail route—to the top of the cape, where they stopped for snacks and a look through a spotting scope at offshore birds. They followed the trail past the Octopus Tree and out to the road, which they walked down to the beach and bus shuttle at Symons State Scenic Wayside near Oceanside.
With a stormy day forecast, organizers weren't sure how many participants would show up for Sunday's walk. Nearly all did! Organizers reversed the direction of the walk, to put the wind at hikers' backs, and participants enjoyed a beautiful walk from the mouth of Sand Lake up the beach to the foot of Cape Lookout. A squall moved in just as hikers began ascending the cape under the forest cover. They took a breather at the top of the cape before descending on the final trail stretch to the day-use area at Cape Lookout State Park, where they enjoyed lunch from Tillamook's Recess Catering. There the conversation revolved around what the route for CoastWalk Oregon 2019 will be.
The answer to that question—and the dates—will be posted by the end of the year at CoastWalkOregon.org. Registration will open March 1, 2019. All proceeds from CoastWalk Oregon are used to further North Coast Land Conservancy's mission: helping to conserve Oregon's coastal lands, forever. NCLC has been working since 1986 to conserve and connect the landscape of the Oregon Coast from the Columbia River to northern Lincoln County by acquiring or otherwise managing lands for their habitat value. This nationally accredited private, non-profit land conservancy works to ensure that this extraordinary region is a place where healthy communities of people, plants and wildlife can all thrive. www.nclctrust.org