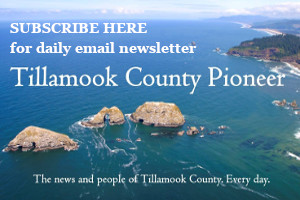 By Laura Swanson
This is one of the good things that has come from the pandemic – Judith Yamada's cookbook "Thrifty Comfort Cooking for Challenging Times."  Seeing a need to help all cooks be more efficient in the kitchen when dealing with food shortages and high prices, Yamada's cookbook provides a welcome guide to making the most of what you have on hand. Filled with helpful tips as well as over 100 delicious (and easy!) recipes this cookbook is truly a comfort, that will also benefit our local Food Bank.
Yamada has written articles for several publications, including the Tillamook County Pioneer,  by her own name and as "Kitchen Maven", she says, "I've always loved to cook and bake – and eat."  She continues, "When the 2020 pandemic brought upheaval to everyone on the planet, my first concern as a senior citizen was for my own health, that of my family and for the lives in my community. Thankful for being retired, healthy and financially secure, Yamada spent her time in isolation improving her own health (she lost 40 pounds) and creating this cookbook in support of people experiencing food insecurity.
Daily life during a pandemic is unnerving enough without constant worries over whether you will go hungry tomorrow or have enough nutritious, sustaining meals to feed your family. This ongoing shortage has become more crucial than ever as local hunger relief programs observed a 40% rise in food insecurity and the need for assistance during the pandemic. According to Yamada, "I vividly remember being a young mother, scrimping to buy my toddler meat and vegetables and being grateful for my own meal of oatmeal and tea." The current situation is even more challenging.
In February 2021, while focusing on improving her own health, she began writing a cookbook of modern cooking for challenging times, and these are definitely challenging times. The recipes are geared to help people cook with what they have at hand, to make substitutions as needed, and to easily and frugally incorporate more nutrition into everything from soups to desserts.
"My objective in writing this cookbook was to share wholesome, comforting, and thrifty recipes to help all cooks be more creative using whatever ingredients are available – fresh seasonal, frozen, or canned, and combine foods to improve both nutrition and satisfaction," says Judith
Most of the recipes are simple with a few basic ingredients. Many contain nutrient-boosting additions to enrich common meals and retain great taste, and offer a variety of options, so cooks may substitute with ingredients they have on hand. Being more flexible with ingredients, saves money and can increase nourishment in our meals and snacks; we can all eat better, waste less and enjoy mealtime more than ever.
To maintain services for those affected by food insecurity, local Food Banks and other food relief agencies need continued aid. Whether we make monetary donations, volunteer our time, or write and contribute a cookbook, we can all help.
The Oregon Food Bank and the services it supports will be the recipients of 100% of profits from all retail sales of the cookbook, unlimited access to the cookbook, at author's cost, for fund raising or distribution, and free copies of the cookbook will be donated to the local Tillamook Food Bank for public sale or distribution.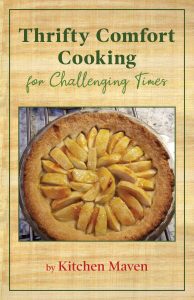 "Thrifty Cooking for Challenging Times" became available on July 1st; follow the Kitchen Maven on Facebook for recipes and tips. Go to https://kitchenmaven.org for more information about ordering; and the cookbook is on Amazon.com, Barnes and Noble.com or contact Mrs. Yamada at judith@kitchenmaven.org