Heart of Cartm is bringing back ​the Trash Bash Art Festival with a theme of Transformation and the help of great hosting partners and sponsors. The four-day festival, May 12-15, 2022​ will include two events: The Trash Art Gallery at Hoffman Center for the Arts in downtown Manzanita and The Trashion Show at Nehalem Bay Winery ​on Hwy 53 in Nehalem.
An Artist Reception at Hoffman Center for the Arts, Thursday, May 12th, 4:00-6:00 will kick off the fun weekend. Tickets for this event include appetizers, drinks and a first opportunity to buy incredible found object art handmade by some of the most talented local artists.
The Trashion Show Opening Party, May 14th, 4-5:30pm will feature special musical guests, Erotic City, and catering by Neahkahnie Bistro.
Tickets for these receptions are now on sale! Click here for more information and to purchase tickets.
The Trash Art Gallery will be open to the public for free admission  May 13 – 15, 1:00 – 4:00.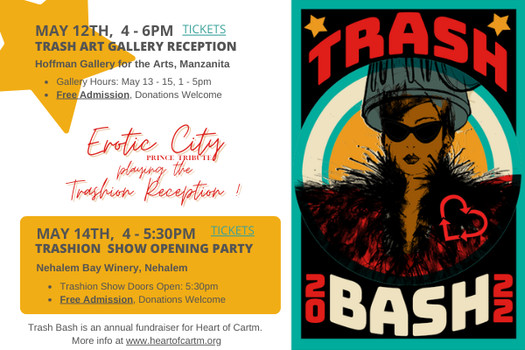 Doors open to the public for the Trashion Show at 5:30 on May 14th, with food available for purchase from a coastal food cart favorite, Surf2Soul, along with plenty of beer, wine and non-alcoholic beverages for your enjoyment. The Trashion Show and after party are free admission with suggested donations at the door. DJ Romo and special performers will make this THE event of the year! Get your costumes and outfits ready!
A big thank you to the Trash Bash Sponsors: Tillamook County Visitors Association, Oregon Arts Commission, Hoffman Center for the Arts, Nehalem Bay Winery, Neahkahnie Bistro, and Don G. Averill Recycling.
The Heart of Cartm is a 501c3 nonprofit organization that provides critical upcycling, repair and reuse resources in order to meet the material management needs of a changing and growing rural community. They operate a creative reuse space in downtown Wheeler, Oregon that includes a curiosity store of donated re-useful materials and a workshop space that hosts ​a wide variety of classes focused on reuse and ​repair.
"Our work prioritizes creativity, collaboration and the sharing of skills to reimagine waste." explains Jessi Just, the organization's Executive Director. "When a community learns how to recover, repair and reuse their waste, we all benefit."
Check their website for up-to-date information. www.heartofcartm.org ​