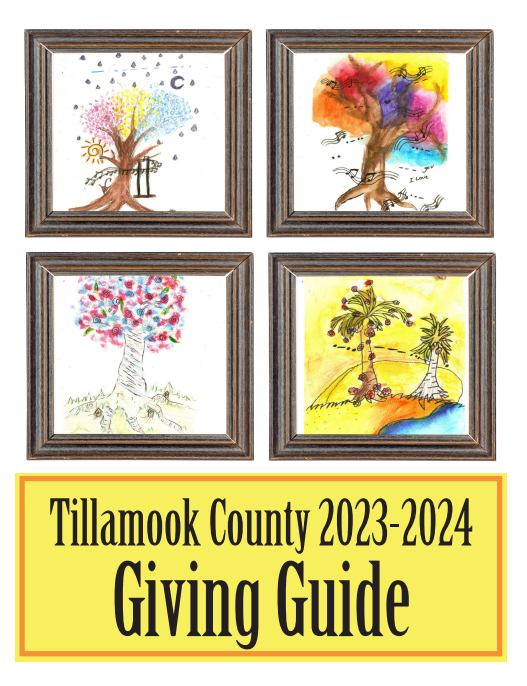 Newport, Oregon — Two sea turtles are on the road to recovery and release after receiving care at the Oregon Coast Aquarium (OCAq).
Thanks to the collaborative efforts of OCAq, the Oregon Department of Fish and Wildlife (ODFW), the National Oceanic and Atmospheric Administration (NOAA), Turtles Fly Too, and SeaWorld San Diego, two Olive Ridley sea turtles (Lepidochelys olivacea ) have a second chance at survival after stranding on Oregon shores.
The first turtle washed ashore at Horsfall Campground in Coos County. ODFW responded to the report and transported the animal to Florence, where it was transferred to OCAq staff.
Staff determined the turtle was a sub-adult female, dubbing her "Pumpkin." Just two days after Pumpkin's arrival, another report came in: a sea turtle was stranded on South Beach in Newport. The animal was transported to OCAq, where staff determined it was another sub-adult female, dubbing her "Joanie."
Dr. Julianne Vickstrom of West Hills Veterinary Hospital aided in performing X-rays and blood draws, allowing staff to gain further insight into the animals' respective conditions.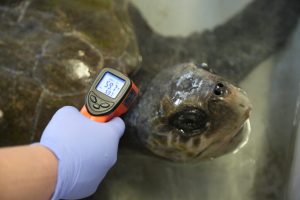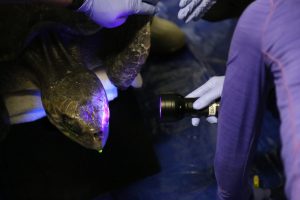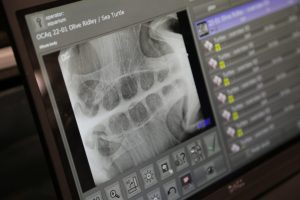 While Pumpkin and Joanie were both active upon arriving to the Aquarium, a stranded sea turtle's prognosis is always guarded. As marine reptiles, sea turtles rely on their surroundings for warmth. Upon reaching Oregon's cold waters, these animals experience cold stunning, rendering them incapable of eating or navigating. Turtles can float in a cold-stunned state for weeks, and often sustain physical injury, infection, and dehydration before washing ashore. Cold currents and storms can act as catalysts for sea turtle strandings; as such, stranding frequency increases during the fall and winter months.
Cold-stunned turtles present a unique challenge: to avoid shocking the turtles' systems, their body temperature must be raised slowly. Pumpkin and Joanie had body temperatures of ~55°F. Staff transferred the turtles into increasingly warm water baths, raising their body temperatures ~5°F per day until they reached a healthy body temperature of ~75°F.
Aquarium staff monitored the turtles round-the-clock, providing fluids and medication; two weeks later Pumpkin and Joanie were cleared for the next step in their rehabilitation journey.
When a stranded turtle arrives at OCAq, staff assess the animal and take measures to stabilize it, and coordinate with other wildlife facilities to establish long-term rehabilitation and release plans. After receiving confirmation that SeaWorld San Diego staff were prepared to take in Pumpkin and Joanie, a flight plan unfolded.
The transport to San Diego was made possible by Turtles Fly Too, a non-profit organization that coordinates and facilitates the use of general aviation to transport endangered species and critical response teams, while educating communities on marine life conservation.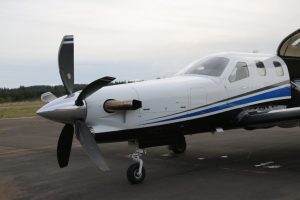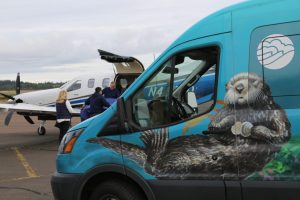 Aquarium staff secured Pumpkin and Joanie in custom-made crates while the pilot prepared for take-off; a short flight later, they were welcomed by SeaWorld staff, who will continue to care for the turtles until they are fully rehabilitated and ready for release.
The Olive Ridley sea turtle is an endangered species, making Pumpkin and Joanie's survival even more crucial. This success is thanks to the dedication and collaboration of private citizens, volunteers, and wildlife professionals and facilities. OCAq is committed to Oregon's marine wildlife, and will continue these efforts with the belief that even one saved animal can help species recovery.

About Oregon Coast Aquarium
Since opening in 1992, the Oregon Coast Aquarium has been a premier attraction on Oregon's central coast and an enduring advocate for the health of our ocean. For over three decades this 501(c)3 non-profit organization has supported marine wildlife and fostered environmental stewardship through its education programs, community partnerships, and rehabilitation efforts. Accredited by the Association of Zoos & Aquariums, the Oregon Coast Aquarium is consistently ranked as one of the top 10 aquariums in the U.S., providing visitors with opportunities to connect with 15,000 animals spanning 300 different species. The Oregon Coast Aquarium is located at 2820 S.E. Ferry Slip Rd., Newport, OR. aquarium.org, 541-867-3474. Follow us on Facebook or Twitter for the latest updates