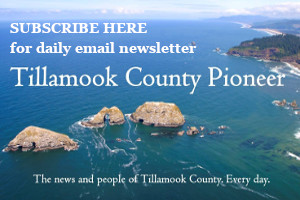 Tickets for the Tillamook County Pioneer Museum's 15th annual Festival of Trees are now on sale at the Museum, 2106 Second Street in downtown Tillamook. The Gala and Silent Auction will be held, Friday, December 7 from 5:30 to 8:00 PM. Tickets are $35 and are available at the Museum during regular business hours, 10:00AM to 4:00PM, Tuesday through Sunday. "This is Tillamook's premier holiday event," said organizer Carla Albright. "It is the time when we all dress up and have a festive time with friends, old and new. But don't delay to get your tickets. We have sold out early the last four years."
The Festival is the only fundraiser that the Museum holds for itself each year. The Festival of Trees Committee has been working for months to make this event more special than ever. Heavy hors'd'oeuvres will be created by Twins Ranch Catering with some delicious goodies being shipped to Tillamook from Italy. Wine will be supplied by Blue Heron French Cheese Company. The Festival Committee welcome businesses, organizations, and individuals to donate holiday wreaths, centerpieces and other festive items and baskets for the "Santa Packs" that will be auctioned the evening of the Gala. Eleven full-sized decorated Christmas trees will also be auctioned, with the winning bidders having their trees delivered and set up in the winning homes on Tuesday, December 11.
This year's proceeds will go toward funding upgrades to the blacksmith exhibit on the Lower Level of the Museum. For more information, call the Museum at 503.842.4553 or visit www.tcpm.org.