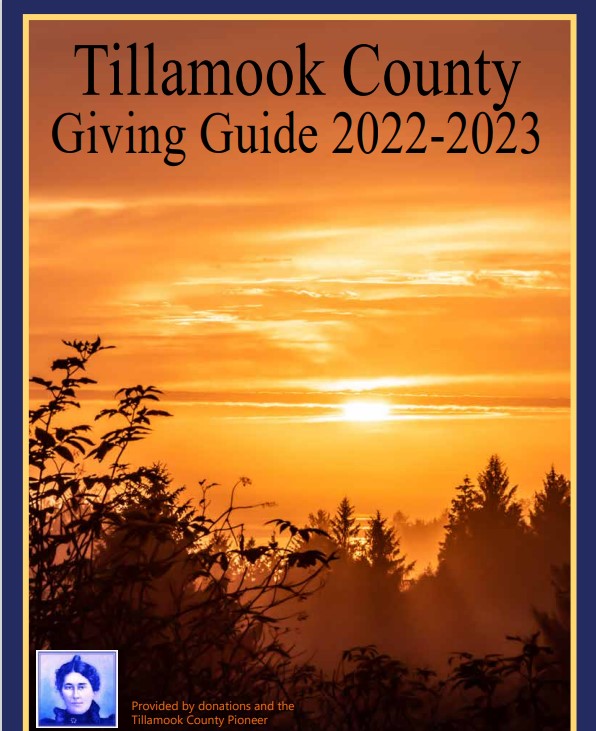 The annual 4-H Recognition Dinner was held on October 22 at Tillamook High School. There was a great attendance despite the unexpected early flooding event. Several awards were presented to deserving individuals.
Chandra Allen from TCCA presented a check for $14,790 to the Tillamook County 4-H Association, the proceeds from the Tillamook County Fair TCCA/4-H Ice Cream Booth. Chandra announced that over the past 8 years of partnership TCCA has presented over $100,000 to the Tillamook County 4-H Association. Thanks to TCCA for their support of the Tillamook County 4-H program. These funds have provided 4-H scholarships to various 4-H events, college scholarships, mini-grants to 4-H project areas for improvements at fair, purchase of equipment, and to fund 4-H activities such as the recent 4-H/OMSI Science Day.
The 2017 Sid & Lillian Johnson 4-H Inspiration Award is given to a community member or organization that has made significant contributions to the 4-H program over time. This year the Tillamook County Fairgrounds Management Team was recognized for their unwavering support of the Tillamook County 4-H program. The 4-H program truly appreciates the support of Camy VonSoggern, Fair Manager, Audra Bugger & Josie Hoopes, Office Staff and Josh Armstrong & Jerry Manderville, Maintenance.

The 4-H Outstanding Alumni award went to Neal Lemery. This award is given to one 4-H alum each year, someone who has excelled in their career, leadership and community service. This year's recipient has certainly done that and done so with a smile on his face. The Tillamook County 4-H program would like to thank Neal for all he has done, and continues to do, for 4-H and his community.
The 2017 Friends of 4-H awards that are presented to individuals and organizations who have demonstrated outstanding support of the 4-H program during the previous year. Friends of 4-H awards were presented to: Kevin & Debbie Queen, Dan Reeves, Lisa Crabtree, Art Accelerated and Levi Crabtree.
The Tillamook County 4-H Leader of the Year award was presented to Vicki Porter. Vicki has been a 4-H leader for 13 years. She took over one of the oldest 4-H clubs in the county when the other leaders stepped down. Unlike many leaders, she continued being a leader even after her own children graduated and were no longer in 4-H.
The Home Economics/Expressive Arts (HEART) Leader of the Year receives the Joan Powell Memorial Award and this year's winner was Denise Porter. Denise leads the "Fields of Clover" 4-H club that participates in foods and food preservation project areas. In addition, Denise partnered with Tillamook 4-H and Open Campus to provide a series of middle school enrichment programs this summer, including a popular foods class.
4-H Leaders were also presented pins for their years of service at five year intervals. Pins were presented to the following leaders:
• First Year – Jerilee Blaser, Cindy Gardner, Lindsey Griffin, Christine Harrison, Ken Hurliman, Nicole Hurliman and Lauri Stein.
• Fifth year – Jamie Dixson, Roxanne Fletcher, Holly Obrist, Dawn Palter, Debbie Queen, Crissy Weber and Jerry Webster.
• Tenth year – Cyndie Siemsen, Amy Willison, Patrick Willison and Tanya Wehage
• Fifteenth Year – Miranda Miller
• Twentieth Year – Gina Seufert
• Thirtieth Year – Steven Kershaw & Phyllis Woods
• Fortieth Year – Desi Josi

Fairview Dairy 4-H members past and present accepting Desi Josi's 40th year Leader Award on her behalf.
Thanks to all the 4-H leaders and others who support the 4-H program in Tillamook County.
Oregon State University Extension Service prohibits discrimination in all its programs, services, activities, and materials on the basis of race, color, national origin, religion, sex, gender identity (including gender expression), sexual orientation, disability, age, marital status, familial/parental status, income derived from a public assistance program, political beliefs, genetic information, veteran's status, reprisal or retaliation for prior civil rights activity.
If you have a disability that requires special considerations in order for you to attend this event, contact the OSU Extension Service in Tillamook at 503.842.3433.