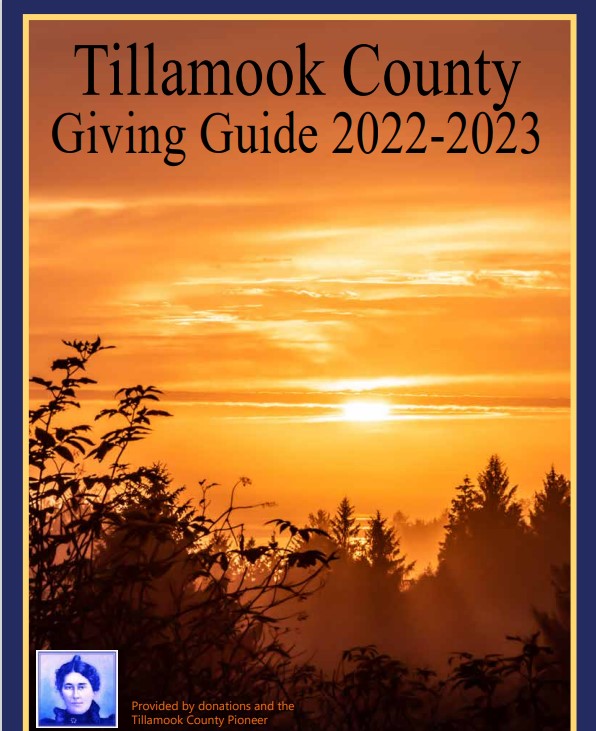 Previously, the Oregon Health Authority OHA "Warning Week" data had projected that Tillamook County would move to the "High Risk" category and Clatsop County would remain in High risk, effective 12/18/20.
Tillamook County received notice yesterday December 14th that the county's case count exceeded 60 cases, which would put it into EXTREME RISK on Friday December 18th.
From the Governor's Office:
This reflects the following to go into effect on Friday, December 18th:
·Clatsop, Curry, Tillamook Counties moving to Extreme Risk
·Lake County moving to Moderate Risk
·All other counties remain in the Risk Level they were previously in
These levels will be effective from December 18th to January 1st, 2021.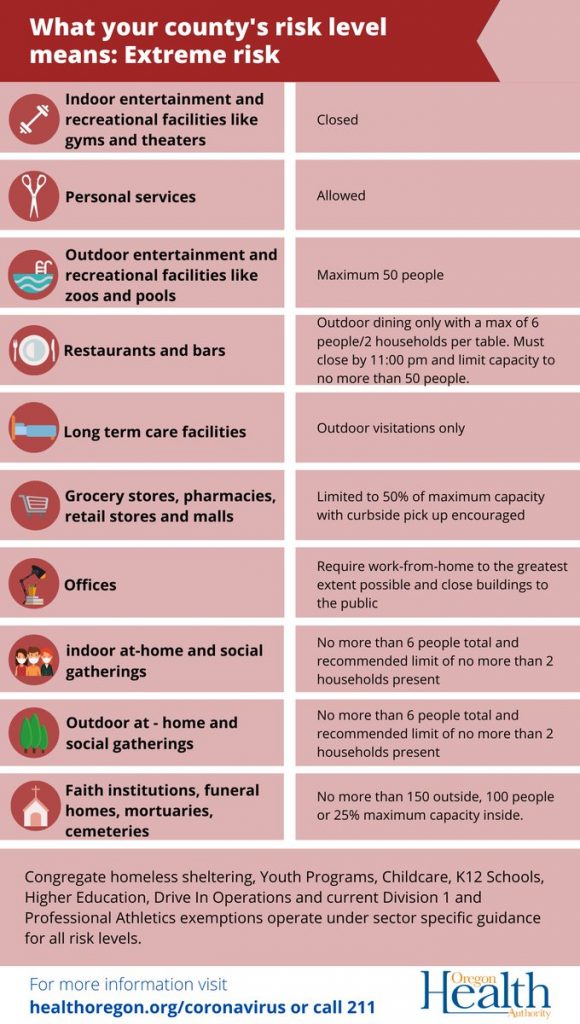 The EXTREME RISK level category details about activities:
Eating and Drinking Establishments – Indoor dining prohibited. Takeout highly recommended. Outdoor dining allowed. Outdoor capacity: 50 people maximum. Outdoor seating: 6 people per party and per table maximum, limit 2 households. 11:00 p.m. closing time
Faith Institutions, Funeral Homes, Mortuaries, Cemeteries – Indoor Capacity: Maximum 25% occupancy or 100 people total, whichever is smaller. Outdoor Capacity: 150 people maximum. Recommended: limit services to one hour
Indoor and Outdoor Shopping Centers & Malls – Capacity: Maximum 50% occupancy. Curbside pick-up encouraged
Indoor Entertainment Establishments – Prohibited
Indoors Recreation & Fitness – Prohibited
Long-Term Care – Outside visitation only
Offices – Require remote work if able. Close offices to the public
Outdoor Entertainment Establishments – Max 50 people
Outdoor Recreation & Fitness – Maximum 50 people
Personal Services – Allowed​
Retail Stores – 50% max capacity. Curbside pick-up encouraged
Social and At-Home Gathering Size (Indoor) – Maximum 6 people. Recommended limit: 2 households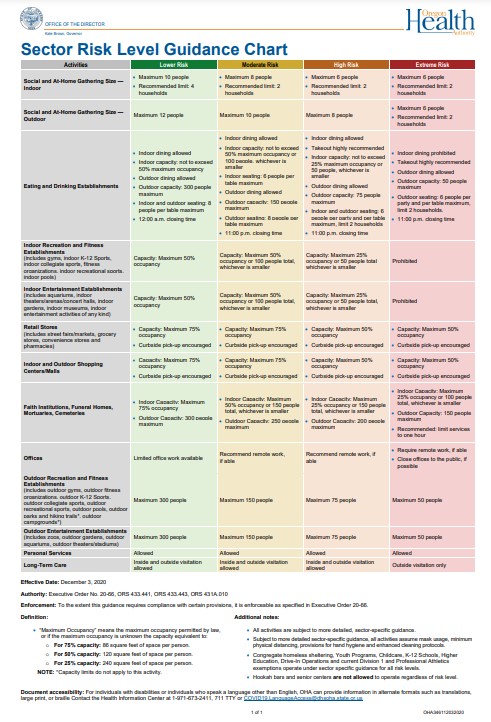 Next week warning week data will be sent on Monday, December 21st and Movement Week data will be sent on Monday, December 28th.
With Oregon's new Risk and Protection framework, county risk levels are updated every two weeks in response to how COVID-19 is spreading in our communities.
On Tuesday of Week One (called the Warning Week), data for the previous two weeks is published so counties can prepare for potential risk level changes the following week.
On Tuesday of Week Two (called the Movement Week), updated data is published and County Risk Levels are determined. Risk Levels take effect on Friday and remain in effect for the next two weeks while this process repeats.
Based on Tillamook County's increased case count over the past two weeks (OHA reports 48 new cases), the "Warning Week" data indicates a likely move to the "High Risk" category. This shift in risk level will be finalized today (the Tuesday of "Movement Week," 12/15/20) and the "EXTREME Risk" restrictions will take effect on Friday December 18th.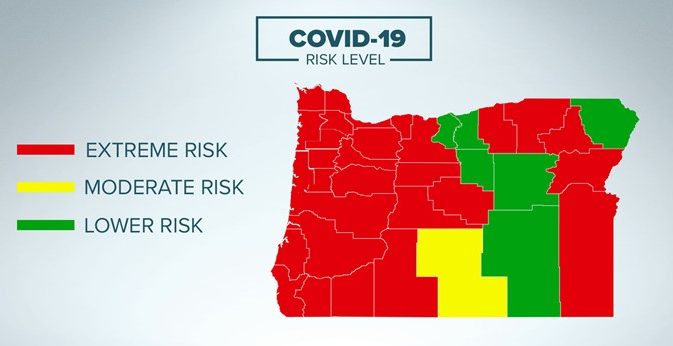 (Oregon Governor's press release 12/15/20)
(Salem, OR) — Governor Kate Brown today announced updates to county risk levels under the state's new public health framework to reduce transmission and protect Oregonians from COVID-19. The framework uses four different risk levels for counties based on COVID-19 spread—Extreme Risk, High Risk, Moderate Risk, and Lower Risk—and assigns health and safety measures for each level.
Effective Dec. 18 through Dec. 31, there will be 29 counties in the Extreme Risk level, one county at Moderate Risk, and six counties at Lower Risk. A complete list of counties and their associated risk levels:
County Risk Categories, Effective December 18
(Data as of December 14, 2020)
Lower Risk: (6)
Gilliam
Grant (moved from Extreme)
Harney (moved from Moderate)
Sherman
Wallowa
Wheeler
Moderate Risk (1)
Lake (moved from Extreme)
High Risk (0)
Extreme Risk (29)
Baker
Benton (moved from High)
Clackamas
Clatsop (moved from High)
Columbia
Coos (moved from High)
Crook
Curry (moved from High)
Deschutes
Douglas
Hood River
Jackson
Jefferson
Josephine
Klamath
Lane
Lincoln (moved from High)
Linn
Malheur
Marion
Morrow
Multnomah
Polk
Tillamook (moved from Moderate)
Umatilla
Union
Wasco
Washington
Yamhill
"We continue to see community spread across Oregon to the point that the majority of the state needs to continue with strict health and safety measures," said Governor Brown. "Until we reduce the spread and have high participation in vaccination, all Oregonians need to follow the guidelines in place in their counties. I am also asking Oregonians to continue practicing the measures we know are effective in reducing the spread of COVID-19 — wear your mask, keep physical distance from others, avoid gatherings, wash your hands often, and stay home when you're sick."
The Oregon Health Authority will examine and publish county data weekly. County risk levels will be reassigned every two weeks. The first week's data will provide a "warning week" to prepare counties for potential risk level changes. The next assignment of risk levels will take effect Jan. 1.
Updates to Warning Week data and county risk levels will be posted to coronavirus.oregon.gov.