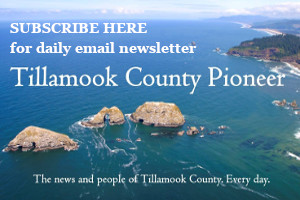 Tillamook, OR – Tillamook Bay Community College (TBCC) faculty member Sydney Elliott is the recipient of the 2020 Dale P. Parnell Distinguished Faculty Award from the American Association of Community Colleges. This national award recognizes individuals who demonstrate a passion for students, show a willingness to support students inside and outside of the classroom, participate in college committees, and go beyond what is required to ensure students are successful in their academic endeavors.
In his nomination letter on her behalf, Dr. Ross Tomlin, TBCC President stated, "I have been in community colleges for almost 40 years, with over 20 years of that as a faculty member. I have not seen another faculty member in all those years that has more passion for helping students learn and fall in love with learning as Sydney has. I consider her a master teacher that genuinely cares about each and every student in her class."
Elliott is a full-time English instructor at Tillamook Bay Community College and was instrumental in developing a writing studio at the college to support students. In addition to her work in the classroom, Elliott served on the Equity and Inclusion Committee at the college and is currently a member of the Safety Committee. She volunteers for the Tillamook County Search and Rescue team and teaches classes in women's self-defense in her free time.
Elliott holds a Bachelor of Art in English from Portland State University and graduated from Pacific Lutheran University's Rainier Writing Workshop with a Master's of Fine Art in Creative Writing. She is the editor of the Community College Humanities Review and serves as the Community College Humanities Association's National Publications Director.
She is the past recipient of the distinguished Regional Educator Award for the Community College Humanities Association.
"I am so proud of Sydney," said Dr. Teresa Rivenes, TBCC Chief Academic Officer. "In my career, I have never nominated a faculty member for this level of national award. I feel that strongly about Sydney's work in the classroom and its impact on student success. Sydney introduces her students to international poets and helps them publish as part of her work. She gives our students amazing opportunities."
The American Association of Community Colleges (AACC) is the primary advocacy organization for the nation's community colleges. The association represents nearly 1,200 two-year associate degree-granting institutions and more than 12 million students.