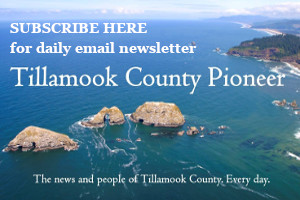 Tillamook Bay Community College Foundation is excited to announce the opening of their 2018-2019 scholarships for current and prospective TBCC students. The scholarship process is completely online at http://tillamookbaycc.edu/paying-for-college/financial-aid/scholarships/ Students enter their information into a general application, and from there it filters them into the individual scholarships for which they qualify. There is nearly $68,000 in scholarship support to award. Students have until May 1 to apply.
"Scholarships are often the gateway to a student's ability to attend college," says Heidi Luquette, Executive Director of the TBCC Foundation. "This new process eliminates the need for multiple, cumbersome paper applications, which has been a barrier in the past for students."
There are five new scholarships being offered to students funded by donors of the Foundation. New scholarships include the J.M. "Jim" Brown Scholarship; the Benjamin G. Nunez and Patricia Gleason Nunez Endowed Scholarship; the Tillamook County Entrepreneurial Scholarship, made possible by the generosity of Dr. Adrian Roberts; the Buck and Elnora Monroe Endowed Scholarship; the Robert and Alicia Reed Endowed Scholarship; and the Tillamook County Pioneer Museum Endowed Scholarship, generously brought to fruition by TBCC Foundation Board member and community-supporter Judson Randall.
"Donors make these opportunities possible," says Luquette. "Without the strong support from our community year after year we would not be able to watch these amazing students pursue their dreams, from registration to graduation and beyond. It is truly inspiring to see Tillamook's continued support of our students."
Scholarships are awarded in June, with funds dispersed in the fall. They help to cover tuition and other expenses over three terms. Unlike federal and private loans, scholarships do not have to be paid back.
For more information on TBCC scholarships, contact Heidi Luquette at 503-842-8222 ext. 1025 or email heidiluquette@tillamookbaycc.edu.