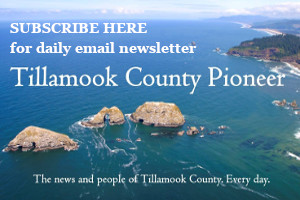 By Matt Maizel
The 2022 season was a historic one for Tillamook football (5-0 Cowapa League, 10-3 overall). If you haven't already heard, The Mooks made it to the 4A title game for the first time in 45 years. Around 5,000 people showed their support at Ron Tonkin Field in Hillsboro. Hats off to the Estacada Rangers (5-0 Tri-Valley Conference, 12-1 overall), who were winners of their last twelve, including the OSAA title game (their first in program history).
The Cheesemakers had high hopes after a junior-led team finished 6-5 last season. With seven seniors returning, Coach Johnson believes diversity played a big part in Tillamook's success, he commented, "This was a great group to be around. We had a lot of very good players but never relied on just one guy to get the job done for us". Tyler Moncrief, Parker McKibbin, Sam Diaz, Judah Werner, Garrison Gunder, Gilbert Whitlatch and Zeyon Hurliman were the seven senior captains for this year's squad. Each of those guys made their mark on this program…I expect the state championship game loss to be a motivating factor this off-season and I have no doubts that the Cheesemakers are going to put together a tough, competitive team next fall who will be eager to cement their own legacy." Many of Johnson's players are multi-sport athletes, he acknowledges how having a broad range of athletes is special.
With the turf and drainage part of Tillamook High School's facility facelift project running into delays, Tillamook was unable to host any football games until its completion. The Mooks, against all odds, still made it to the playoffs after a long eight game stretch on the road to start the season.
Tillamook went on to win 10 games in a row after opening the season losing two close games to tough non-league opponents in Marshfield and Banks. The Mooks showed a lot of resolve in their run for the championship, and we believe they set a new standard for their program in the process. Tillamook's lethal run game and stifiling defense were big components of their identity this season. The Mooks did a great job of cleaning up specific details week after week, and their run blocking schemes only got harder for opposing teams to defend as the season wore on. The Cheesemakers put up impressive numbers on both sides of the ball, scoring 30 points per game on offense and only allowing 14 points per game on defense – an imposing 16 point margin.
A big shout-out to our Cowapa League Award Winners:
Cowapa League Offensive Player of the Year – Zeyon Hurliman (Sr)
Co-Punter of the Year – Zeyon Hurliman (Sr)
Co-Kicker of the Year – Tanner Hoskins (Jr)
Co-Coach of the Year – Kye Johnson
1st Team All Cowapa League Offense:
QB – Tanner Hoskins (Jr)
RB – Judah Werner (Sr)
WR – Zeyon Hurliman (Sr)
OL – Ken Lopez (Jr)
OL – Austin Berry-Killian (Jr)
1st Team All Cowapa League Defense:
DL – Sam Diaz (Sr)
LB – Gilbert Whitlatch (Sr)
DB – Tyler Moncrief (Sr)
DB – Parker McKibbin (Sr)
DB – Garrison Gunder (Sr)
Honorable Mention Cowapa League:
QB – Seth Wehinger (Jr)
DB – Eligio Maciel (Jr)
DB – Baird Hagerty (Jr)
GO MOOKS!