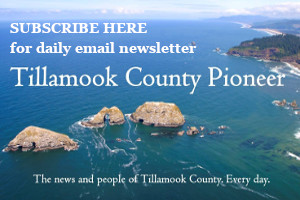 The $35 pass saves $120 in admission fees to local museums.
Step Back in Time, the annual history appreciation celebration hosted by the Tillamook Coast History Alliance (TCHA), will take place Thanksgiving weekend, November 23 to 25. Several member museums will be open that weekend with special events showcasing the county's cultural heritage.
To inspire museum visits, TCHA will offer VIP passes for $35. The pass offers 20% off a one-time general admission for up to four adults and/or children to all TCHA member museums as well as 20% off regular ticket fare on the Oregon Coast Scenic Railroad. The pass is good from November 23, 2018 to December 31, 2019.
"The VIP Pass is a thoughtful gift to give friends and family this holiday season," said Carla Albright of TCHA and Tillamook County Pioneer Museum. "The pass is a way for an entire family to experience the history of Tillamook County."
TCHA members include the Tillamook County Pioneer Museum, the Garibaldi Maritime Museum, Latimer Quilt and Textile Center, Tillamook Air Museum, Oregon Coast Scenic Railroad, Tillamook Forest Center, the International Police Museum of Rockaway Beach, the Old Iron Club, Mike's Firehouse Museum, and Cape Meares Lighthouse. It also includes the Nehalem Valley Historical Society and the Tillamook County Historical Society as well as the Garibaldi Cultural Heritage Initiative.
Step Back in Time VIP Passes go on sale November 1 online at
https://www.eventbrite.com/e/tillamook-coasts-a-step-back-in-time-vip-cards-tickets-51913702281, or at the Tillamook County Pioneer Museum and Garibaldi Maritime Museum starting November 23, 2018. Only 250 passes will be sold, so be sure to get yours soon.
For more information call the Pioneer Museum at 503.842.4553 or the Garibaldi Museum at 503.322.8411.