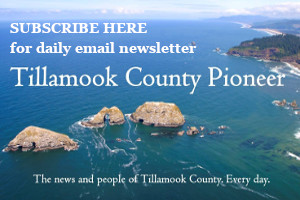 By Laura Swanson
Tillamook County's newest animal shelter, established in July of 2017, Tillamook County Animal Aid (TCAA) has hit the ground running – a facility with eight kennels and now a fenced in run area at the Port of Tillamook Bay. TCAA is a nonprofit created specifically to support law enforcement with handling lost, stray, neglected or abused dogs.
The shelter, a converted garaged, was built entirely by the Tillamook County inmate work crew, and on Saturday November 18th "Fences for Fido" and a dozen volunteers fenced in an area to provide an en
closed outdoor run for the shelter's canine guests.

Access to the shelter is available 24 hours a day to law enforcement in order to provide a safe, efficient solution to the challenges of sheltering a dog whose life may be in danger.
Upon arrival, all lost or stray dogs are scanned for a microchip to ensure a quick reunion with their owner. TCAA is also devoted to partnering with rescue organizations to assist with dogs that need a forever home. During their stay at TCAA, dogs will be evaluated and cared for by trained professionals, and devoted volunteers to ensure all dogs receive the best medical care and comfort. Since part of TCAA's mission is to protect animal welfare and public safety, ensuring proper care and preventing the spread of disease is a priority. All dogs in the care of
TCAA will be required have a current Rabies vaccine and be licensed under Tillamook County Ordinance 64. A fee will be assessed with the return of all dogs in order to ensure that TCAA can continue to provide these services to dogs in need.

A donation barrel for donated dog food is located at the Tillamook Farmers Co-op; and a donation drop off for blankets and supplies is at the Tillamook Sheriff's office on Monday-Friday 9-4pm. According to TCAA director Natasha Lackey, "Folks wanting to volunteer can go to our website and apply. Dog walkers and dog joggers are needed as well as folks wanting to be a part of events/fundraisers."
Speaking of fundraisers, here is a great fundraiser for TCAA – buy a hoodie and help support the shelter." If we can sell 50, we can spay or neuter at least 4 dogs," said Lackey. https://www.customink.com/fundraising/support-animal-rescue-and-tillamook-county-animal-aid-inc
Tillamook County Animal Aid, a safe haven for animals that have for various reasons come into the hands of law enforcement and lost/strays. Financial contributions to the shelter can be made through Paypal under the email address tc.animalaid@gmail.com or mailed to PO Box 1277 Tillamook 97141.