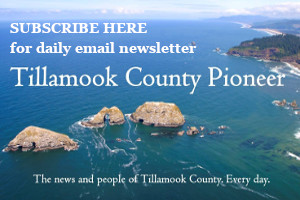 April 21, 2022. Tillamook County, Oregon.  Using the transient lodging tax (TLT) to benefit the community has been the primary goal of the county commissioners since the TLT was first collected in 2014. One of the ways that is accomplished is through a tourism facilities grant process. From 2015 through 2022, nearly $4 million has been distributed through grants to help with local projects. In this year's grant round, 16 organizations from throughout Tillamook County were approved for tourism-related facilities grant awards, totaling $890,048.
TLT funds will support the following projects:
City of Bay City for a hiker/biker campground at Al Griffin Park
City of Tillamook for lighting of gateway signs
Hoffman Center for the Arts for an expansion plan
Oceanside Community Club for a roof replacement
Oregon Department of Aviation for repairs at the Pacific City Airport
Pine Grove Community House for Phase II construction improvements
Port of Garibaldi for restroom renovations
Rockaway Beach Chamber of Commerce for decking on the visitor center caboose
Shorepine Village HOA for repairs on the public beach dune ramp
Sitka Center for Art and Ecology for electric and wall repair
South Tillamook County Emergency Volunteer Corps supply shed project
Tillamook Chamber of Commerce for development of a public meeting and workspace
Tillamook County Pioneer Museum to create a host site at Kilchis Point Reserve
Tillamook County Transportation District to remodel the downtown Transit Center
Tillamook Estuaries Partnership for a design of the Estuary Exploration Center
Tillamook School District for a parking lot at the Port of Tillamook Bay for the new Disc Golf course
"Visitors invest in our county by spending their vacation dollars at our hotels, house rentals and campgrounds, and paying the lodging tax," said Nan Devlin, executive director of Tillamook Coast Visitors Association (TCVA). "The county reinvests those dollars into projects that benefit our local communities. Tillamook County has been a state leader in reinvestment programs since the TLT was implemented."
TCVA managed the tourism facilities grant process this year, working with the Tourism Advisory Council (TAC), a group of community volunteers from throughout the county who are charged with reviewing and scoring applications. Their recommendations were presented to the Tillamook Board of County Commissioners for approval on April 13 at the weekly commissioners meeting.
Questions about the grant can be directed to Amy Blackburn, TCVA Deputy Director and Grants Administrator at amy@tillamookcoast.com