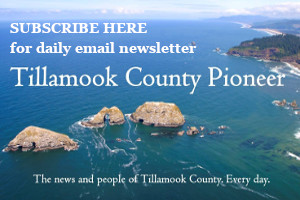 As a life-long resident of Tillamook County, I was raised on a farm in Nehalem alongside my father, mother, siblings, and grandparents. It was a tight-knit family that worked together, learned together, and respected each other as well as our neighbors and community.
I attended school in the Nehalem area, graduating from Neah-Kah-Nie High school, where I met my wife Patti (Erskine) Porter. We were married in 1972 and have three children: Erin (Porter) Christensen, Angela (Porter) Young, and Travis Porter. While our children were still in school, I served on the Neah-Kah-Nie School Board for 9 years, as well as the budget committee for the school district. Two of our children continue to live in Tillamook County, with their children attending the same schools as their parents and grandparents before them.
Growing up heavily involved with 4-H, Patti and I felt it would be a healthy and educational organization for our children as well, and it soon became a family affair. For 10 years, Patti and I led the White Clover Cattle Club, serving North County. As the club grew, the children of the community learned and worked together, often finding that 4-H was not only fun but rewarding as well.
For the past 18 years, I have served on the Tillamook County Soil and Water Conservation Board. This position has provided an opportunity for me to help diverse groups to address complex problems caused by water running through, nearby, or adjacent to their properties. Serving for almost two decades has also given me the experience to hone my skills at solving complicated problems during negotiations that have included accountants, lawyers, state environmental regulators, and those whose lives and livelihoods would be affected by my decisions.
I've also served on the Board for Rinehart Hospital in Wheeler, a nonprofit, federally qualified health center.
If asked, I believe my friends and family would find me to be fair, reasonable, and honest. Listening to others respectfully, considering all viewpoints, is a strong quality of mine. With nothing to sell, debts to no one, I will represent Tillamook County residents and voters first and foremost, and to the best of my abilities. I am not afraid to take a tough stand for what is right, just, and cost effective. As Tillamook County Commissioner, I will fight to ensure that the Board operates on a balanced budget, and my focus will continue to be on the concerns of our community, such as: roads, drainage, tide gates, and the growing issues regarding housing.
I love the North Coast and its beauty. I love the way of life it affords my family, community and the many visitors to our wonderful area. Fishing, farming, and forest practices are very much a part of our livelihood, which I will represent energetically on behalf of our county, as I remain active in the farming community by helping neighbors with mowing, silage, and ranch management.
It would be my honor and privilege to serve my community as Tillamook County Commissioner.
E Mail address: walt@electwaltporter.com
Web address: www.electwaltporter.com