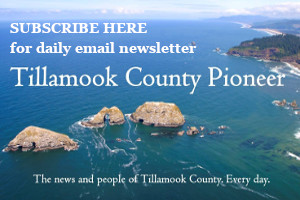 The Tillamook County Board of Commissioners signed Resolution #20-005 on March 14, 2020 that declares a local state of emergency within Tillamook County due to COVID-19. The following measures are in effect immediately and shall remain in effect until April 1, 2020. The resolution may be extended thereafter by a vote of the Board.
Tillamook County Courthouse: The Tillamook County Commissioners are committed to making every effort to stop and prevent the spread of the virus to our citizens. We encourage everyone to limit their contacts in the community in the days ahead and conduct as much business as possible online and by phone. In this vein, Tillamook County offices in the courthouse are closed to walk-in traffic and open only by appointment or for urgent business. The North courthouse entrance is closed. Members of the public who need to access the courthouse shall use the South entrance. Access to Justice Court, the District Attorney's Office, the Juvenile Department, and Circuit Court is available. Handicapped access to the courthouse remains available.
All branches of the Tillamook County Library will be closed to the public until April 1, 2020 for the safety of patrons and staff. The availability of online resources will be enhanced including books, movies, magazines, and reference materials. See the library website for updates and more information.
The Tillamook County Pioneer Museum will be closed until April 1, 2020 for the safety of patrons, staff, and volunteers.
The Tillamook County Fairgrounds is suspending all events of 250 people or more in compliance with the Governor's mass gathering directive. Please see the fairgrounds website for more information.
Departments in the courthouse may be reached by using the numbers listed below.
For more information or to make an appointment please call.
Board of Commissioners' Office 503-842-3403 
Human Resources Department 503-842-3418 
Treasurer's Office 503-842-3425 
Assessor's Office 503-842-3400 
Clerk's Office 503-842-3402 
Justice Court 503-842-3416 
District Attorney's Office 503-842-3410 
Circuit Court 503-842-2596 
Juvenile Department 503-842-3417 
Veteran's Office 503-842-4358
Offsite County Offices:
OPEN 
Health Department 503-842-3900 
Sheriff's Office – Jail 503-815-3300 
Tillamook County Parks Department 503-322-3477 
Transfer Stations 503-842-3419
CLOSED 
Sheriff's Office – Administration 503-842-3330 
Sheriff's Office – Parole/Probation 503-815-3331 
Library 503-842-1700 
Community Development 503-842-3408
Permit inspections done at Department's discretion 
Surveyor's Office 503-842-3423
Public Works and Solid Waste Office 503-842-3419 
Tillamook County employees will remain on the job and working to fulfill the obligations of the county.
All county committee meetings are canceled through until April 1, 2020.