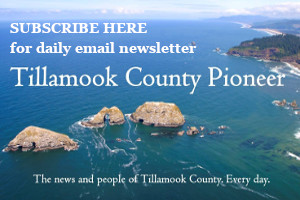 The Tillamook County Board of Realtors have announced their support for Adam Schwend as Tillamook County Commissioner. Schwend is running for Position 3 against five other individuals.
Schwend has been a member of the Tillamook County Board of Realtors (TCBR) for the last five years, and in 2017 served as their president.
"We had the opportunity to view him up close; personally, and professionally," said Valerie Schumann, the current TCBR President. "His steadfastness, tireless efforts, listening skills and insights into our city and county workings, are impressive, as he expands connections and relationships."
Schumann said Schwend assisted the Board in successfully increasing community involvement and advocacy related to legislative issues that had an impact on the coastal economy.
"Adam led the charge in stopping the 1% fee on construction, supported by our local board, builders and developers," she added.
"It's an honor to receive so much support from the Tillamook County Board of Realtors," Schwend said. "Home ownership, private property rights and limiting government intrusion into them are values that I'm proud to share with my fellow Realtors. I look forward to upholding those values as a county commissioner."
Schwend is also hosting a series of listening sessions all across the county, called 'Coffee and Conversations.' The first in the series is set for April 4th at 5 p.m. at the Kiawanda Community Center in Pacific City, followed by April 9 at 4 p.m. at Pine Grove Community House in Manzanita, and finally April 13 at 5 p.m. at the Tillamook Swiss Hall. Guests are welcome to come meet Schwend and share their concerns and topics of interest for the county as a whole.
"It's a low key, informal time to just get to know each other," Schwend said. "We have a lot of great forums planned in the near future where many of us running for county commissioner will be able to ask questions, answer questions, and talk about the issues in our county, but I wanted to make sure that anyone who can't attend a forum, or prefer a more personal, one-on-one conversation, can have that opportunity with me."
You can find more information about each event or Schwend's campaign on his Facebook page: Adam Schwend for County Commissioner or www.adamschwend.com.