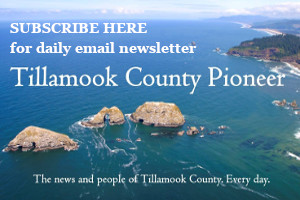 General Election Day is Tuesday, November 8th, 2022 – Important Dates and Information about voting:
Last day for New Oregon voters to register to vote for the November 8th General Election is Tuesday, October 18th.
Oregon is Vote-By-Mail.
You do not need to request an Absentee Ballot UNLESS you will not be at your home address between October 10th and November 8th.
Check the status of your voter registration, NOW, with the County Clerk or online at oregonvotes.gov – My Vote. Ballots will not/cannot be forwarded.  We start addressing envelopes for insertion ahead of deadlines, so the sooner you update the more likely that you will receive your ballot timely.
Ballots will be mailed to all local active registered voters beginning October 19th. If you have not received a ballot by October 28th, call the County Clerk's Office.
Voted ballots are due in the County Clerk's office or in an Official Ballot Drop Box by 8:00 PM Election Day, November 8th.
Be sure to sign your golden envelope in order for your ballot to be counted. We verify that every signature is valid before counting your ballot.
Vote early. You do not have to wait until Election Day to vote.
If you are concerned with mailing your ballot back through the postage paid envelope with the Postal Service or if you wait until the last week before the Election to vote, use an Official Ballot Drop Box:
See locations listed below.
Voter pamphlets from the Secretary of State will be mailed no later than October 19th.
If you have questions or concerns, call the COUNTY CLERK'S OFFICE @ 503-842-3402 for an official answer. Do not believe everything you see or hear.  Ask the local office in charge. You can also  refer to  our website for information or election results at the following: 2022 November General Election | Tillamook County OR or the Secretary of State's webpage State of Oregon: Voting & Elections – Voting & Elections
OFFICIAL TILLAMOOK COUNTY BALLOT DEPOSIT LOCATIONS – November 8, 2022 General Election
Below you will find the drop site locations and the available days and hours, the sites will be open for you to drop off voted ballots.
SOUTH
Cloverdale Drop Box  (open 24 hours)
34370 Hwy. 101 South, Cloverdale, OR 97112
Pacific City Drop Box  (open 24 hours)
Kiawanda Community Center , 34600 Cape Kiwanda Drive, Pacific City, OR 97135
CENTRAL
Tillamook County Clerk's Office  (8:00 a.m. – 5:00 p.m., Mon. – Fri.; 11/8/2022 Tue. 7:00 a.m. – 8:00 p.m.)
Tillamook County Courthouse , 201 Laurel Avenue, Tillamook, OR 97141
Tillamook County Courthouse (open 24 hours)
Outside: North set of stairs
201 Laurel Avenue, Tillamook, OR 97141
Tillamook City Drive-Up Drop (open 24 hours)
NW Corner of 3rd & Laurel, Tillamook, OR 97141
Tillamook City – Library Main Branch  (open 24 hours)
1716 3rd Street, Tillamook, OR 97141
NORTH
Bay City – City Hall Drop Box (open 24 hours)
5525 B Street, Bay City, OR 97107
Garibaldi – City Hall Drop Box (open 24 hours)
107 6th Street, Garibaldi, OR 97118
Rockaway Beach – City Hall Drop Box (open 24 hours)
276 Hwy. 101 South, Rockaway Beach, OR 97136
Manzanita  (open 24 hours)
Bus Stop at 5th and Laneda Avenue, Manzanita, OR 97130