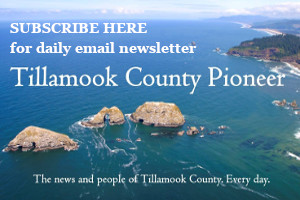 Tillamook County COVID-19 Update:
⏺ "Moderate Risk" 05/14/21 – 05/20/21
⏺ 13 new cases
⏺  150 vaccines given this week
⏺ 58.2% of eligible Tillamook County residents vaccinated w/ at least once dose.
Pfizer now approved for youths 12-15. We need your help to make Tillamook County safer. Please make a plan to get vaccinated as soon as possible to help us reach the 65% goal and move to and stay at "lower risk." Schedule here: http://tillamook.bookappt.link/vaccine.
CDC guidance for fully vaccinated people now updated to include limited to no mask wearing or physical distancing with exceptions for schools, hospitals/health care, correctional facilities, long-term care facilities, when using public transportation and according to state/federal laws/regulations and workplace rules/regulations. More info to come from Oregon Health Authority.
Risk Level/ Guidance Updates:
With 41 COVID19 cases over the past two weeks, Tillamook County met disease metrics to remain at "Moderate Risk" effective May 14 to May 20, 2021. The next risk level assignment announcement will be Tuesday, May 25, to take effect on Friday, May 28. New vaccination rate goals were set for
Oregon. Statewide goal: 70% of people eligible for the vaccine will receive at least one dose, when met, risk level and capacity limits will be removed. The state is anticipated to reach 70% by end of June.
In the meantime, if a county reaches 65% of county residents who are eligible for the vaccine who have received at least one dose, that county may move to and remain in the "Lower Risk" category.
Governor Kate Brown released a statement indicating that Oregon would follow the new CDC guidance for fully vaccinated people.
• The guidance recommends that fully vaccinated people no longer need to wear a mask or physically distance except when required by federal, state, local, tribal, or territorial laws, rules, and regulations, including local business and workplace guidance.
• Schools, Hospitals, Health care clinics, Correctional facilities, Long-term care facilities and when using public transportation are all exceptions to the new guidance as well.
• Oregon Health Authority will be updating guidance for employers; however, it is not required that businesses adopt new masking and physical distancing policies.
It is your choice on how to protect yourself and others from COVID-19: choose to get vaccinated or continue wearing a mask and following physical distancing requirements – we recommend choosing to get vaccinated. This new CDC guidance makes clear that vaccines are the best tool to protect
yourself and everyone around you.
If you are feeling ill, stay home and if you need COVID-19 testing, it is available to you at no cost.
Appointments are needed for testing call: 503-842-3900
Tillamook County COVID-19 Case & Vaccine Summary (5/14/2021)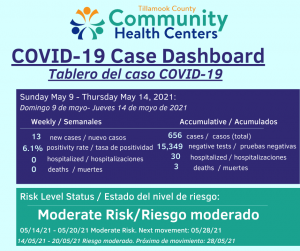 Case Numbers – Weekly Data, Sunday May 9 – Thursday May 13th:
• 13 new COVID-19 cases
• 26 cases and contacts under monitoring
• 0 currently hospitalized
• 0 new deaths for Tillamook County
• 6.1% average test positivity rate
Accumulative Data (March 2020 – May 2021):
• 656 total cases
• 15,349 negative tests
• 30 hospitalized
• 3 COVID-19 related deaths
Vaccines: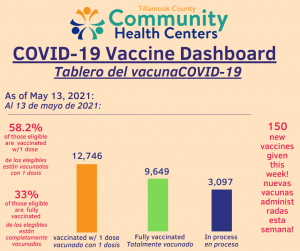 Tillamook County Vaccine Type:
o Moderna, Pfizer and Johnson and Johnson are now all available at Tillamook County vaccine provider sites. When scheduling online the clinic name will include the vaccine type and the minimum age required for the clinic.
▪ Pfizer update: received Emergency Use Authorization for youth 12-15 years old. The authorization was adapted in Oregon. Upcoming Pfizer clinics
are offered on May 18th and May 20th book online: tillamookchc.org "GetMyVaccine"
• 150 1st doses and 647 2nd doses were completed this week.
• Accumulative vaccine data as of 5/13/21:
• 12,746 people have received at least one dose of a COVID-19 vaccine which is 58.2% of the age eligible (16+) population in Tillamook County.
o We need just 6.8% more to reach the goal of 65%! Please make a plan to get vaccinated against COVID-19 as soon as possible.
o Vaccines are Free – health insurance is not needed. No proof of immigration status or Social Security number is required either. Book online or call us 503-842-3914 for assistance.