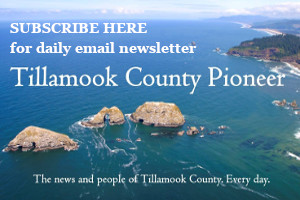 All those eligible in Groups 1-4 of Phase 1A – call to schedule to attend the vaccine event: 503-842-3914 (staffed Mon-Fri 8am-5pm by bilingual [English/Spanish] staff). You may also email your contact information to: tcchc@co.tillamook.or.us to schedule an appointment at the event.
You MUST be eligible to attend – one of the Phase 1A groups. (See graphic below.)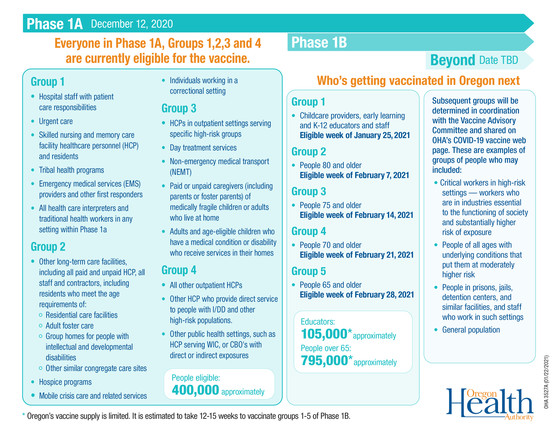 The vaccine event is held in Tillamook. If you reside in the northern area of Tillamook County, please email your contact information and your eligibility info including group # to be connected to a closer vaccine provider: tccch@co.tillamook.or.usOur public health staff is working tirelessly to answer your questions and concerns. We know how anxious and excited many are to receive the COVID-19 vaccine; and we also know more and more Tillamook County residents have been able to receive it; almost 1,300 vaccinated!
Please consider these items when calling or emailing:
• Scheduling / Appointments are only being made for those eligible now under Phase 1A.
• A list is not being made nor is scheduling occurring for individuals in Groups 2-5 of Phase 1B.
• If someone you know received the vaccine, they had to have met one of the eligibility requirements listed in Groups 1-4 of Phase 1A only.
• We are doing our best to meet the eligibility dates set by Oregon Health Authority, however with limited vaccine supply in Tillamook County, the vaccine may be available at a later date.
• We are not taking names or scheduling even if the eligibility date has passed unless there is an event we can schedule you for. Vaccine events are posted on our website, this page, and aired on KTIL.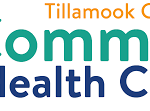 • Visit tillamookchc.org for vaccine progress and information on what groups are being scheduled and dates when available for the next groups.
Thank you for understanding and for your patience; we are distributing the vaccine as quickly as we can following the Oregon Health Authority distribution plan.