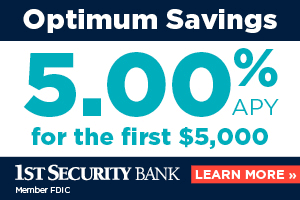 From Tillamook County Community Health Centers and Lt. Gordon McCraw, Tillamook County Emergency Manager & COVID-19 Incident Commander
⏺"Lower Risk" 05/27/21 – 06/17/21 – Next movement date: 06/18/21
⏺0 new cases this week – 06/04 – 06/20/21
⏺63.2% of Tillamook County residents eligible for the vaccine, vaccinated w/ at least one dose.
✳️ New COVID-19 vaccines appts. available at our health center on Tuesdays (Pfizer & J&J) or Thursdays (Moderna and J&J) for the month of June, call 503-842-3914 or email tcchc@co.tillamook.or.us for scheduling. Boosters for the vaccines that occurred in May are still at the fairgrounds.
🩹Don't miss your shot before the first day of Summer and your chance at entering the Oregon vaccine prize drawing! Drop in to our summer kick off vaccine clinic. All 3 vaccines available. No appointments needed. Hours 10am – 4pm, Saturday June 19th at the Tillamook County Fairgrounds.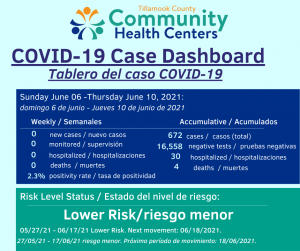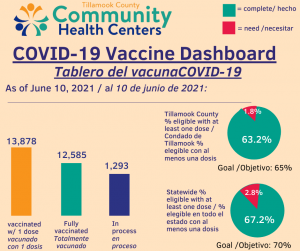 See vaccine rate data here: https://public.tableau.com/app/profile/oregon.health.authority.covid.19/viz/OregonVaccineMetricsGovernorsGoal/GovernorsGoal
COVID Vaccine Race to the Finishline
The state of Oregon, as of June 10, was at 67.2%.  The Governor continues to say that once the state reaches 70%, or only 2.8% more, she will reopen the State and do away with the Risk Levels. The modeling on this suggest that could be reached around June 21st.
For Counties to be put into Low Risk Category, regardless of Positive Case Count, it must reach 65%.  In both cases, they are looking at the total eligible population, 16 and above, with at least one shot. Tillamook County is at 62.3%, or only 2.7% away, which is 600 more people. The good news for us is Tillamook County's Positive Cases has dropped and remained below what is needed to be in the Low Risk Category, which we have enjoyed for several weeks now.  Based on this week's numbers, we will remain there for another week as well.  Again, once the state reaches 70%, Risk Levels will go away!
As an added incentive for folks 12+ to get vaccinated, if you have had at least one dose from the start thru June 27th, you are eligible for one of the following:
One, $1 million winner in the State,
One, $10,000 in the County
And there will be Five $100,000 Oregon College Savings Plan education scholarship winners.
Winners will be notified and have the opportunity to opt out or provide their consent to move forward with the prize process.
Shot Clinics
Today

, 

Friday

, 

June 11th

, from 12:30pm thru 5:30pm, the Nestucca Rural Fire District and the South County Emergency Volunteer Corps will be holding a Johnson and Johnson walk-in vaccine clinic at the Hebo Fire Station.
Pfizer and Johnson and Johnson walk-in clinics will be held each 

Tuesday

 from 8:30am thru 11:30am for all of June at the Tillamook Community Health Center, at the Annex Building beside their main clinic.
Moderna and Johnson and Johnson walk-in clinics will be held on Thursdays from 8:30am thru 11:30am for the month of June at the same location.
(Note: Moderna and Johnson and Johnson are only for individuals 18 and older)
You can also contact your Primary Health Provider to discuss and schedule a vaccine appointment.  Several Pharmacies in Tillamook County also offer the shot.  See their website for further on scheduling.
The vaccine is working, our positive cases numbers are low and getting even lower as the Vaccine % goes up.
Lt. Gordon McCraw