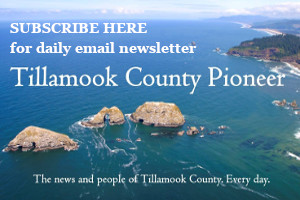 A small amount of the iHealth COVID-19 quick antigen home test kits remain available for pickup in the community.
These COVID-19 home test kits were made available to our agency to increase access to COVID-19 testing for populations and groups of people that have been disproportionately impacted by COVID-19.
Thanks to a partnership with Tillamook County Library, starting Monday February 14, 2022, COVID-19 home test kits will be available in all Tillamook County library branches. While the supply last, stop by the library during business hours in Manzanita, Rockaway, Garibaldi, Bay City, Tillamook, or Pacific City to pick-up an iHealth at home COVID-19 test kit at no cost. Please limit to taking one test kit (contains two tests) per person.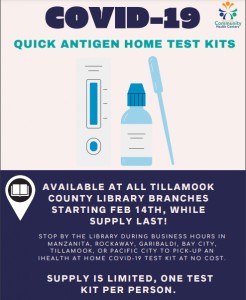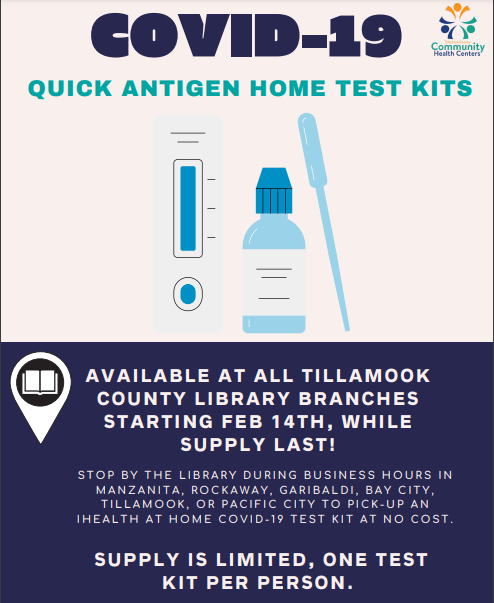 If you would like additional COVID-19 home tests, up to four, free COVID-19 home test kits are available to each household in the U.S., delivered to your residence by using the federal site: https://www.covidtests.gov/. Community based organizations throughout Tillamook County, who opted to participate, will soon have COVID-19 home test kits available for the people they work with and serve.
We understand how difficult this time is for everyone. We urge you all to continue to follow COVID-19 safety precautions.
If you do have a positive test result, please report your test result as soon as possible to Oregon Health Authority at: Oregon.gov/positivecovidtest or by calling OHA COVID-19 Hotline at: 866-917-8881. Resources and information on isolation and quarantine guidance are available from the Oregon Health Authority site listed above.
There are safe and early treatment options available for COVID-19 including antiviral oral medication. Some treatment options need to be started as early as 5 days from the date of the positive test. If you do have a positive COVID-19 test result and have mild to moderate symptoms such as fever, shortness of breath or cough, please contact your healthcare provider right away, and especially if you have chronic medical conditions that may place you at higher risk of becoming very ill from COVID-19. If you do not have a healthcare provider, call Adventist pharmacy at 503-815-2341 to speak to a pharmacist. Consider establishing care with a provider using the following contacts: Tillamook County Community Health Center (503-842-
3900), Adventist Health Tillamook (503-842-5546) or Rinehart Clinic (1-800-368-5182).
If you have COVID-19 related questions or need additional support, please contact the public health nurse line at 503-842-3940. Calls are returned within 24 business hours. If you are in need of testing from a healthcare facility, COVID-19 testing can be sought through:
• Tillamook County Community Health Center (503-842-3900)
• Adventist Health, Tillamook (503-842-5546)
• Rinehart Clinic (1-800-368-5182)
• Adventist Health, Tillamook – Manzanita Urgent Care (503-368-6244)
Tillamook County's equity plan can be found on Oregon Health Authority's COVID-19 page at https://govstatus.egov.com/OR-OHA-COVID-19 under "county equity plans."


About Tillamook County Community Health Centers
TCCHC has been a Federally Qualified Health Center since 1994, providing medical, dental,
behavioral, and public health services. Please visit our website at https://tillamookchc.org/ or
on Facebook at TillamookCHC.