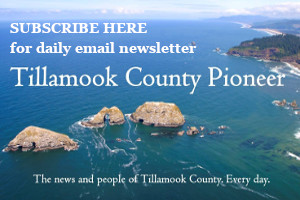 COVID-19 Response
Since the beginning of August, 229 new COVID-19 cases have occurred in Tillamook County; 129 of those cases were from this week (Aug 8 – 12) with a test positivity rate of 17.4%.
Oregon Health Authority reports 92% of cases are unvaccinated individuals statewide, Tillamook County public health estimates in Tillamook County 90% of cases are unvaccinated individuals.
Oregon recorded the most COVID-19 cases in a single day since the start of pandemic, on August 10th, with 2,329 cases. Statewide, hospitals are nearing capacity as COVID-19 cases continue to rise. Here in Tillamook County, surges of new cases continue to occur with more transmissible strains of the virus.
CASES: March 2020 – August 12, 2021 Tillamook County COVID-19 Count:
963 confirmed and presumptive COVID-19 cases,
5 deaths
34 hospitalizations.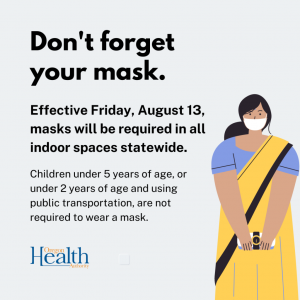 In efforts to help reduce disease spread, Oregon Health Authority released a rule requiring masks to be worn in indoor spaces in Oregon effective August 13, 2021. Individuals, regardless of vaccination status, are required to wear a mask, face covering or face shield when in an indoor space unless an exception applies. "Indoor spaces" is defined broadly to mean anywhere indoors that is not a private residence or a private automobile being used for personal use (i.e. not used for ride sharing), including:
public and private workplaces;
businesses;
indoor areas open to the public;
building lobbies, elevators, and bathrooms;
common or shared spaces;
classrooms;
transportation services; and
other indoor space where people may gather for any purpose.
The rule further defines "public and private workplaces" as indoor places where people work, including, but not limited to businesses, banks, food processing plants, manufacturing facilities, construction sites, warehouses, and farms.  Additionally, "common or shared spaces" means "Areas where individuals may interact such as a restroom, breakroom, hallway, elevator, lobby, classroom, large room with cubicles, meeting rooms, conference rooms, and any area open to the public."
There are exceptions to the mask wearing requirement, including when someone is eating or drinking, or when they are in a private individual workspace (an indoor space within a public or private workplace used for work by one individual at a time that is enclosed on all sides with walls from floor to ceiling and with a closed door).
View the Oregon Health Authority temporary rule here: https://secure.sos.state.or.us/oard/viewSingleRule.action?ruleVrsnRsn=280420
Tillamook County Public health strongly urges individuals to follow the indoor mask requirement. In addition, due to continued outbreaks, Tillamook County Public Health recommends that individuals take the following precautions to reduce and limit the spread of COVID-19:
Wear a mask properly (over mouth and nose) when indoors and in crowded areas,
Keep 6ft of distance from those not in your immediate household,
Wash your hands frequently,
Make a plan to get a COVID-19 vaccine as soon as possible if eligible and not yet vaccinated.
These tools remain as the most important things we can do to keep ourselves and our community safe. Choosing to wear a face covering will protect those who are not yet vaccinated and add additional protection to those who are vaccinated. If you are feeling sick with symptoms consistent with COVID-19 such as: fever, dry cough, fatigue, loss of taste or smell, aches and pains, headache, sore throat, nasal congestion, or red eyes stay home and contact your healthcare provider. COVID-19 testing is available at no cost at our acute care clinic (2111 8th St, Tillamook). Appointments are required, please call 503-824-3900.
DELTA VARIANT: August 07, 2021 – 600 cases have been tracked in Oregon; 110 of the cases are located in region one (Clackamas, Clatsop, Multnomah, Tillamook, and Washington counties). Oregon Health Authority reports that the Delta variant is roughly three times more transmissible that earlier strains of the virus, causing at least 2x more infections. Oregon has sequenced 5.1% of all specimens and ranks 8th in the nation for sequencing. The Delta variant now accounts for over 85% of sequenced cases in Oregon. County level data remains unavailable for variant tracking at this time.
VACCINATIONS: To date, 14,964 Tillamook County residents have chosen to be vaccinated with at least one dose of a COVID-19 vaccine.
All three COVID-19 vaccines (Pfizer, Moderna and Johnson & Johnson) are safe and effective at protecting against severe COVID-19 illness, hospitalization, and death from any of the currently identified variants of concern including delta. In Tillamook County, 63.78% of those eligible for the vaccine are fully vaccinated against COVID-19 and 52.80% are fully vaccinated in the total Tillamook County community (including those not yet eligible). Oregon Health Authority reports that COVID-19 cases are lower in communities with a total vaccination rate greater than 60%. In addition, Oregon Health Authority notes that nearly all of the new COVID-19 cases have been from the delta variant. The delta variant is three times more transmissible that earlier strains of the virus, both young and older individuals are getting sick and increasing disease spread. We plead with you, if you or members of your household are at least 12 years old and not yet vaccinated, choose to get vaccinated as soon as possible – our bodies cannot effectively fight a virus that it has not seen, vaccines give us the ability to do that. Visit our website https://tillamookchc.org/coronavirus/vaccine-scheduling/ to learn more on where you can get a COVID-19 vaccine at no cost in Tillamook County.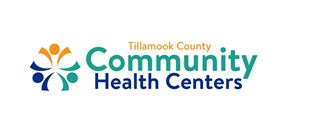 About Tillamook County Community Health Centers:
TCCHC has been a Federally Qualified Health Center since 1994, providing medical, dental, behavioral and public health services.
Follow our Facebook @TillamookCHC for daily updates.
Additional Resources:
Oregon Health Authority COVID-19 Information: http://healthoregon.org/coronavirus  
CDC COVID-19 Information: https://www.cdc.gov/coronavirus/2019-ncov/index.html