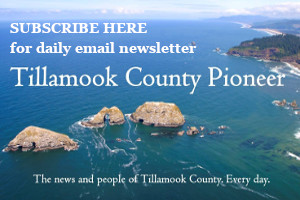 Tillamook County moves to "High Risk" category effective 04/09/21 – 04/22/21.
While Tillamook County did meet previous defined disease metrics to move into "Extreme Risk," with 65 cases and test positivity of 7.5% over the past two week period (3/21/21-04/03/21), Governor Kate Brown's office, just announced that beginning this week, for counties to move to (or remain in) Extreme Risk, they must meet the county metrics for case rates and percent positivity, plus a new statewide metric: COVID-19 positive patients occupying 300 hospital beds or more, and a 15% increase in the seven-day average over the past week. Tillamook County did not meet the 3rd new metric and therefore will not be moving to Extreme Risk.
In "High Risk" business may operate with reduced hours and capacity limits, remote office work is recommended if possible and social gatherings indoors decrease to 6 people with no more than 2 households recommended and 8 people outdoors. See the full guidance here
https://coronavirus.oregon.gov/Pages/guidance.aspx
.
It has been a long year of physical distancing and mask wearing, but these are some of the most important things we can do to keep ourselves and our community safe as we wait for more groups to become eligible for the vaccine – if you are eligible, schedule an appointment as early as you can on the online tool available at:
tillamookchc.org.
Phase two will now begin April 19th instead of May 1st which opens scheduling in Tillamook County to anyone 18 and older (no vaccine in Tillamook County is FDA authorized for those under 18).
_________________________________________
El condado de Tillamook pasa a la categoría de "Alto Riesgo" a partir del 09/04/21 – 22/04/21.
Si bien el condado de Tillamook cumplió con las métricas de enfermedad definidas anteriormente para pasar a la categoría de "riesgo extremo", con 65 casos y una positividad del 7,5% en el período de las últimas dos semanas (21/03-04/03/21), la oficina de la gobernadora Kate Brown acaba de anunciar que, a partir de esta semana, para que los condados pasen a la categoría de "riesgo extremo" (o permanezcan en ella), deben cumplir con las métricas del condado en cuanto a tasas de casos y porcentaje de positividad, además de una nueva métrica a nivel estatal: Pacientes positivos al COVID-19 que ocupen 300 camas de hospital o más, y un aumento del 15% en la media de siete días durante la última semana. El condado de Tillamook no cumplió la tercera métrica nueva y, por lo tanto, no pasará a la categoría de riesgo extremo.
En "Riesgo Alto" los negocios pueden operar con horarios reducidos y límites de capacidad, se recomienda el trabajo en oficinas remotas si es posible y las reuniones sociales en interiores disminuyen a 6 personas con no más de 2 hogares recomendados y 8 personas en exteriores. Consulte la guía completa aquí
https://coronavirus.oregon.gov/Pages/guidance.aspx
.
Ha sido un largo año de distanciamiento físico y uso de máscaras, pero estas son algunas de las cosas más importantes que podemos hacer para mantenernos a nosotros mismos y a nuestra comunidad a salvo mientras esperamos que más grupos sean elegibles para la vacuna – si usted es elegible, programe una cita tan pronto como pueda en la herramienta en línea disponible en:
tillamookchc.org.
La segunda fase comenzará el 19 de abril en lugar del 1 de mayo, lo que abre la programación en el condado de Tillamook a cualquier persona mayor de 18 años (ninguna vacuna en el condado de Tillamook está autorizada por la FDA para los menores de 18 años).