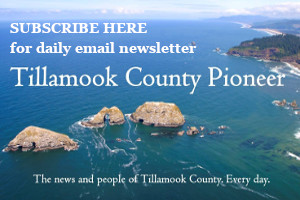 For the health and safety of staff and clients, many social service agencies have changed how they are providing services. Here is a list of several contacts for Tillamook County Community Health Centers and Adventist Health's COVID-19 information helplines; child care services; Tides of Change (formerly Womens Resource Center); CARE Inc. about accessing resources and services. CALL organizations first or email online to arrange appointments.
Health Dept. COVID-19 information line: Questions about flu-like symptoms and/or are concerned about COVID-19, they can call our COVID -19 information line which is staffed by nurses from 8-5, M-F at: 503.842.3940 (English & Spanish). Through screening, they will assist in determining whether people need an appointment with a health care provider. If so, they can see a provider for a medical visit in our mobile clinic parked at the Community Health Center on 9th street.
Stay healthy everyone!
From Marlene Putman, Administrator, Tillamook County Community Health Centers
Adventist Health has established an advice line for COVID-19. You are welcome to call 844-542-8840 Monday through Friday from 7 a.m. – 7 p.m. Pacific time to speak with experienced registered nurses who are available to answer COVID-19 questions.
You can also dial 2-1-1 or visit https://www.211info.org/ for information regarding local resources.211 provides public information about Novel Coronavirus. This program is a partnership with Oregon Health Authority. To speak with a Community Information Specialist about Novel Coronavirus: CALL 211 or 1-866-698-6155, TEXT your zip code to 898211 (TXT211), EMAIL help@211info.org. The hours are 7 days per week, 8am-11pm.
From Eva Manderson
Director, Northwest Regional Child Care Resource and Referral
Preschool Promise Manager, Northwest Early Learning Hub
If you know of providers who are in need of support or someone who wants to help, please have them contact my team, information below.
If you have or are a community partner that is interested in setting up emergency child care options for families that have to work through this health care crisis, please contact me directly at 503-815-4453 or emanderson@nwresd.k12.or.us
If you have families who are looking for child care they should contact 211 first. If they are not successful at locating child care, please have them contact the CCRR Team at:
Main Line: 503-614-3162
Email: nwregionalccrr@nwresd.k12.or.us (Se habla español)
FROM CARE INC.:
Community Partners,
Out of an abundance of caution, CARE is altering our service model to limit the number of community interactions that occur within our offices to protect both staff and clients. In order to do this, we are requesting that clients who are able, call the office prior to coming in. We will do our initial screening interview over the phone and only ask the clients to come to the office if it is necessary to receive a service. For those who do come to the CARE office, you will be asked to wait outside until we are able to serve you in order to allow for appropriate social distancing in our office.
We understand that in this time of uncertainty and economic difficulty our services will be needed more than ever and remain committed to helping those in need in Tillamook County. We appreciate everyone's patience as we respond to the ever changing best practices in limiting the spread of COVID-19.
Erin Skaar, Executive Director
Community Action Resource Enterprises (CARE), 2310 First Street, Suite 2
503-842-5261 eskaar@careinc.org
Tides of Change (formerly the Tillamook County Womens Resource Center) will still be providing crisis based and counseling services at this time while all group services are on hold. Our counselor is offering sessions with current clients through video and phone options versus in office. We encourage that all survivors who are able to call and make appointments over the phone to do so. Crisis response and assistance with protection orders will still take place in the office. We are operating with a smaller staff than normal; however, crisis services are necessary during times like these. We know that stressors such as the COVID 19, isolation, and financial restraints are often indicators that violence will escalate in homes with domestic violence. We will continue to work to support all survivors during this time. Our emergency shelter is still operating; however, we are currently full with 6 households. If you have any questions please reach out to me. If you are sending a survivor to our offices please give us a call first if possible so we can prepare. We have separate client spaces from the staff offices and will be having people wait in those rooms instead of our waiting room.
Thank You.
Valerie Bundy, Director, Tides of Change
The Developmental Disabilities Program, sing the guidance of the Oregon Developmental Disabilities, is primarily working remotely, as our population is one of the most vulnerable, we have discontinued any home visits, face to face meetings, and entering any of our licensed group homes, foster homes, or vocational centers. We are meeting by phone, or zoom whenever possible. When we need to see someone in person we are using social distancing measures, to keep individuals safe. We are obtaining signatures etc remotely as much as possible.
Our office is locked, but we have numbers posted on who to call if assistance is needed, we have a mail slot for our In-Home- Support workers to drop off paperwork, timesheets or other necessary correspondence. Daily, we are checking in with our most vulnerable population, who may not have supports, to assure they are isolating as much as possible, along with checking in on their welfare. We are working with all our licensed homes to implement emergency plans. The vocational site is down to 10 people per ODDS order starting today, March 18th.
Things for us are changing daily, as we receive information from the state on how we are to respond to keep our individuals safe.
Thank you all for the work you do,
Shiela Zerngast, Program Manager
Tillamook Community Developmental Disabilities Program
Tillamook Family Counseling Center
Physical Address: 3600 Third St. Ste. C, Tillamook, OR 97141
503.815.5440 Direct line; 503.842.8201 Main office
NORTHWEST SENIOR & DISABILITY SERVICES – CALL offices first 503-842-2770 or 866-206-4799.
Northwest Senior and Disability Services is following recommendations as directed by Governor Kate Brown. We are not closing our doors as we have direct service needs that must be handled in our agency for the health and wellness of vulnerable seniors and elderly individuals in our community.
Please note that staff are meeting with consumers to provide services and assistance either virtually or by phone. Consumers should call before coming to our office. Consumers should not come to the office if they have fever, respiratory distress or other symptoms directly related to the current COVID19 epidemic. All staff are practicing infection control practices, handwashing etc. Staff are not going to local facilities such as Skilled Nursing, Nursing Homes or Assisted Livings at this time.
Programs and Resources;
·People needing services or inquiries should contact the ADRC 866-206-4799 or their individual case worker.
·Meals on Wheels: No changes throughout the county, the Meals on Wheels Program will operate on the same schedule
o Nehalem = Tuesday, Thursday
o Tillamook = Wednesday, Friday
o Pacific City = Wednesday Friday
o (St. Mary's in Rockaway is not operated by our agency but will do the same deliveries MWF)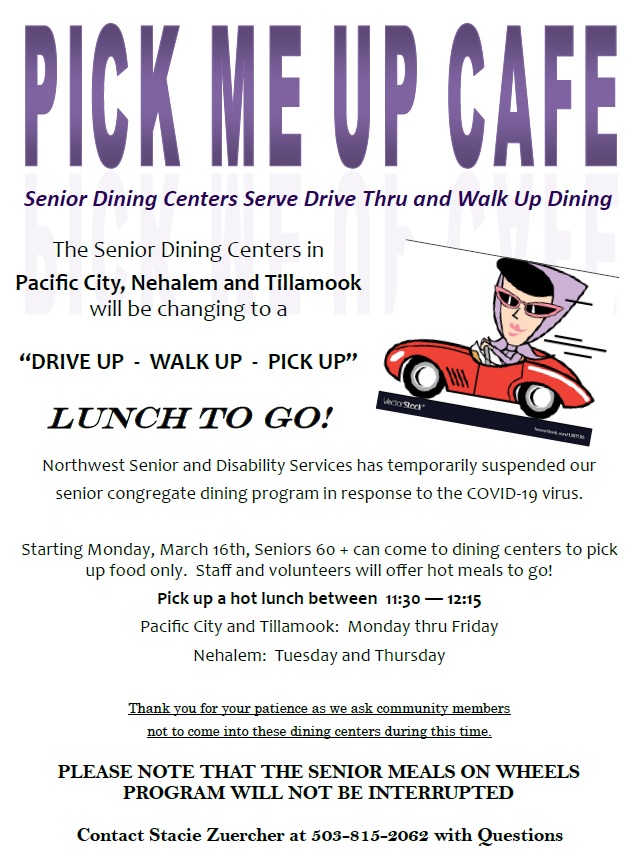 ·Senior Drive Through Dining (pick up – see attached flyer)
o Nehalem Bay Methodist Church – Tuesday, Thursday – 11:30 – 12:15
o Tillamook Senior Dining Center (4th and Stillwell) – Monday thru Friday -11:30 – 12:15
o Cape Kiawanda Community Center- Monday thru Friday – 11:30 – 12:15
o St. Mary's By the Sea Catholic Church – Monday, Wednesday, Friday – 10:00
·Other Resources
o Friendship line
o Senior Peer Mentoring – Greater Oregon Behavioral Health
o Senior Loneliness Line
o Alzheimer's Association 24/7 help line 800-272-3900
o Oregon DOJ (Consumer Protection, report price gouging) = 503-378-8442
o Adult Protective services 800-846-9165 (will accept anonymous reports are appropriate)