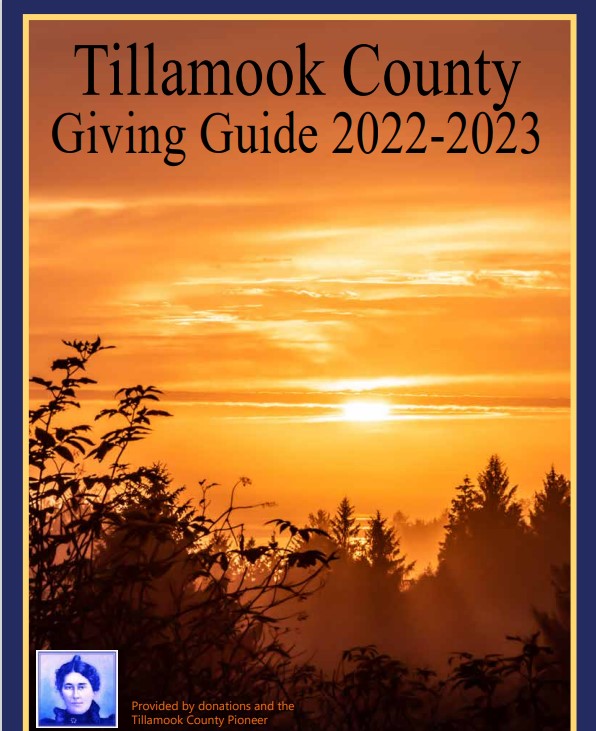 Tillamook County Community Health Centers reported today March 19, 2021:
⏺"Moderate Risk" 03/12/21 – 3/25/21
⏺Next potential risk movement: 3/26/2021
⏺10 new cases
⏺737 vaccines given this week
⏺22% of total Tillamook County residents vaccinated
⏺Vaccine scheduling for all currently eligible (1A thru 65+)
Be on the lookout for an exciting announcement on new ways to book a vaccine appointment.
Risk Level:
As seen from Oregon Health Authority (OHA) "Warning Week" data, Tillamook County may remain in the "Moderate Risk" category, but there is potential to move to the "High Risk" category effective 3/26/2021 – 04/08/2021.
OHA calculated Tillamook County with 40 new confirmed positive and presumptive COVID-19 cases from Sunday 02/28/2021 – Saturday 03/13/2021. If we have over 45 cases between Sunday 3/7/21 and this Saturday 3/20/21 then we would move to the "High risk" category effective 03/26/2021.
Final data count and risk status will be announced 03/23/2021.
Cases are increasing in Tillamook County, with majority of the cases being "family connected" here is most recent data: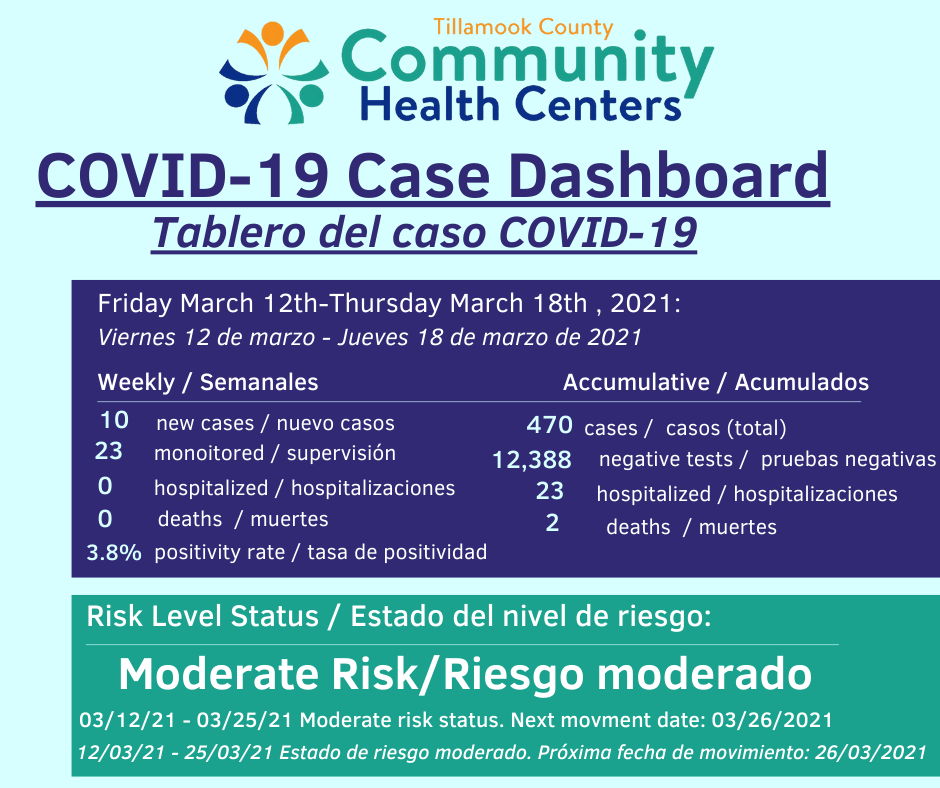 Weekly Data (Friday March 12th  – Thursday March 18th , 2021):
 10 new confirmed cases (5 positive + 5 presumptive)
50+ cases being monitored.
 0 currently hospitalized
0 COVID-19 related deaths (this week)
3.8% avg. test positivity rate
Accumulative Data:
470 total cases
12,388 negative tests (OHA)
23 hospitalized
2 COVID-19 related deaths
Please be cautious, follow COVID-19 health and safety guidelines: limit travel, wear a mask, stay 6ft away from those not in your household, wash your hands frequently, disinfect frequently touches surfaces often and stay home if ill unless seeking medical care. No cost COVID-19 testing is available, appointments are required and can be made by calling: 503-842-3900.
Vaccine Administration  – as of Friday March 19th, 2021:
2,317 Phase 1A Primary Doses
2,425 Booster Doses
3,233 Phase 1B Primary Doses
Total 5,850 primary vaccines have been administered since they arrived at the end of December 2020 in Tillamook County. Currently 22% of Tillamook County residents have been vaccinated!
Tillamook County vaccine partners continue to hold vaccine clinics weekly now vaccinating all those eligible in Phase 1A and Phase 1B
Tillamook County vaccine partners – Adventist Health, Rinehart Clinic, Nehalem Bay Fire and Rescue, and Tillamook County Community Health centers are excited to announce that we now have an online COVID-19 vaccine scheduling tool. Those who are currently enrolled in the vaccine registry will be outreached to with information on how to access the scheduling tool next week. In order to better serve the upcoming eligible groups in Phase 1b, we are working to make the scheduling tool completely live and online by March 29th with appointments for those newly eligible as early as the first week of April. We will still offer phone scheduling for those unable to use or access the internet.
(call center staff have appointments blocked off approx. 30-40 per site to assist those in need and help to prioritize hard to reach populations).
In addition to the vaccine scheduling tool, outreach and planning is underway with individuals in our community who are experiencing houseless, incarcerated, and with our seafood, agriculture, and food processing businesses.
We would like to remind those attending large vaccine clinics to please arrive at your scheduled appointment time. If you arrive early, please wait in your car until it is your appointment time. It is important that we practice COVID-19 precautions: washing your hands frequently (hand sanitizer is available), watch your distance 6 ft and wear a mask.  If you have a vaccine question, our vaccine line is available at: 503-842-3914. Staffed Monday- Friday 8am -5pm with bilingual (English and Spanish) staff.
COVID-19 is a highly infectious illness that spreads like the flu. Local and state health officials continue to urge all Oregonians to take steps to protect those who are most vulnerable to complications from COVID-19. Those considered "high risk" include adults 60 and older, or anyone with a serious health condition, including lung or heart problems, kidney disease, or diabetes, or anyone who has a suppressed immune system.
To help control the spread of the illness the public is urged to stay home as much as possible and avoid gatherings.
We ask all county residents to continue to take the necessary precautions and follow current public health guidance to slow the spread of the COVID-19 virus:
Follow guidance on face coverings.
Wash your hands often with soap and water for at least 20 seconds.
Avoid touching your eyes, nose, or mouth with unwashed hands.
Keep 6 ft of distance from those not in your immediate household.
Stay home if you feel ill.


About Tillamook County Community Health Centers:
TCCHC has been a Federally Qualified Health Center since 1994, providing medical, dental, behavioral and public health services.
Follow our Facebook @TillamookCHC for daily updates.
Additional Resources:
Oregon Health Authority COVID-19 Information: http://healthoregon.org/coronavirus  
CDC COVID-19 Information: https://www.cdc.gov/coronavirus/2019-ncov/index.html