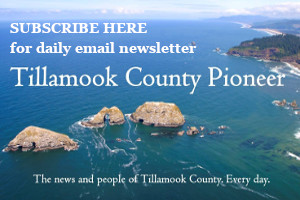 By Laura Swanson
In times of need, communities pull together and take care of their own, and here in Tillamook County that's exactly what is happening. Grassroot efforts via social media pages have popped up, working with local agencies to get the message out there about volunteer needs at local organizations. An immediate concern is staffing at local food banks and food pantries. Many (most) of the volunteers are in the "vulnerable" population. Please contact the Pioneer if you are available to volunteer at your local food pantry or the food bank.
We are organizing a volunteer network – from north Tillamook County in Manzanita to South Tillamook County in Pacific City and Neskowin, we've had community members reach out and ask "how can we help?" "What can we do?" To organize this effort, we've created these simple Survey Monkey forms — PLEASE COMPLETE THE VOLUNTEER FORM or if you have a NEED – PLEASE COMPLETE THE REQUEST NEEDS – See links below:
Here are the links to the Surveys:
Volunteer Form – https://www.surveymonkey.com/r/HHJ52CW
Request Needs Form – https://www.surveymonkey.com/r/HHTM5ZH
THIS IS A PAGE FOR THOSE WHO NEED, AND THOSE WHO CAN FILL THE NEED.
-IF YOU CAN HELP, POST THAT
-IF YOU HAVE EXTRA SUPPLIES-POST THAT
-IF YOU HAVE NEEDS UNMET-POST THAT
-IF YOU HAVE HELPFUL IDEAS- POST IT
Here is the Facebook group: https://www.facebook.com/groups/covid19volunteers/
We've been using the term "weathering the storm" and the COVID19 virus is just a different kind of storm, and requiring some extraordinary measures. With closures of restaurants and cancellation of events and social gatherings, and those over 60, those with compromised immune systems told to self-isolate, and others to practice social protections (keeping six feet from others), we are all adjusting to the "new normal." These disruptions are temporary and call for all of us to ask "Where can I help?" If you are available to assist, please fill out the quick volunteer form.
We will be sending out daily emails with community needs, and volunteers will be provided contact information to follow-up with the requestor.
REQUEST or NEED? Please complete our Request Need Form. We have contacts at CARE Inc., Northwest Senior Disability Services, Oregon Food Bank Tillamook Services as well as other social service agencies and access to many resources. We know who to call and how to help you to the help you might need.
For more information, contact editor@tillamookcountypioneer.net.