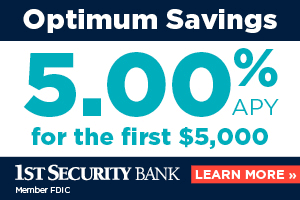 The fellows will undertake broadband connectivity and digital inclusion projects to champion digital equity in the rural communities
SALEM, OREGON, (JULY 29, 2021) – Tillamook County Creamery Association (TCCA) announced the placement of two American Connection Corps (ACC) fellows in Tillamook and Morrow counties to help advance broadband availability and access programs in Oregon. TCCA will underwrite the fellows' activities during the next two years as they implement initiatives designed to help ensure better digital connectivity in rural areas of the state.
In Tillamook County , Samantha Goodwin,  under the direction of County staff – and in partnership with the Public Utility District, Port of Tillamook Bay, and regional Broadband Action Teams – will act as the main convener and collaborator for Tillamook County-specific broadband opportunities, identify potential resources and state and federal funding programs. The focus will include how Tillamook County – its residents, small businesses, and schools utilize and capitalize on existing infrastructure to integrate with regional efforts.  She studied Environmental Science at Eastern University in Pennsylvania, then began working with the USFS as a Biological Sciences Technician in California and Idaho. While working for the Forest Service in Idaho, Samantha completed her master's degree in Environmental Policy and Management with the American Public University System online. As a Broadband Coordinator, Samantha will report to the Chief of Staff to the Tillamook County Board of Commissioners and assist in the advancement of Tillamook County's broadband efforts, including further the specific projects funded by the 2021 Oregon Legislative Assembly.
Led by Land O'Lakes, Inc. and Lead For America (LFA) – and in partnership with organizations like TCCA – ACC is a new, innovative fellowship program focused on bridging the digital divide. As part of the national network, ACC fellows will receive premiere national training on community organizing, broadband and digital inclusion, as well as access to a network of LFA leaders nationwide.
The TCCA-sponsored fellows will work to increase broadband access and digital literacy for the rural communities by using existing infrastructure to replicate across the counties and maximizing fiber-to-home connectivity. The fellows are part of a national ACC effort that will deploy over 50 Fellows to serve as community leaders and champions of digital equity across the country.
Oregon's rural communities are underserved when it comes to broadband. According to the Oregon Broadband Advisory Council 2020 report, while most rural households or businesses have access to broadband, the service transmission speeds are low making internet access spotty and unreliable. In general, Oregon's urban areas are served by multiple broadband internet service providers at speeds of 25 Mbps download and 3 Mbps upload or better. Rural and frontier areas of the state are served by fewer providers and typically at slower speeds of at least 10 Mbps download and 1 Mbps upload, or they are unserved altogether.
Below are quotes from partners and stakeholders making this program possible:
Patrick Criteser, President and CEO, Tillamook County Creamery Association: "Stewardship is the heart and soul of TCCA. Since our founding in 1909, our farmers have done right by their families and their communities, and as such, have structured their cooperative to be a force for good in the world. We are honored to give back in meaningful ways to the communities where we live and work with worthy initiatives such as this important broadband access fellowship program."
Tillamook County Commissioner David Yamamoto: "Tillamook County is elated to have such critical partnerships with companies like the Tillamook County Creamery Association that understand the need for high-speed internet connectivity for our residents. This two-year Lead for America fellowship position, provided by TCCA, will add capacity at the county level to help us bridge the digital divide for our residents while also affording our fellow a thorough grasp of the key roles of local government and other regional institutions in growing and sustaining a vibrant community. This project is destined to be a pivotal moment in the economic development of Tillamook County."
U.S. Sen Ron Wyden, D-Ore: "I'm gratified that Tillamook and Morrow counties have earned this support to bolster broadband connections for Oregonians living and working in remote rural communities. Quality Internet connections are a must for quality-of-life issues such as access to economic and educational opportunities throughout our state. These broadband fellows will provide important human links to help achieve this essential technology objective."
Oregon Governor Kate Brown: "Broadband has become the entry point to the economy and we want to make sure it's accessible to all. The American Connection Corps (ACC) fellowship program seeks to bolster statewide efforts at the local level working to bridge the digital divide. I want to thank Tillamook County Creamery Association and Lead For America for their commitment to building digital equity through the ACC program, and for working with my office to invest in underserved communities in Oregon."
Joe Nail, CEO and co-founder of Lead For America: "Lead For America is on a mission to build a generation of civic leaders dedicated to tackling the toughest challenges facing the communities they call home—and we are excited to bring our Hometown Fellowship model to communities in Morrow and Tillamook counties this year. The coronavirus pandemic underscored the importance of both leadership, and of closing the digital divide in rural and urban communities across America. We are honored to partner with Land O'Lakes and the other American Connection Corps partners in placing 50 dynamic, and locally rooted leaders in the communities and places that helped raise them. We are committed to ensuring this initiative becomes a pathway home for outstanding Oregonians for many years to come."
ACC is led in conjunction with LFA and funded through the support of 20 partner organizations in addition to TCCA, including: Land O'Lakes, Heartland Forward, CoBank, Tractor Supply Company, Microsoft, Mayo Clinic, Ariel Investments, Scoular, CHS, Zoetis, Accenture, University of Minnesota, the American Farm Bureau Federation, Midwest Dairy, Purdue University, Partners for Education, CentraCare, Common Sense Media and University of Illinois Extension. For general information on the ACC, please visit: https://www.lead4america.org/american-connection-corps