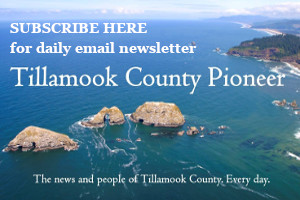 By Gordon McCraw, for Tillamook County Emergency Management
Wednesday, February 16, 2022, 08:15am
Weather
The ridge of high pressure to the west is again allowing a weak disturbance to ride the northwesterly flow over our area, bring us cloudy to mostly cloudy skies with periods of drizzle today as it pushes thru. Winds today becoming westerly 5-10, the high near 51.  The ridge asserts its influence over us tonight bringing mostly cloudy skies with calm winds, some patchy fog is possible, lows near 40.
There is only a slight chance of patchy light drizzle tomorrow, otherwise cloudy with calm winds, the high near 50. Mostly cloudy tomorrow night, calm winds still, patchy fog again possible, lows near 39. Friday, we see some partly sunny skies after the fog clears, light winds, highs near 52, back comes the patchy fog Friday night, light winds, lows down near 37.
The ridge to the west weakens for the weekend which allows additional disturbances to push across our area.  It also appears a stronger cold front will push in some rain by late afternoon or early evening Saturday, the high near 70, in comes the colder air Saturday night, still rainy, the snow level dropping to near 2500', lows near 38.
The front pushes thru later Sunday morning and we transition over to scattered showers, the snow level down to near 2000', the afternoon high near 47.  We still have a chance of showers Sunday night with the snow level around 1800', lows near 35.
Partly sunny and 50 Monday, still a chance of scattered showers, then the models say we could see widely scattered showers Monday night still, the snow level drops to or below 1000' but all the activity likely ends in the early morning hours Tuesday when the lows could dip to near 31.  This spells some patchy ice on the roads is possible, especially in the higher elevations of the passes overnight Monday into Tuesday morning.
Add'l information from Tuesday 2/15/22 Community Call:
General Announcements:
A small amount of the iHealth COVID-19 quick antigen home test kits remain available for pickup in the community.
Thanks to a partnership with Tillamook County Library, COVID-19 home test kits will be available in all Tillamook County library branches.
While the supply last, stop by the library during business hours in Manzanita, Rockaway, Garibaldi, Bay City, Tillamook, or Pacific City to pick-up an iHealth at home COVID-19 test kit at no cost. Please limit to taking one test kit (contains two tests) per person.
COVID-19 County Data & Updates:
· Weekend Case Count (Feb 11 – Feb 13): 33
· 7-day case count (Feb 6 – Feb 12): 101
· 14-day case count (Jan 30 – Feb 12): 301
· Cases for February (Feb 1 – Feb 13): 246
· Total Cases to date (March 2020 – Feb 13, 2022): 3,506
· Total COVID-19 Related Deaths: 58
. [Unvaccinated: 43 | Vaccinated: 14 | No ALERT Record: 1*]
· Total COVID-19 Related Hospitalizations: 132 · Active outbreaks (OHA): 6 are reportable, 13 under monitoring for total of 19. · 7-day test positivity rate (OHA): (Feb 6 – Feb 12) – 16.1% (previous was 30.6%). · 7-day statewide breakthrough rate (OHA): (Jan 30– Feb 5) – 51.1% of COVID-19 cases were unvaccinated vs. 43.4% of COVID-19 cases were vaccine breakthroughs and 5.5% had an unknown vaccination status. Of all vaccine breakthrough cases, 36.3% were fully vaccinated and boosted