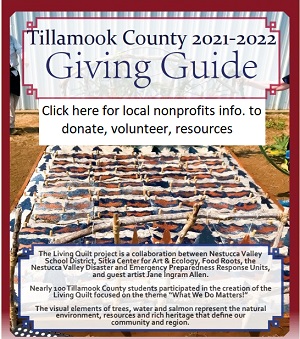 By Gordon McCraw, for Tillamook County Emergency Management
Friday, February 18, 2022, 09:30am
Weather
Well, Mother Nature will remind us after today that winter is not over just yet. It looks like the ridge of high pressure that had been parked off the coast to our west for the last week, will finally get replaced by an upper level trough of low pressure that will help drag a decent cold front thru that will push the snow levels down and give us freezing nighttime temperatures in the 20s for much of the upcoming week.
This morning we are seeing some patchy dense fog with low level cloudiness that will burn back later this morning leaving a mostly sunny day.  Winds becoming westerly 10-15 gusting to 20, the afternoon high near 53.  Some patchy fog will return tonight as the cloudiness increases and the winds decrease, the lows near 36.
Tomorrow we see an increasing chance of rain under continued cloudy skies, ahead of a strong cold front approaching from the northwest.  Winds tomorrow southwesterly 4-8, the high near 50.  The front brings in the rain thru Saturday night along with westerly winds by tomorrow night 5-10, lows near 40.  The snow level also starts a downward trend, down to near 2500' overnight tomorrow.
Sunday, we transition from rain to rainshowers before noon, winds westerly 5-10, the high near 47, the snow level now at 2000'.  The snow level and the overnight temperatures continue their downward trends with the low near 35, and the snow level dropping to near 1800', still with some scattered showers around.
More scattered showers likely Monday, the snow level still dropping, down to near 1700' during the day, the high near 47, then the showers start to become weaker and more scattered around sunset, the snow level now around 1500' which means the Coast Range Passes will be seeing snow in any of the showers there.  The shower activity becoming widely scattered Monday night with the snow level falling to near 200' after midnight when the shower activity likely ends, the early morning temperatures down into the upper 20s.
Look for sunny, but cold skies Tuesday and Wednesday, highs near 44, Tuesday night looks mostly clear, the overnight low with radiational cooling and light winds, falling into the mid 20s, but Wednesday night the models suggest another trough so there is a slight chance of rain and/or snow showers Wednesday night with the lows near 30.
Thursday it appears we still have a slight chance of low level snow showers but the snow level will be rising after the sun comes up, climbing back up to near 1400' by the afternoon with the high near 47.
Obviously, this weather could impact travel across the Coast Range Passes next week with snow and ice possible, especially in the overnight hours.  This could be true in any of the higher elevated portions of other highways and county roadways as well.  There is even a slight chance the lower level roads could be impacted. Another time and reason to look at tripcheck.com and weather.gov/Portland before you head out next week.  Don't forget to bring in your pets, leave your pipes protected and be ready for this cold snap that starts Monday.
OHA releases new COVID-19 vaccine breakthrough report
OHA's most recent update on COVID-19 breakthrough cases, released yesterday, reported 18,041 cases of COVID-19 during the week of Feb. 6 to Feb. 12.
Of those cases, 7,834, or 48.4%, were unvaccinated people and 8,732, or 48.4%, were vaccine breakthrough cases. Among the breakthrough cases, 3,330, or 38.1%, were fully vaccinated and boosted.
The average age of the breakthrough cases during that period was 50. Sixty-seven breakthrough cases involved residents of care facilities, senior living communities or other congregate care settings. There were 540 cases in people ages 12 to 17.
To date, there have been 164,511 COVID-19 vaccine breakthrough cases in Oregon. Of those cases, 34,692, or 21.1%, were fully vaccinated. The median age of all cases is 41.
The report shows that the rate of COVID-19 in unvaccinated people is twice the rate as in vaccinated people and three times higher than in people who are fully vaccinated and boosted.
To date, 2.6% of all vaccine breakthrough cases have been hospitalized and 0.5% have died. The average age of vaccinated people who died is 80.
Vaccination remains the most effective tool to reduce the spread of COVID-19. Oregonians are encouraged to get vaccinated and, if eligible, to get a booster shot.