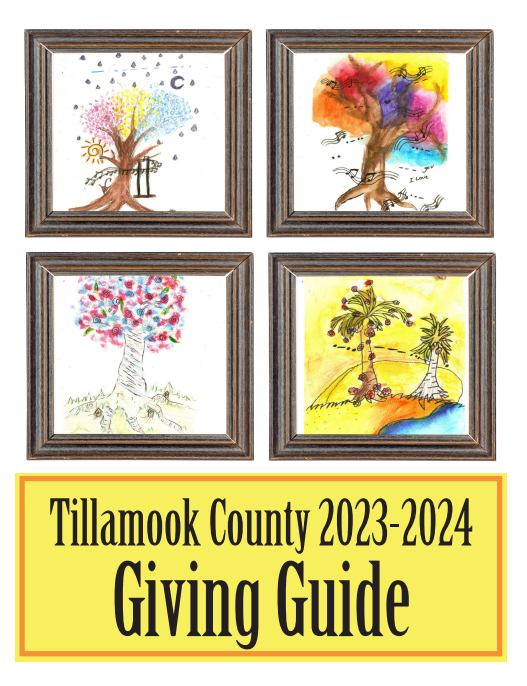 By Gordon McCraw, Tillamook County Emergency Manager
Wednesday, January 19, 2022, 08:45am
Weather
A series of disturbances riding down in the northwesterly flow is pushing some light showers across the region today. We continue with the light winds, the high near 51.  With additional disturbances dropping thru we continue with the scattered showers tonight, there could also be some patchy fog with the calm winds, lows near 47.
We see more periods of showers tomorrow morning that diminish later in the morning as high pressure starts to build in to our west that helps to turn off the precipitation in our area. We see light northwesterly winds, the high near 51. With the high pressure, the calm winds and the moisture, we could see some patchy fog developing late tomorrow night, lows near 39.
It appears the high pressure ridge will dominate the weather pattern over our area thru the weekend in on into the middle of next week. What this means is mostly sunny days and partly cloudy nights prevails thru at least Wednesday of next week.  Temperatures will settle into the mid 50s and overnight lows in the upper 30s to low 40s, not bad and a nice change!
COVID-19 County Data & Updates:
In the first two weeks of January 2022, we have had 316 cases and 6 COVID-19 related deaths, raising the pandemic total COVID-19 case count to 2,774 and total COVID-19 related death toll to 55. This surge is likely due to recent holiday gatherings and the arrival of the highly contagious Omicron variant.
In preparation as we enter the anticipated Omicron surge, local public health staff will only be able to contact a limited number of positive COVID-19 cases to perform case investigation and public health test capacity will likely be reached.
In order to help reduce strain on public health and healthcare systems, Oregon Health Authority will be providing a limited number of home-test kits for distribution to priority groups who have had difficulty accessing testing. Home test-kits are expected to arrive in the next 1 to 2 weeks. OHA will also be changing to an opt-in model for investigating COVID-19 cases, launching a new website and hotline as a way for people who test positive for the virus to report results from an at-home test kit or testing provider rather than initiating contact for all positive cases. People using the new Positive COVID Test website (Oregon.gov/positivecovidtest) and COVID-19 Case Support Hotline, 866-917-8881, can complete an online survey linked from the web portal to report their positive case, or get help completing the survey through the hotline. Additional resources for isolation support are available on the website as well.
If you do have a positive COVID-19 test result and have mild to moderate symptoms such as fever, shortness of breath or cough, please contact your healthcare provider right away, and especially if you have chronic medical conditions that may place you at higher risk of severe disease response. There are safe and early treatment options available for COVID-19 including anti-viral oral medication. Some treatment options need to be started as early as 5 days from the date of the positive test. If you do not have a healthcare provider, call Adventist pharmacy, and consider establishing care with a healthcare provider as soon as you can. To learn more about your treatment options visit our COVID-19 testing and care page at tillamookchc.org
COVID-19 testing remains available in Tillamook County from our health center at our 8th street acute care clinic. Hours: Tuesday – Friday 8am – 5pm this week. Appointments are required, please call: 503-842-3900. COVID-19 testing is also available at: Adventist Health Urgent Care – Tillamook & Rinehart Clinic.
Isolation guidance for those who test positive and quarantine guidance for those exposed to someone who has COVID-19 have been updated by the CDC and OHA. These updates along with downloadable resources for individuals, employers and workplaces are available on our website tillamookchc.org under the COVID-19 testing information page along with information on self/home tests for COVID-19 (https://tillamookchc.org/covid-19-testing/).
VACCINE UPDATE: COVID-19 vaccines remain the best tool to reduce spread and protect you from severe disease from COVID-19 including hospitalizations and death.
If you are not yet vaccinated, choose to make a plan for everyone 5 years and older in your household to be vaccinated as soon as possible. If you are fully vaccinated, choose to receive a booster as soon as you are able to. People who are eligible for a booster dose include:
Those 18 +, 5 months from completion of the Moderna series.
Those 12+, 5 months from the completion of the Pfizer series.
Those 18+, 2 months from the single Jonhson & Johnson vaccine,
Those who have moderate to severely compromised immune system who received the "3rd dose" of Moderna and Pfizer at least 6 months ago.
In addition, those ages 5-11-years-old who have moderately to severely compromised immune systems are now eligible for a 3rd dose of Pfizer, 28-days following the second Pfizer dose.