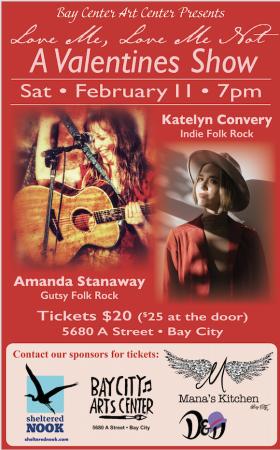 By Gordon McCraw, for Tillamook County Emergency Management
Monday, February 21, 2022, 09:00am
Special Weather Update
Another cool, showery day expected with some snow again in the higher Coast Range Passes with the snow level this morning down around 600'. The ODOT Lees Camp Webcam is showing a dusting of snow on the sides of the road and ODOT reports there is slush and snowpack breaking up with 3" of snow roadside across the Hwy 6 summit.
We continue with a northwesterly flow that is pulling in the showers but there is also a weak low pressure system dropping down from the north that will enhance the shower activity today so we could even see a thunderstorm thru early this evening. The low continues to the south and once it passes the area later tonight, the shower threat quickly wanes. What is left though is some wet roads as the winds shift to easterly, pulling in the colder air that could lead to black ice after midnight on the roads and bridges with tonight's low expected to hit around 25.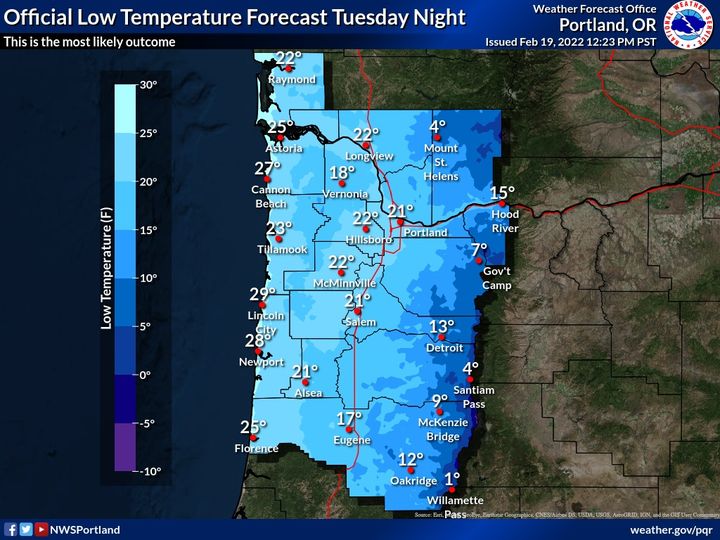 Good news, bad news for tomorrow and Wednesday, we see sunny skies but in comes some of the coldest air this winter with the afternoon high only hitting around 43 but the nighttime lows down around 20 Tuesday and 28 Wednesday. To make it even worse, there will be some strong, gusty easterly winds to push the windchill temperatures even lower, possibly making it feel like the single digits.
Tomorrow and Wednesday's temperatures could actually set some records. With the possible moisture still on the roads, especially in the passes, we need to watch for black ice with below freezing nighttime temperatures expected thru the end of the week.
Anyone spending time outside should be alert for hypothermia so dress appropriately. Remember, beside hypothermia, at these temperatures the windchill could actually cause your body tissue to freeze quicker causing frostbite. Wear layers, wear a hot and cover as much skin as you can. Also, remember you pets and cover you pipes and outside faucets.
The models suggest another weak disturbance sliding down to our north and east that could give us a slight chance of rain or snow as early as Wednesday night thru Thursday morning then another disturbance moving in from the west brings another slight chance of rain or snow Friday night into early Saturday morning with a better chance of rain developing Saturday and Sunday, along with some warmer temperatures. The Coast Range could see some more snow, then freezing rain, then rain on Saturday as the temperatures rise with the incoming system and the snow level rises but the higher Coast Range Mountains will continue to see snow thru at least Saturday night into Sunday in the higher elevations above 2500'-3000'.
So again, we could see the coldest temperatures this season, maybe even setting some record. Look for cold tonight with the rain and/or snow coming to an end leaving areas of black ice tonight thru tomorrow morning and again tomorrow night into Wednesday morning, cold still on Wednesday then Thursday cold in the morning but things start a slow warmup with the next approaching system