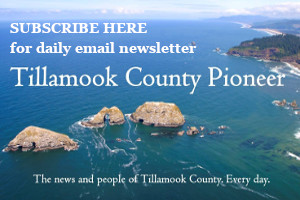 By Gordon McCraw, Tillamook County Emergency Manager
Tuesday, January 18, 2022, 9:15am
Weather
There is a ridge of high pressure to the west that weakened and flattened and as a result, a weak front is pushed across the area bringing light rain and drizzle this morning.  Winds today will continue to be light or calm, the high near 49.  We have a bit of a break this afternoon and tonight, lows near 41. The break will be brief as we expect another weak front to push in rain tomorrow with rain likely in the afternoon, still some light winds, highs near 50, rainy still tomorrow night, lows near 45.
The front finally pushes through with some moderate rain Thursday morning, the light winds continue, highs near 53, we could see some patchy rain or rainshowers in the afternoon Thursday that further diminish Thursday night, lows near 41.
Friday on a high pressure ridge will dominate the weather bringing fair, dry and mild conditions thru the weekend and into next week. We can expect mostly sunny days and partly cloudy nights starting Friday, the high temperatures peaking at 58 Saturday then cooling a little each day with Monday's high expected to be around 54.
COVID numbers from today's Community Call:
Weekend Case Count (1/14-1/16) – 64
7 Day Count (1/9-1/15) – 189
14 Day Count (1/2-1/15) – 316
January Case Count – 347
Total Case County – 2,774
Deaths – 55 (Unvaccinated 43, Vaccinated 11, Unknown status 1)
Outbreaks – 4 reportable out of 15 total
Tonga Volcano/Tsunami Event
So, this past weekend's excitement was the Tonga Island underwater volcano eruption that took place at around 8:26 pm our time Friday night, January 14th.  It generated a tsunami that propagated across the Pacific affecting the west coast Saturday morning. The Tsunami Warning Center pushed out a Tsunami Advisory that provided some times the first wave would strike Newport (8:30AM) then Seaside (8:45AM).   A Tsunami Advisory is issued for tsunamis that are expected to be 1-3' and warns of strong currents and dangerous waves at the beach and in harbors, bays, and marinas.   It states that people should stay out of and away from the water and shores.  It also gave a forecasted wave height of between 1 and 2.5'.  It also warned that the first wave was not the biggest.  Remember, just like when you drop a pebble in a bucket of water, it causes several ripples and tsunamis are the same way.  You will get a series of waves and sometimes the larger ones are not the first one.  This was the case back in 2011 with the Japan earthquake also.  Just like then, this recent event caused waves with about a 15-minute cycle time.
Now for some takeaways from this and the Japan events.  First, because of our near shore topography, our coastline is not tsunami friendly. The Japan quake gave us a 2cm tsunami while areas to the south, Newport, Port Orford, Charleston, had waves in 2011 of over 6' in some areas. With this event they experienced waves just over a foot while ours was less than a foot.  Part of this is due to a ridge that runs east to west in the Pacific that points toward that area and directs some of the tsunami energy into that area. What all this meant to me was we were likely to get a wave of less than a foot.
I was in contact with the warning folks who told me that Hawaii had experienced a wave of around 1-2' and the Alaska reports were around 1 to 1 ½', so, all this was consistent with what I had heard and expected.  The only thing minimally concerning was this would occur during our high tide.  As you know, we had recently experienced King Tides and again, my experience has been that distant tsunamis in Tillamook County are at the worst, at or near King Tide levels and this one was no different.  The beaches were already seeing winds waves that would have masked the tsunami wave so the only areas that might see noticeably affects would be the bays and ports, but again, minimally.
So, I have been asked and seen some questions about the warnings and notifications.  First, again, there were no Warnings, it was an Advisory only.  If you had signed up to receive notifications on the Everbridge or Nixle Alert Notification systems, you received them, and the updates came out about every hour.  The next Alert was a message we sent out to phones and email to individuals within about a mile from the beach, explaining the Advisory and to stay off the beaches, bays and harbors.  So, if you didn't get notified, then you had either not signed up to get them, or you didn't live near the beach. In addition to this, fire district and law enforcement personnel drove up and down the beaches and announced the hazards over their loudspeaker systems.  Some key points here, there was no need to evacuate any residences as they were not in any danger, this was a beach and bay event only.  There was no need to alarm folks in the middle of the night to tell them they were not in any danger. Rest assured that myself, as well as Randy Thorpe, the new emergency manager, and even the Commissioners were monitoring, communicating and coordinating during this event.
Some interesting facts about this event, some people in Alaska reported hearing a sonic boom from the eruption and the sonic waves caused pressure difference that were detected both by tidal gauges and in barometric pressure readings across the United States.  The pressure wave actually made more than one trip around the globe.  As expected, it was weaker each trip and after about three trips could no longer be detected.
My final thought or question, "Are you prepared?"  If this event or some other event was larger with greater hazards, do you and your family have a plan, a tested plan, a communications plan that if you and other family members are not at home you still know how to contact one another, do you have an emergency or go kit for each member of the house, including your pets, are you truly prepared?
For more information about being 2 weeks ready go to https://www.oregon.gov/OEM/hazardsprep/Pages/2-Weeks-Ready.aspx
This distance tsunami was a test and reminder that in the case of a Cascadia earthquake, we would not receive outside assistance for possibly weeks, and we need to make our communities 2 weeks ready.