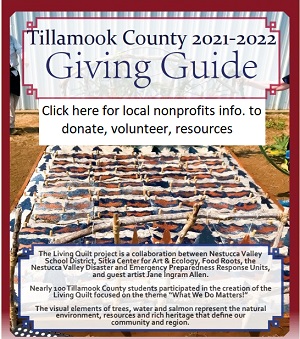 By Gordon McCraw
Wednesday, January 26, 2022, 09:15am
Quite the frosty morning with the morning lows dropping to the upper 20s. This includes across the Coast Range and into the valley where there are areas of dense fog, freezing fog, and mist as well as an Air Stagnation Advisory for the poor air quality thru the entire valley area. All this is the result of the persistent high pressure ridge that has set up residence just to our west, for about the last week. It does appear that a shift in the weather will start with the ridge finally starting to shift eastward tonight, moving across our area and contributing to some easterly winds that develop tonight. Other than the above, we can expect another sunny day with calm winds, the high near 56. We do see some easterly winds developing tonight 5-10 that diminish in the early morning hours so we can expect a frosty start again tomorrow with morning lows near 36.
Tomorrow pretty much a repeat of today, a frosty start otherwise a sunny day tomorrow with east winds 4-8, highs near 55 then another mostly clear frosty night with calm winds, lows again down near 35.
The ridge starts to show signs of breaking down Friday as we see a few more clouds returning but still with calm winds, the high near 55, a few clouds around that night, lows near 38. Most of the models continue to say rain will be returning by Saturday night and persists Sunday with a front that moves across that also pushes down the temperatures and the snow levels. High temperatures Sunday on into the first half of next week look to be in the upper 40s while nighttime lows in the upper 30s, the snow levels hovering around 2000-2500' which would put more snow in the higher Coast Range mountains. The official forecast for the weekend and the first half of next week is mostly cloudy to cloudy skies with periods of rain each day with the lowest snow levels at night, rising some each afternoon.