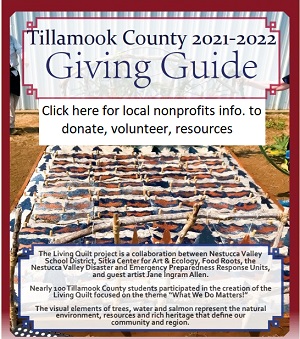 By Gordon McCraw, Tillamook County Emergency Manager
Monday, January 3, 2022, 10:30am
Weather
Well boys and girls, was that fun or what? The front is now to our southeast and continuing to drift southeast, but it looks like we get to play again with another strong system at the end of the week. In the meantime, we will see some more scattered showers moving thru, bringing some brief periods of heavy rain and perhaps even a thunderstorm or two, especially in the coastal waters, today thru tonight into Tuesday morning. The winds still a little breezy, from the southwest 10-15 gusting to 25, especially as the showers blast thru. The snow level is up around 2500-3000' but will drop to near 1500-2000'. High temperatures today up near 45, overnight lows near 40.
As far as the rain yesterday, Nehalem near Foss recorded 3.94" of rain, Lees Camp 2.8", and Mt Hebo recorded 3.28". Winds were strong also, Tillamook Airport recorded winds 20-30 gusting to 45-55, Mt Hebo recorded an 85mph gust, Pacific City 55, a Lincoln City station recorded a 70mph gust. The winds have downed trees on roads blocking some lanes and even blocking some roads. There are still some power outages affecting the county as well.
Again, showers with possible thunderstorms tomorrow morning then some lighter rain returns, the winds ease, the snow level rises to 2500-3000', highs near 47, lows near 39. We could even have a few hours without rain Tuesday night into Wednesday morning. The rain returns Wednesday afternoon then Thursday we see more heavy rain and strong winds ahead of the next approaching strong warm front. The front is a fast-moving front which is better for us as we are looking at another period of heavy rain starting Wednesday night into Thursday, bringing another 2-4" of rain in the Coast Range. With the snow level rising to near 5000', snow runoff will add to the river levels during this period. The river forecasts suggests the Nehalem, Wilson and Trask River reach up to or just above bank full. The speed of the front will drive just how high the rivers will end up cresting at later Thursday night or Friday morning.
We transition to showers behind the front Thursday evening, the temperatures will be warmer, highs way up in the mid 50s, lows that night near 43. Friday, we see some lighter rain with snow levels dropping to 2000-3000'. If the models continue their trends, we might even see a relatively dry weekend with highs around 50, lows up near 40.