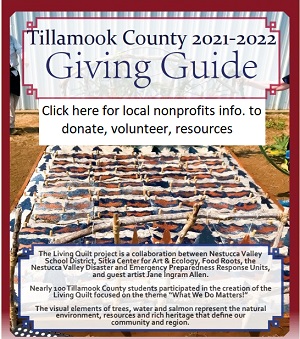 By Gordon McCraw, Tillamook County Emergency Manager
Wednesday, January 5, 2022, 08:30am
Weather
A few showers around this morning and with the summits down to or near freezing, there is some snow falling around 1500' but the level will be climbing. Next, we will have a strong warm front slowly lifting northward across the area today, moving up from southern Oregon. This will start pushing the snow level up to around 5000' by this evening as it also brings in some warmer rain this afternoon. Winds today becoming easterly 4-8, the high near 50. We will see more rain tonight with winds becoming southerly 10-15 gusting to 25, the lows drop briefly then climb back up to near 49 around midnight. 24hr rainfall totals around 1-2".
This will develop into an atmospheric river event with prolonged moderate, occasionally heavy rain periods starting tonight in the Coast Range of extreme northwestern Oregon and south Washington. By tomorrow afternoon we could see another 1-3" of rain. The National Weather Service is expecting some river flooding later tomorrow into Friday that includes several rivers including those in Tillamook County. The River Forecasts shown will change with each model run, and the levels could change in either direction, higher or lower. The key is to be prepared and have a plan to cover whatever happens.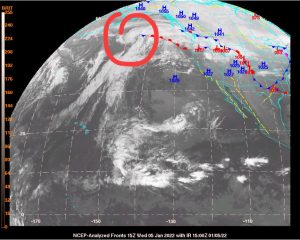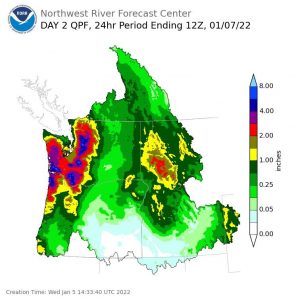 So, tomorrow we see more rain, moderate to heavy at times, with breezy south winds 14-18 gusting to 25, the high up near 53. We see more rain tomorrow night, winds now southwesterly 15-20 gusting to 30, a little higher at the beaches, lows near 42. 24hr rainfall totals another 2-4". This will potentially push some of our rivers up to or over bankfull, especially during high tide periods which are still elevated from the recent high King Tide periods. High tides tomorrow are at 3:48am and slightly higher at 3:07pm. Friday's high tides are at 4:32am and 3:59pm.
This morning's Nehalem River forecast is for the river to reach Flood Stage late tomorrow afternoon then crest early Friday morning at 18.45' before falling below Flood Stage Friday night, Flood Stage is 15'. At this level we could expect widespread flooding of low-lying farmland and structures downstream of the Foss gauging station to Nehalem. Street flooding in Nehalem begins at this point, usually during the high tide.
The Wilson River is forecasted to crest early Friday morning at 12.44', Flood Stage is 12.0'. At this level we can expect minor flooding of low-lying dairy and pastureland north and east of Tillamook can be expected, particularly during high tides. We could also see some pooling of water in the right lanes in the North Main area of downtown Tillamook.
The Trask River is forecasted to rise to near bankfull, cresting at 15.9' around sunup Friday, Flood Stage is 16.5'. At this level we could see still see some minor flooding in the fields along the lower Trask River area.
The Nestucca River Crest forecast is 13.07' on Friday morning, Flood Stage there is up at 18' so things should be okay.
Everyone, especially those living in a flood prone area, should monitor the forecasts closely over the next few days. The river forecasts have varied the past few days from below Flood Stage to above Flood Stage, changing with each model run. You can expect the forecasts to change more frequently during the event as they input actual rain rates for each basin area. The most important thing now is to monitor these changes and have a plan of action should the forecast worsen. If you live, work, or own a business in any of the flood prone areas, make you plan now and take action before it is to late. At the current forecast levels there will be some roads impacted, especially during high tide periods.
So, Friday and Saturday we will be watching a couple of systems that will start to push the atmospheric river off to the southeast so conditions will slowly improve with us now seeing light, occasional moderate rain that further eased Friday night then coming to an end on Saturday. High temperatures around 49, lows near 37.
Sunday look mostly sunny and dry but it looks like a rain chance returns for the start of next week, highs in the low 50s, lows in the low 40s.