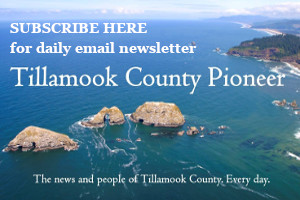 By Gordon McCraw, for Tillamook County Emergency Management
Friday, February 11, 2022, 10:00am
Weather
Today and tomorrow look to be the nicest days in the string with the high pressure ridge hanging on for a couple more days.  We have a little patchy fog again this morning otherwise we can expect a sunny day with east winds developing, easterly 5-10, the afternoon high near 62.  With mostly clear skies tonight, and the persistent east winds prevent fog development, lows near 41.
Tomorrow will pretty much be a repeat of today with sunny skies returning, the offshore east winds 5-10 still, the high up near 62. Sunday will be the day of change as the ridge starts to shift eastward as another front approaches the area from the northwest. We will start out mostly sunny Sunday with the winds becoming southerly 5-10, the high near 61, then some clouds move in Sunday night with an increasing chance of rain starting before midnight, lows near 41.
It looks like the front pushes through around noonish Monday then we could see a few light showers thru Monday afternoon with only a slight chance of any showers still that night. The high only up near 49 during the afternoon and nighttime lows fall back down to near 37. The cooler temperatures pull down the snow level which drops to near 2700' Monday night which means if we do see a shower, the higher Coast Range mountains could see snow flurries once again.
Tuesday on the forecast confidence lowers.  The models do build a high pressure ridge building back in but here is where the differences come in.  Some build the ridge further west, offshore, which would put us in a northwesterly flow allowing disturbances to ride up over the ridge then drop down into our area and give us periods of rain next week. If the top of the ridge were to be closer then those disturbances would move across, north of our area, then drop down well to the east, leaving us high and dry.  For now we like the high and dry outcome leaving us with partly sunny days and mostly cloudy nights Tuesday on thru Thursday with highs around 52, lows near 37.
OHA releases new COVID-19 vaccine breakthrough report of Thursday, February 11, 2022.
This week and going forward, the weekly COVID-19 Breakthrough Report includes several changes.
In order to identify breakthrough cases, all cases reported to public health are automatically matched with Oregon's statewide immunization database to verify COVID-19 vaccination status. As case counts have increased dramatically during the Omicron surge, the database has been unable to match the entire volume of reported cases. This has created a portion of recent COVID-19 cases with unknown COVID-19 vaccination status.
The following changes to the weekly breakthrough report were made to better understand the spread of COVID-19 among those who are fully vaccinated:
Categorizing cases not yet matched with the statewide immunization database as those with "unknown vaccination status."
Adding additional columns in Table 1 with the number and percentage of cases with known vaccination status by week.
Updating Figure 1 so the "unvaccinated cases" category excludes cases with unknown vaccination status. This change provides more accurate information on COVID-19 cases rates over time among those who are not fully vaccinated.
Updating Table 3 so the "unvaccinated cases" category excludes cases with unknown vaccination status.
OHA is working to identify vaccination status for all reported cases in a timely manner.
OHA's most recent update on COVID-19 breakthrough cases, released yesterday, reported 29,411cases of COVID-19 during the week of Jan. 30 to Feb. 5.
Of those cases, 15,020, or 51.1%, were unvaccinated people and 12,778, or 43.41%, were vaccine breakthrough cases. Among the vaccine breakthrough cases, 4,637, or 36.3%, were fully vaccinated and boosted.
The average age of the breakthrough cases during that period was 50. Seventy-nine breakthrough cases involved residents of care facilities, senior living communities or other congregate care settings. There were 816 cases in people ages 12 to 17.
To date, there have been 145,313 COVID-19 vaccine breakthrough cases in Oregon. The average age of all cases is 41. Breakthrough cases have been reported in all 36 counties.
The report shows that the rate of COVID-19 in unvaccinated people is almost twice the rate in vaccinated people and 3.4 times higher than in people who are fully vaccinated and boosted.
To date, 2.6% of all vaccine breakthrough cases have been hospitalized and 0.6% have died. The average age of vaccinated people who died is 81.
Vaccination remains the most effective tool to reduce the spread of COVID-19. Oregonians are encouraged to get vaccinated and, if eligible, to get a booster shot.