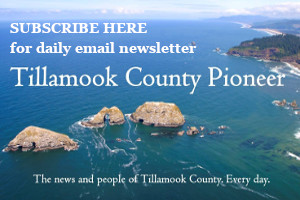 By Gordon McCraw, for Tillamook County Emergency Management
Friday, February 25, 2022, 9:45am
One more day to enjoy the ridge of high pressure then the rain returns. Though we started out below freezing again this morning, dropping into the upper 20s again, with the ridge moving east over the area we will warm up into more seasonable temperatures today. Winds today becoming easterly 4-8, the high climbing up to 51. The ridge continues to move east tonight as a trough of low pressure approaches and gives us increasing cloudiness, the east winds 5-10, tonight's low a little warmer also at 34.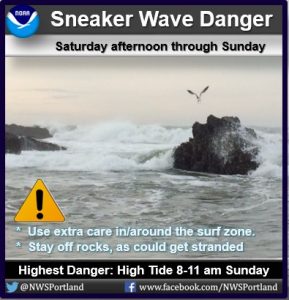 Headed to the beach this weekend? Be wary of the surf zone, as will see increased danger for sneaker waves. These sudden, higher than normal waves will push farther up the beach. If unaware, a person could be trapped on the rocks as higher water pushes up the beach. Worst yet, a person could lose their balance, fall into the cold water, and dragged seaward. So, keep aware of your surroundings when in/near the surf zone.
Tomorrow we have an approaching warm front that brings more clouds and a return of the rain later in the morning with the winds becoming southerly 8-12, the high near 51 again. The southwesterly flow increases tomorrow night bringing more rain and increasing winds southerly winds becoming 15-20 gusting to near 40, the low near 40 with winds at the beaches 25-30 gusting to 45-50.
This develops into an atmospheric river event Sunday with the southwesterly flow persisting, and so does the rain and breezy winds. There will be periods of moderate to heavy rains and gusty winds as disturbances ride the flow and move northeastward over the area thru Monday. Highs around the mid 50s, lows in the mid 40s. With all the rain we can expect increased river flow rates, but none are currently forecasted to rise significantly enough to cause late winter flooding concerns.
The rain eases a little Tuesday then another trough slides in and gives us more rain Wednesday and Thursday. High temperature continue in the mid 50s, lows in the low to mid 40s.