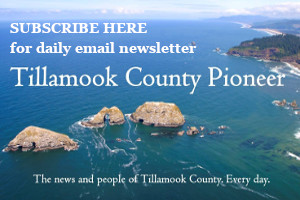 By Gordon McCraw, for Tillamook County Emergency Management
Monday, February 7, 2022, 09:00am
Weather
We have a weakening front bringing light rain, drizzle, and some fog thru the area this morning with the visibility down to 2 to 3 miles at times. This will continue until later this morning then the front pushes on leaving us with a slight chance of a light shower. The chance of showers decreases later this afternoon though the clouds will linger thru this evening.  Only some light winds today, the high near 52.  We see partly cloudy skies tonight with some patchy morning fog developing with calm winds, lows near 36.
For anyone headed into the valley today, there is a Dense Fog Advisory until 10:00AM this morning because of some areas with less than ¼ mile visibility and an Air Stagnation Advisory thru 10:00PM tonight related to the expected poor air quality.
Tomorrow a high-pressure ridge builds in and will dominate the weather thru the end of the week.  This means we see mostly sunny skies tomorrow with light winds, the high near 55, partly cloudy skies tomorrow night, calm winds, lows near 40.
Then, mostly sunny, and around 62 Wednesday, sunny and near 61 Thursday with mostly sunny skies still for Friday and Saturday, highs near 61, mostly clear nights, the lows linger around 40.  Some of the models suggest increasing cloudiness Saturday night associated with another system that gives us a slight chance of showers under partly sunny skies on Sunday, the high down near 54, lows around 38.
Overall, a fair, dry, and mild week with light winds and warmer temperatures.
Last Week's COVID Summary
Through the Oregon Health Authority Press Releases, I saw Tillamook County experienced a slight increase in COVID positive cases, from 214 the previous week, to 225 this past week, an increase of 11.  Tillamook County also recorded another COVID related death, the first for February bringing the total to 56.
OHA releases new COVID-19 vaccine breakthrough report
OHA's most recent update on COVID-19 breakthrough cases, released Friday, reported 44,421 cases of COVID-19 during the week of Jan. 23 to Jan. 29.
Of those cases, 28,990, or 65.3%, were unvaccinated people and 15,431, or 34.1%, were vaccine breakthrough cases. Among the vaccine breakthrough cases, 4,852, or 31.4%, were fully vaccinated and boosted.
The average age of the breakthrough cases during that period was 48. One hundred twenty-eight breakthrough cases involved residents of care facilities, senior living communities or other congregate care settings. There were 1,223 cases in people aged 12 to 17.
To date, there have been 123,740 COVID-19 vaccine breakthrough cases in Oregon. The average age of all breakthrough cases is 41. Breakthrough cases have been reported in all 36 counties.
The report shows the rate of COVID-19 in unvaccinated people is more than 3.1 times higher than in vaccinated people and 6.4 times higher than in people who are fully vaccinated and boosted.
To date, 2.7% of all vaccine breakthrough cases have been hospitalized and 0.6% have died. The average age of vaccinated people who died is 81.
As case counts have increased dramatically during the Omicron surge, breakthrough case ascertainment has been unable to keep pace with the volume of reported cases because about a third of recent case vaccination status is unknown.
OHA is working toward alternative methods to identify vaccination status for all reported cases in a timely manner.
Vaccination remains the most effective tool to reduce the spread of COVID-19. Oregonians are encouraged to get vaccinated and, if eligible, to get a booster shot.