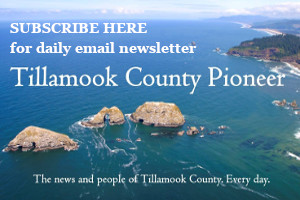 By Gordon McCraw, for Tillamook County Emergency Management
Wednesday, February 9, 2022, 11:00 am
The ridge of high pressure remains firmly in place and will actually build stronger today. Aside from a layer of moisture giving us some clouds, today will be another dry and mild day with calm winds, the afternoon high around 58.  With partly cloudy skies and calm winds, patchy fog is again possible tonight, the lows near 41.
With the strong ridge still parked over the region, look for sunny skies to return tomorrow, some light winds, highs near 60, mostly clear skies overnight tomorrow, light winds still, lows near 37. We should see sunny skies again Friday and Saturday, highs near 64, mostly clear nights, lows near 40.
The models are still not lining up well for Sunday and Monday.  Some of the models suggest we will see a disturbance riding over the ridge and dropping into our area which would likely bring in some light rain. Some of the other models show the ridge to be to strong for the system and pushing it more northward rather than the ridge weakening. The odds remain around 50/50. If the system did make it in, we would see an increasing chance of rain Sunday with rain likely Monday, turning to showers Monday night then dissipating by Tuesday, the highs near 50, lows near 38.