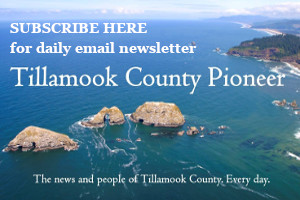 By Gordon McCraw
Monday, March 14, 2022, 09:30am
The southwesterly flow remains over the area today, pushing in some light scattered showers and warmer temperatures with lows in the mid 40s. The rain associated with the atmospheric river will increase this afternoon as deeper moisture makes its way through the area. As is usually the case, the Coast Range will see the higher rainfall totals. It appears moderate rain will push in to our north today but then drift southward over southwestern Washington and northwest Oregon this evening and tonight. It continues to look like river flooding concerns will remain low with this event with our rivers only rising a few feet and not nearing even Action Stage. So, look for a rainy day with southerly winds 5-10, highs near 51, more rain tonight, still the southerly winds 5-10, and lows near 48.
We transition over to scattered showers tomorrow with a slight chance of afternoon thunderstorms also, winds southwesterly 5-10, gusty near the heavier showers as they move through, highs near 47. The shower activity eases tomorrow night into Wednesday, light winds, lows near 41.
Mostly cloudy with only a slight chance of showers Wednesday after some patchy morning fog thanks to some weak high pressure, winds southerly 4-8, highs near 53. The rain chance increases Wednesday night ahead of the next approaching cold front, lows near 40.
Cloudy and rainy Thursday as a cold front pushes through with scattered showers likely for Thursday night. After this, the models start to diverge and send different signals, mainly on the timing of the weekend system. They all do agree that we will see a front and its associated rain. Were the uncertainty rolls in is with how much rain and exactly when it moves in. For now, it appears hydrological concerns are still low, but again with so much uncertainty, it is again something to watch. Highs remain around 50-55 and lows in the low 40s, maybe lower later this weekend.